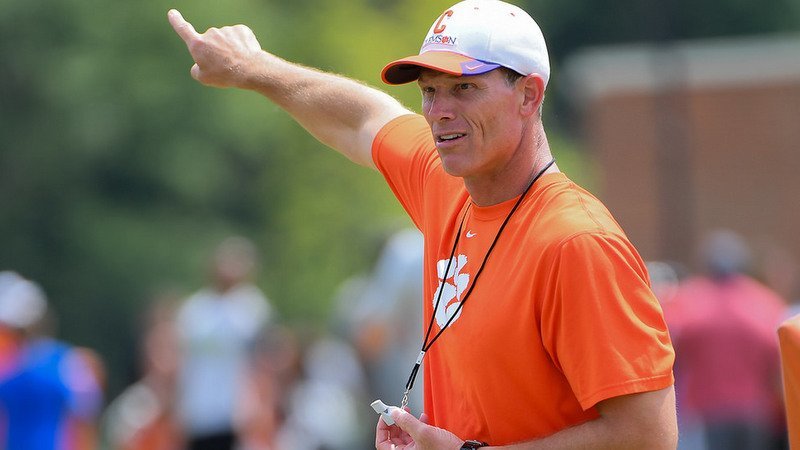 | | |
| --- | --- |
| Inside Brent Venables' contract extension: Further details on $11.6 million deal | |
---
CLEMSON – Defensive coordinator Brent Venables was given a two-year contract extension by the Board of Trustees Thursday morning and TigerNet has details inside the extension.
The Board of Trustees met and approved a five-year deal worth a total of $11.6 million dollars.
Venables will make $2 million per year in salary and earn a retention bonus of $200,000 per year the first two years of the deal. The final three years of the deal, Venables will be paid $400,000 per year in retention bonuses. The retention bonuses will be paid at the conclusion of the College Football Playoff Championship each season, and those retention bonuses will be paid in what's essentially a life insurance investment policy. In other words, Venables receives $200,000 if he's at Clemson after 2018 season, $200,000 after 2019, $400,000 after 2020, $400,000 after 2021, and $400,000 after 2022.
The contract doesn't include a buyout for Venables to take a head coaching job, but if Venables were to leave for another assistant coaching position he'd have to pay 25 percent of the total remaining on the agreement.
Athletic Director Dan Radakovich said the school wants to keep Venables at Clemson long term – the Tigers are 71-11 since Venables arrived after the 2011 season.
"We had done an increase for Brent in February, but in talking with Dabo we wanted to do some things that would keep him here long term," Radakovich told TigerNet. "While his salary will stay at the 2 million dollar number, the retention bonuses in the form of a split-dollar life policy were the things that we added. That takes a little time to educate and have everybody come together with that type of a product because it's a little different. We were able to pull that all together. Brent is extremely excited. We're very happy to have him here and that's why we brought it here today for formal approval."
Part of the contract incudes a split-dollar insurance policy that starts at $200,000 per year and escalates to $400,000 per year beginning in 2020. In a typical split-dollar agreement, the employer pays all or most of the policy premiums in exchange for an interest in the policy cash value and death benefit.
"The good thing is this board and the university in general because Coach Swinney had done a split-dollar life policy a year ago when we re-did his contract, there's a familiarity so they understand the concept and how it's funded," Radakovich said. "They understand what the value is to the university and to the employee, so by utilizing this tool for some of the other coaches we have, it didn't require a lot of explanation."
Performance bonuses
ACC Championship Game Appearance: $10,000
AND
Bowl Game w/ 8 or more regular season wins: $20,000
or
College Football Playoff non-semifinal Appearance: $40,000
or
College Football Playoff semifinal Appearance: $50,000
or
College Football Playoff Championship Appearance: $60,000
AND
College Football Playoff Champion: $25,000
AND
Top 10 Relative Defense: $50,000
or
Top 5 Relative Defense: $100,000
AND
Top 10 Total Defense: $50,000
or
Top 5 Total Defense: $100,000

Upgrade Your Account
Unlock premium boards and exclusive features (e.g. ad-free) by upgrading your account today.
Upgrade Now