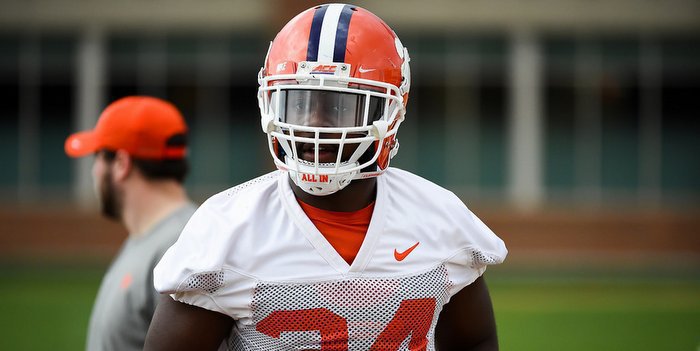 | | |
| --- | --- |
| From MIKE to WILL: Joseph adding to his repertoire | |
---
| | | |
| --- | --- | --- |
| Thursday, April 6, 2017, 3:09 PM | | |
CLEMSON – Kendall Joseph started all 15 games at middle linebacker during the 2016 season, racking up a team-high 930 snaps and finishing second to Ben Boulware with 124 total tackles. What is his next challenge? Learning to play Boulware's weakside linebacker position.
Last season was Joseph's first as a starter, and he ended the season with nine tackles (including 2 ½ for loss) against Alabama in the College Football Playoff National Championship win over Alabama.
Boulware graduated, however, and defensive coordinator Brent Venables knew he had some talented younger players that needed to see the field, so Joseph has spent time this spring learning how to play the weakside (or WILL) spot vacated by Boulware while rising sophomore Tre Lamar earns valuable snaps in the middle, or MIKE, spot.
"I am getting the hang of it and learning the ins and outs of it," Joseph told TigerNet earlier this week. "I can relate to it from playing the MIKE and knowing the defense. But knowing the ins and outs, knowing the small things that make you good at the position, I am still learning. It's about 50-50. Whatever Coach V wants me to do."
Joseph was Venables' voice on the field last season, calling out many of the defensive plays once he got the signal from the sideline, but says if he indeed winds up playing the WILL he will still be making many of the calls.
"It's the same thing. Last year, Ben was over the making calls and screaming a lot of them and so was I," he said. "It didn't matter who was out there, we were all out there yelling them out. If I am over there, I will still be the leader of the defense and try and get everybody in the right spot."
Why does he think Venables made the move?
"I think he just wanted to see people at new positions," Joseph said. "With me at the WILL, you can bring Chad Smith in at MIKE, or you can throw Judah Davis at MIKE. We have a lot of people cross-training. But I think he just wanted to see me and Tre on the field at the same time and see how it looked."
Joseph then said that Lamar is showing why he could one day be a star in the middle.
"He looks good. He is learning and getting more comfortable. He is setting the front, and is screaming out defensive calls and communicating," he said. "He is comfortable and looks really good at linebacker. There are a lot of people playing and I think Coach V is trying to build that depth, which is something we haven't had in the past. He is trying to see who he can trust now, and in the season the more guys that can play is better for us."
It's also a chance for Joseph to improve his game, and become more of a coach on the field than he was last season.
"Me learning WILL, I am having to learn the whole defense and open my playbook back up," Joseph said. "At MIKE, I was pretty comfortable and had it all down. At WILL, I am learning what the free safety does and the boundary corner, and understanding the whole defense."