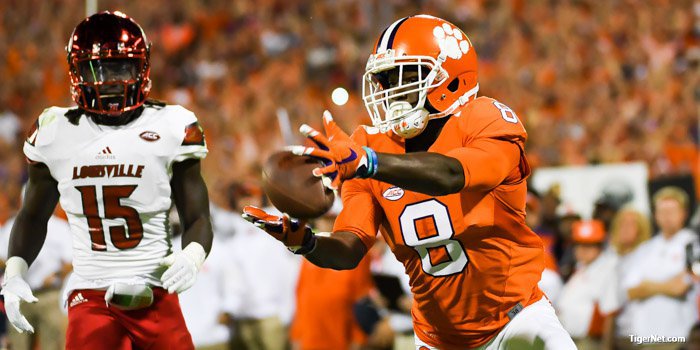 | | |
| --- | --- |
| Forget 2015: Offense surges as season hits halfway point | |
---
CHESTNUT HILL, MA – The Clemson offense put up staggering numbers during the 2015 season, and with the return of almost every skill player and the addition of wide receiver Mike Williams, preseason expectations were through the proverbial roof.
Then the season started, and the roof fell in under the weight of the success of 2015 and those expectations. Slow starts against Auburn and Troy and a lackluster second half against Georgia Tech increased the unease of Clemson fans who were wanting – and expecting more.
Then the Tigers hit the meat of the schedule and the offense looks like it's falling into place and put together what might be the most complete offensive game of the season (minus SC State, which really doesn't count).
"Yeah, and we've talked about that the last few weeks that we're really close," co-offensive coordinator Jeff Scott said. "Last week the five turnovers is really what kept it from being a dominant performance. So we knew we were close and that's what we focused on this week is protecting the ball and offensively we did that, and good things happened."
Clemson rushed for 227 yards and threw for another 272 yards, and Scott said it was Clemson's ability to run the ball that allowed the offense to run on all cylinders.
"There's no doubt that when we're able to run the ball, just your tempo and the momentum of the drive," he said. "Good things happen and it opens up things in the passing game. That's a very strong front seven that we just played against. Watching them on video we knew it was going to be difficult and I'm really proud of the offensive line and the tight ends and the way Wayne ran. It was big."
Wayne Gallman had 109 yards on just nine carries, and Scott said Gallman's resurgence has been good to see.
"No doubt it's been huge. Wayne was frustrated those first few weeks and we all were," Scott said. "We weren't playing our best ball but at the same time you give credit to some of those teams we played in the first few weeks. They did a great job in how they were playing us and they were making us throw the ball. Now we've been able to be a lot more balanced these last two weeks. We're just at our best when we're running the football. That just opens up everything else."
Scott then added that the coaches have made an effort to tell the players to forget about 2015 and concentrate on 2016.
"Our biggest thing is we've stopped talking about last year. Last year is over. This is 2016," he said. "We're six games in and we've already celebrated 2015. It was a special year. That's the biggest thing offensively is hey, we're not judging this group against anything from the past. It's all about what we do from here on out. We head back home and we have four of our last six at home. We're right where we want to be. That's really been our message to our guys. I think after the first couple games this year it was important for us to move on and say hey, let's talk about 2016. We can't sit here and compare every game and stats to last year. You'll drive yourself crazy. I think that's what we've done as an offense and it's really helped us."
Another key cog in the offensive machine has been wide receiver Deon Cain, who caught two touchdown passes Friday and now leads the team with six on the season. Cain drew the ire of head coach Dabo Swinney late in the first half when he failed to go down, allowing the clock to run out on Clemson's chances at a late field goal.
However, Cain responded with the two touchdowns.
"That's a big coaching moment right there for him and something all the guys can learn from. I like his resiliency," Scott said. "He came back in the second half and made some big plays and that's what we talked about: Learn from it and move on to the next play, nothing more important than how we play in the second half. I was really pleased with the way the guys came back and played in the third quarter. That's something we needed to improve at."

Upgrade Your Account
Unlock premium boards and exclusive features (e.g. ad-free) by upgrading your account today.
Upgrade Now