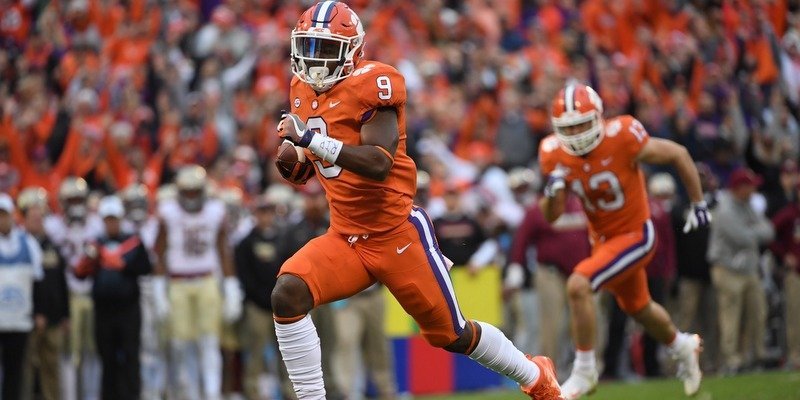 | | |
| --- | --- |
| ETN: Freshman running back Travis Etienne sparks Tigers with late runs | |
---
| | | |
| --- | --- | --- |
| Saturday, November 11, 2017, 8:50 PM | | |
CLEMSON – Travis Etienne wouldn't be denied.
Clemson's offense sputtered for most of the second half, the cold air sucking the life out of drives seemingly before they started. More often than not, the Tigers' offense is a finely-tuned machine, but for much of the third and fourth quarters Saturday against Florida St., the offense resembled an old jalopy that needs a tune-up.
Ahead 17-14 and following a critical turnover – Van Smith intercepted Florida St. quarterback James Blackman one play after Clemson quarterback Kelly Bryant had fumbled – it was go time for the Clemson offense. Co-offensive coordinator Tony Elliott turned to the sports car in his stable of running backs – Travis Etienne.
Etienne carried three times on the drive. His first carry was a thing of beauty, a 25-yarder to the Florida St. five that saw him break tackles, tightrope the sideline and even stiff-arm a Seminole defender. He then carried four yards to the one – falling just short of the goal line – but finished off the drive by exploding into the end zone for the score that turned a tenuous 17-14 lead into a 24-14 lead with 3:05 to play.
"Travis, we all know is a special talent. He's learning how to be a complete player and play in all situations, where you can trust him with the ball in hands at the end of the game," Elliott said. "Obviously, he had a good learning opportunity against Georgia Tech in the rain, which we really challenged him after that to be ready for his opportunities despite the weather. It's just a mentality that a young guy has to develop. To see him jump in there and spark us and give us some big plays there at the end and the way that he ran down there on the goal line, just to will himself into the endzone and they didn't give us that first call and he found a way to get back in there, so I'm really proud of his effort, but still some things we're going to have to clean up and work on."
Head coach Dabo Swinney says Etienne – who finished with a game-high 97 yards on just 14 carries – reminds him of current New York Giant running back Wayne Gallman.
"It's been really exciting watching Travis Etienne develop. He has grown in his confidence and has really become a developed player," Swinney said. "He runs kind of like Wayne Gallman. He has the violence to him when he runs except he's faster. He is one of our best players. We just want to make sure he is getting the touches so he can do what we want him to do."
Etienne was his usual smiling self after the game, telling reporters he has to sign more autographs than he did earlier in the season, and then gave the credit for his runs to the offensive line.
"I have to give credit to the offensive line just doing their job. They really helped me get there and I couldn't do it without them," Etienne said. "It's always great to get into the endzone and put points up on the board, especially in a game of this caliber and when we needed those points. Points are critical and I'm thankful for that."
Etienne's heroics helped lead the Tigers to the ACC Atlantic Division crown.
"It's a great feeling. A wonderful feeling," Etienne said. "It's the first time I'll be playing in a championship game. In high school, I didn't quite get there, so I'm just taking it all in and trying to soak it all in. Growing up, it was always my dream just to help my team get to the championship game. For it to come true, I'm just thankful. It's a humbling experience and I'm just going to keep my head right on my shoulders and keep working hard every week."