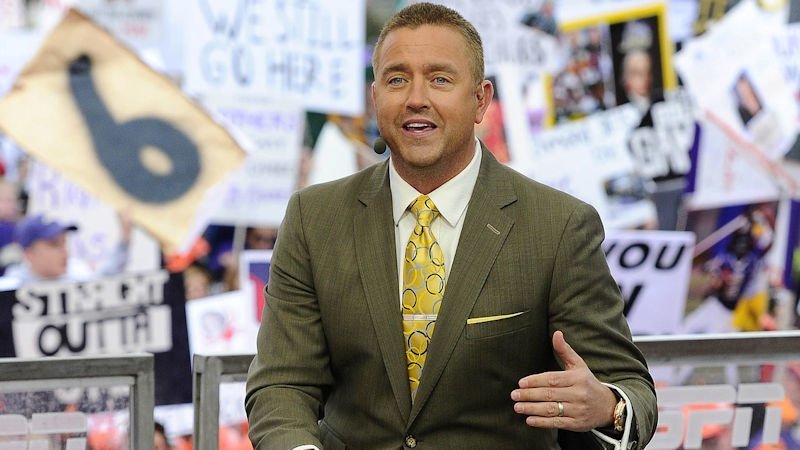 | | |
| --- | --- |
| ESPN's Davis and Herbstreit say Irish have to attack Clemson secondary | |
---
ATLANTA, GA – Make Trevor Lawrence uncomfortable and challenge Clemson's secondary. According to ESPN's Rece Davis and Kirk Herbstreit, those are the keys for a Notre Dame upset of Clemson when the teams face off in Arlington later this month.
The No. 2 Clemson Tigers and the No.3 Notre Dame Fighting Irish are heading to North Texas for the College Football Playoff Semifinal at the Goodyear Cotton Bowl Classic. The game will kick off at AT&T Stadium at 4 pm EST.
Clemson and Notre Dame will match up in a bowl game for the first time in the storied history of both universities. The last meeting between the two occurred in Death Valley in 2015 when the Tigers narrowly took the Irish 24-22.
Davis and Herbstreit met with the media late last week at the ESPN Awards Show at the College Football Hall of Fame, and TigerNet asked both analysts their keys to the Cotton Bowl matchup.
"I think for Notre Dame, the keys will be trying to make Trevor Lawrence uncomfortable and that's a difficult thing to do," Davis said. "Notre Dame's got a good defensive line and I think that they've got playmakers in the secondary as well. So, if they can make him uncomfortable, that will be their key defensively."
Davis then said that Notre Dame quarterback Ian Book might have success against a Clemson secondary that gave up 510 passing yards to South Carolina's Jake Bentley.
"On the other side, Clemson has shown some vulnerability in the back end in terms of giving up passing yards at least a couple of games," Davis said. "They certainly did to Jake Bentley and to Kellen Mond of Texas A&M in the early part of the season. The question is, will Notre Dame be able to protect Ian Book from that front four and give them time to make plays. Because if they are able to give Book some time, Notre Dame's got size at receiver and I think that they can make some plays against Clemson."
However, Davis still sees Clemson as the clear favorite.
"I certainly favor Clemson in the game. But I don't think that this is a situation like the 2012 National Championship game where Notre Dame is was completely overmatched. Clemson is the better team. It's not that Clemson is not as good as Alabama was in 2012, it's that I think Notre Dame is in a better place."
Herbstreit said the Irish have confidence on offense and will attack the Clemson secondary.
"Of the matchup itself, I think is going to be very, very good because I think Notre Came is coming in with a great deal of confidence," Herbstreit said. "I've been around their team quite a bit this year. They have a balanced attack, and they've got big, tall, wide receivers on the outside and Ian Book knows how to put the ball accurately and where they can go up with their catch radius and make a play on the ball.
"Doing some Clemson games, the one area I would try to attack them is throwing the football down the field before that pass rush can get to you. So they're going to have to try to deal with Ian Book and what he can do. The other side of the ball, I think Notre Dame is gonna have their hands full with the athletic ability that Clemson has on offense.
"They've got to be able to try to get after Trevor Lawrence to have any chance at all slowing down that Clemson attack. I think the Clemson offense, right now, is executing as well as anybody. I think the big play ability that they have at receiver and at running back, good luck with that. If you don't affect their rhythm, then you're going to have to score with them, but it's just hard to score with Clemson."

Upgrade Your Account
Unlock premium boards and exclusive features (e.g. ad-free) by upgrading your account today.
Upgrade Now