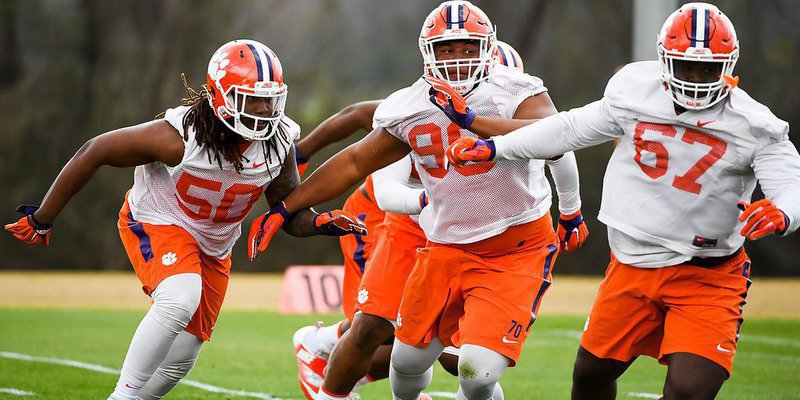 | | |
| --- | --- |
| Dexter Lawrence: Xbox 360 back at full strength as season nears | |
---
CLEMSON – Dexter Lawrence is doing just fine, thank you very much.
The talented sophomore defensive tackle had offseason surgery after a toe fracture during the spring, and a screw was placed in his foot. Lawrence checked in to fall camp at a robust 337 pounds, but any concerns about the surgery or how it has healed have been answered early in fall camp.
"I was back quicker than I expected from rehab. It wasn't really a setback for me," Lawrence said of the surgery. "I mean, obviously I couldn't be out there, but after a while, I got back out there and started running with them and it felt good."
Lawrence gained weight after the surgery, thanks in part to the free food he receives at the new football complex.
"I say about 355 pounds is what I got up to," he said. "I was shooting to weigh in at 335, so I did pretty good in getting the weight off. Post surgery weight was 355."
He got a little brotherly kidding – and prodding – from Christian Wilkins.
"He felt for me a little bit, but if I had weighed in heavier at the weigh-in he would have got me," Lawrence said, "He's not a mean guy. Fat Boy. We call each other that. It's not too rough. We just challenge each other every day."
Wilkins had another name for his teammate and said he feels like it's his duty to push Lawrence.
"Yeah, that's what brothers do. I'm the big brother, just let him know that," Wilkins said. "Anytime he thinks he's big and bad and tries to flex his muscles on me. I have to put him in a headlock or something like that. I have to let him know who big brother still is, no matter how good he is, I let him know I'm better. I don't care how many tackles for loss or how many sacks he has, I'm still his big brother.
"He keeps me humble as well. He's such a beast too, and it's like 'Ok, I still gotta work.' We're just pushing each other every day. I keep him humble, and he keeps me humble as well. He got big - he got real big. He got up to about 360 pounds, and I started calling him 'Xbox' (as in Xbox 360) because he got so heavy."
Lawrence and Wilkins will form the core of one of the nation's best defensive lines, but Lawrence said this year's players know they can't rely on last year's results.
"Knowing that we aren't last year's defense. We miss the starters from last year, but we aren't going to let that affect us. We know that we have guys that can step up when they need to," Lawrence said. "All the guys, not just me, we feel like one complete group. If we have a bad day, everyone is picking that guy up. It's all of us working together and pushing each other.
Defensive coordinator Brent Venables reminds his defense of that very thing each day.
"He (Venables) tells us not to listen to it, that last year's plays can't make this year's plays," Lawrence said of the hype. "You're the All-American last year, but you might not be one this year. You have to play like one to be one.
"It's pretty cool, but all of that is just pre-season stuff. The season isn't even here yet, so no one really knows what's going to happen or how successful they are going to be. I just know that I'm going to do my best every play."

Upgrade Your Account
Unlock premium boards and exclusive features (e.g. ad-free) by upgrading your account today.
Upgrade Now