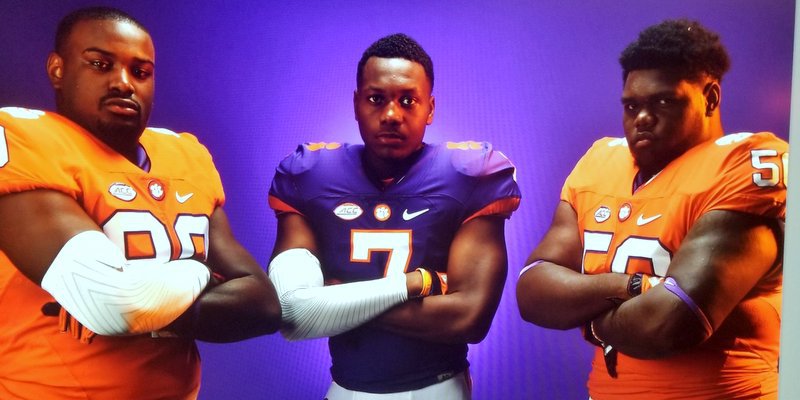 | | |
| --- | --- |
| All In Cookout Insider: Darnell Jefferies steals the show over the no-shows | |
---
| | | |
| --- | --- | --- |
| Saturday, July 22, 2017, 10:52 AM | | |
The attention from the fans regarding Friday night's All In Cookout might have centered on who didn't show up, but it was one commit that did show up who stole the show.
The Clemson coaching staff held its signature recruiting event Friday night, the first year the event was held in the new Reeves Football Operations Center instead of the Madren Center. Three big-time Clemson targets for the 2018 recruiting cycle that were expected to attend never showed up, even though all three had good excuses.
Five-star defensive back Anthony Cook had a death in the family, 5-star offensive guard Jamaree Salyer had transportation issues and fellow offensive lineman Trey Hill and his family got the date of the event mixed up, thinking it was going to be held Saturday.
However, two big-time prospects showed up in defensive back Tyson Campbell and surprise visitor Lyn-J Dixon, a running back that is currently committed to Tennessee.
According to Clemson linebacker commit Jake Venables it looked like the two had a great time.
"We understand that the other guys couldn't be here, and it's perfectly understandable," Venables said. "Things happen and I know they wanted to be here. But the two guys that did show up, Campbell and Dixon, it looked like they had a great time. They fit right in with the rest of us, and it looks like they are already a part of the family. I think everybody had a great time. I thought Tyson had a really good time. Justin (Mascoll) and Josh (Belk) were hanging around him, and those two guys are still here."
The event was marked by a couple of competitions that got the juices flowing – in one of them the juice flowed literally.
The prospects lined up at a long table and were given plastic rain garb to place over their clothes. Each recruit was given a quarter slice of watermelon to eat, and it's no surprise that defensive tackle commit Darnell Jefferies finished first.
"That was my favorite part of the night, actually," Venables said. "That was so much fun. I had two of them in front of me, and I thought I was going to have to eat both of them. But the race was to see who could finish their's first, and Darnell won, and I was told I finished second. But Darnell, man, he picked his clean. There wasn't a piece left on it I thought he was going to eat the outside of it, too. And then B.T. (kicker B.T. Potter), it didn't look like he knew what to do with it. I think he only got two bites."
They then moved over the wiffle ball field for a home run derby.
"Coach Mike Reed won the home run derby," Venables. "He was the best by far. It was fun to go over there and watch that and watch all of those guys try and take swings. It came down to him and Dixon. That is who it looked like was in the finals."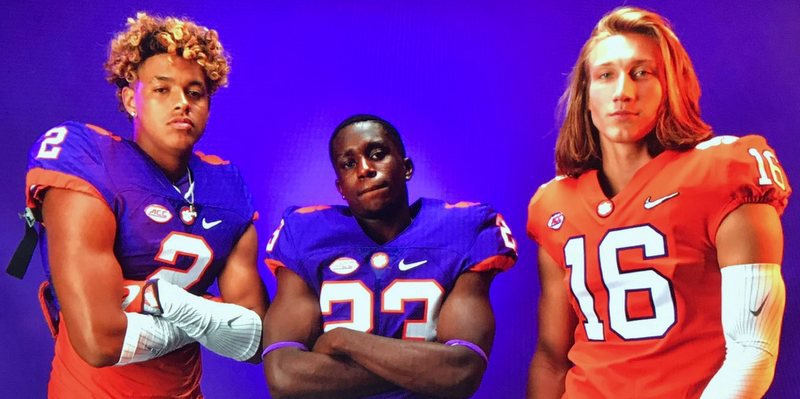 Another highlight of the evening was the photo shoot in the green room on the second floor.
"It was so funny because everybody had a bunch of chairs set out behind the cameraman," Venables said. "So even family members were in there, too. It was fun because everybody was laughing at each other. They could see the pictures up on the big TV. And the best part of it was Darnell. He cracks me up, and I can't take him seriously. I've never seen a smile like his, and I don't think I've ever met a funnier man than Darnell."
Venables said it was great seeing the Cookout from a different angle, and he had a message for Clemson fans who might be worried about recruiting.
"I've always gone as the coach's son, so going as a recruit was different and a lot of fun," he said. "And my message to everybody would be that we aren't done yet. This class is going to be great, and we aren't done yet."