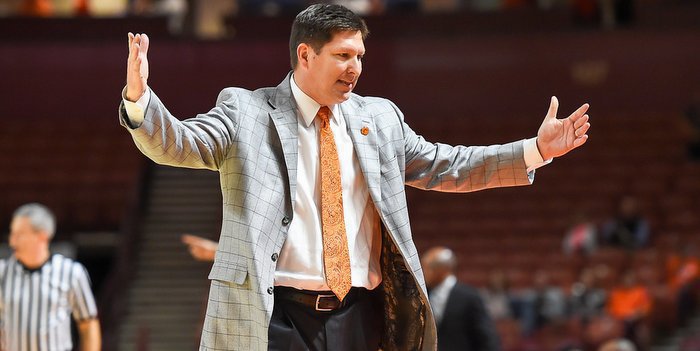 | | |
| --- | --- |
| Brownell on playing the Gamecocks: "It should be sold out tomorrow" | |
---
| | | |
| --- | --- | --- |
| Monday, December 18, 2017, 2:26 PM | | |
CLEMSON – Two teams that are playing really well, and they happen to be rivals. Why wouldn't you want to attend?
Clemson and South Carolina renew acquaintances on the hardwood Tuesday night when the 9-1 Tigers host the 8-2 Gamecocks in Littlejohn Coliseum. South Carolina is coming off a 10-day break for exams while Clemson is fresh off Saturday's upset of then-No. 22 Florida in Miami. The meeting marks the 168th all-time between the two schools and will be broadcast on ESPN2.
Clemson head coach Brad Brownell told TigerNet Monday that he would love to see a sold-out home arena even though he knows it's hard to build support at Clemson.
"It would be great. It should be sold out tomorrow," Brownell said. "We're playing our rival in a very important game. Two teams that are playing very good basketball and very competitive. It will be a heck of a competitive game. I don't know why you wouldn't be here.
"They were ranked last year when we played them down there. That's what I mean. It's not the first time. We've had games with South Carolina when both teams have done well. Last year, both teams were playing great basketball and it was a heck of a basketball game. I think Frank (Martin) and I would both like to see the fan bases excited about it, recognize it and not only get behind us at this point but make sure you're getting behind us a little bit earlier sometimes. I think we're both playing good basketball. A big part of this season, we're playing pretty well. We want this game to be as important as it should be locally first and then nationally."
The rivalry game will mark the fourth consecutive season in which it tips off just beyond mid-December. Clemson's winter break started Monday, so most students have headed home for the holidays, but Brownell said it's hard to find the perfect date.
"I don't know what the perfect date is or what the perfect scenario is. I think we're both at times a little disappointed - if one of us isn't having a great year then they use that as the excuse that somebody isn't that good," Brownell said. "Sometimes like the last couple of years we've both been 8-2 or 9-1 both teams playing well and it's just not talked about as much as it should be talked about. I know he's been frustrated by it and voiced some frustration. I'm a little frustrated by it at times. We understand we have very good football programs and those are important and if you're still playing at this time of year these are huge games, but I don't know if there's been a perfect date. We've tried earlier and that hasn't always worked.
"Sometimes that's better and you have students but that hasn't always worked always great. Then we've done this area and had a little better success. I'm anxious to see what our turnout is tomorrow and I'm certainly hoping for a very good one. We can't get too much later because it infringes on league play for both of us. They already play a game in their Big 12 challenge later. I don't know that I want the South Carolina in the middle of the ACC season. I don't think that's very good. We're getting ready to go to 20 ACC games. I think everybody in the state of South Carolina if they want this to be a big game; they've got to help make it a big game. I think Frank and I are really trying hard to do our part to put good products on the floor and have good teams. We just hope that's recognized."
On playing South Carolina
"It's a very difficult turnaround. It's a short turnaround against a very good team. Extremely physical. Frank just gets his guys to play as hard as anybody that we'll play all year. Defensively, they really disrupt you and make it difficult to have flow to your offense. Great rim protection defensively. Physicality. Very good offensive posting. Post players continue to improve and get better. I think their guards are getting more comfortable. Frank Booker is a fifth-year player that really shoots the ball well from the perimeter, has experience which is good for him. Justin Minaya, the freshman looks like an outstanding player. A guy that plays with very good poise. The point guard (Hassani) Gravett is a guy that is pretty talented. He can penetrate, play well off ball screens, makes big, winning plays like the other day against Coastal. Their post guys - Frank always has four post guys that are big, strong, physical and tough. (Chris) Silva and (Maik) Kotsar continue to improve. Leading scorers, unbelievable rebounders, athleticism at the rim. Just an extremely physical team and a tough team to play against. One of the things I respect about Frank is his team plays the way he wants them to play and he recruits guys that fit what they do. They just play to that system and they're hard to play against. Very difficult turnaround for our team but excited about the opportunity to play another very good SEC opponent in a big game.
"Win or lose it doesn't change things. Last year we went down there and won and it was an unbelievable win for our team, but we couldn't hold it together all the way through the ACC season. If we win or lose tomorrow, the same will be true. We'll have 10 more press conferences like this talking about the importance of this game and is this a win at all cost game for your team. It's an important game because it's a rivalry game and we want to win. We know it's important to our fans and it's important to us. We want to keep our level of confidence because of the way we're playing."
Marcquise Reed on the rivalry
"Last year about a couple of days before the game, they told me how big of a game this was. They showed us some articles, quotes and stuff like that. Then everybody around campus was talking about it, so that's when it hit me.
"I watched them play a couple of times this year while we were at the hotel in Charleston, so I know it's going to be a tough game. They haven't played in a week, so they're going to come in here ready.
"We beat them but they ended up in the Final Four so there's not too much we can say."

Upgrade Your Account
Unlock premium boards and exclusive features (e.g. ad-free) by upgrading your account today.
Upgrade Now