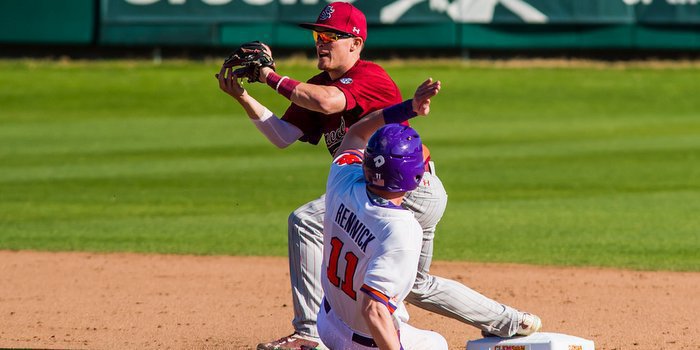 | | |
| --- | --- |
| Tigers look to keep upper hand versus Gamecocks | |
---
CLEMSON – One of the fiercest rivalries in college baseball will resume Friday when No. 12 Clemson starts a three-game series against No. 4 South Carolina in the Reedy Rivalry.
The Gamecocks play at Clemson at 6:30 p.m. Friday, the teams play at Greenville's Fluor Field at 1 p.m. Saturday and finish the series with a 1:30 p.m. start at Founders Park in Columbia Sunday afternoon. Clemson has won each of the last two regular-season series against South Carolina with a 2-1 record and leads the overall series 174-136-2 (1899-2016).
The Tigers look to keep the upper hand this weekend, but head coach Monte Lee said Tuesday that he knows that's easier said than done.
"The number one thing going into this weekend is understanding that South Carolina is a really good team," Lee said. "To me, the most important thing is understanding your opponent, understanding that you're facing one of the best starting pitching staffs in the country. A lot of people would argue that South Carolina has the best rotation in the country. Their pitching staff is going to be a tough test for us."
South Carolina righty Clarke Schmidt will face off against Clemson lefty Charlie Barnes on Friday, while lefty Pat Krall will take the mound for Clemson Saturday at Fluor against South Carolina right-hander Will Crowe. Right-hander Alex Eubanks will close out the series for Clemson against Gamecock righty Adam Hall on Sunday, and Lee said hitting against South Carolina's top-notch pitching will be key.
"I think that's the big thing going into the weekend," he said. "Offensively we have to try to make some adjustments to the type of arms we're going to face. We've got to be able to hit plus-plus fastballs all weekend. That's going to be tough. We know their lineup is very dangerous. They're a good club. We know it's going to be great crowds at all three venues. We've just got to drown out the noise and play baseball.
"I'm not the kind of guy that makes that big of a deal out of one game over another. I'm a big believer in consistency - consistent approaches by your players, consistent preparation wins over the long haul. We've all been guilty of making it too big, and when you make things too big of a deal, that's the wrong approach. They're all important. We know we have a quality opponent this weekend and we have to play our best baseball to win the series."
Outfielder Reed Rohlman says he looks forward to this weekend every year.
"It's one of the best weekends in baseball that there is. We're excited about it," Rohlman said. "We know what Carolina has to offer, and we're going to go up with them. We're going to give it our best because we know they're going to give it their best."
SERIES SETUP
• Who - South Carolina (6-3) vs. Clemson (6-2)
• Rankings - USC - No. 5 BA, No. 13 CB, No. 4 USA; CU - No. 15 BA, No. 22 CB, No. 12 USA
• When - Friday (6:30 p.m.), Saturday (1 p.m.), Sunday (1:30 p.m.)
• Where - Clemson, S.C., (Doug Kingsmore Stadium) Friday; Greenville, S.C., (Fluor Field) Saturday; Columbia, S.C., (Founders Park) Sunday
• Watch - ACC Network Extra (Friday), SEC Network+ (Sunday)
• TV Announcers - Marty Clary & Roy Philpott (Friday); Burch Antley & Trey Dyson (Sunday)
• Listen - TigerCast, Clemson Tiger Sports Network
• Live Stats - ClemsonTigers.com
• Social Media - ClemsonBaseball
• Tickets - ClemsonTigers.com, 1-800-CLEMSON
REEDY RIVER RIVALRY TAILGATE PARTY
• The Reedy River Rivalry Tailgate Party, which opens Saturday at 11 a.m., is on Main Street at Fluor Field.
• Food, drinks and interactive exhibits for fans of all ages can be found on Main Street all day on Saturday.
• There will be live music from Cassidy Lynn and Two Story Road until 7 p.m., on Saturday.
• The Clemson station features a drawing for a premium gift, schedule cards, posters, IPTAY information, interactive games, and giveaways.
SERIES HISTORY
• Overall Record - Clemson leads 174-136-2 (1899-2016)
• Record at Clemson - Clemson leads 98-44 (1907-2016)
• Record at Neutral - South Carolina leads 10-9 (1899-2016)
• Record at South Carolina - South Carolina leads 82-67-2 (1900-2016)
STORIED RIVALRY
• South Carolina is Clemson's most-common opponent in history, as the two have faced off 312 times dating to 1899.
• The two have met at least one time every year since 1945, with the exception of 1984.
• Clemson leads the series 51-27 at Doug Kingsmore Stadium (opened in 1970).
• South Carolina leads the series 4-2 at Fluor Field (opened 2006). The first game there between the two teams was 2010.
• South Carolina leads the series 8-3 at Founders Park (opened in 2009).
STARTING PITCHERS
• Friday - RHP Clarke Schmidt (USC) vs. LHP Charlie Barnes (CU)
• Saturday - LHP Pat Krall (CU) vs. RHP Wil Crowe (USC)
• Sunday - RHP Alex Eubanks (CU) vs. RHP Adam Hill (USC)
CLEMSON OVERVIEW
• Clemson defeated Wofford 9-2 at Doug Kingsmore Stadium on Tuesday and has won five games in a row.
• The Tigers are averaging 6.1 runs per game and hitting .302 with a .411 on-base percentage and six steals.
• The pitching staff has a 2.96 ERA, .239 opponents' batting average and 6.60 strikeout-to-walk ratio and Clemson is fielding .977.
SOUTH CAROLINA OVERVIEW
• South Carolina is led by fifth-year head coach Chad Holbrook.
• The Gamecocks downed Appalachian State 8-4 on Tuesday. They are hitting .280 and have a 2.56 ERA and .974 fielding percentage.
• Matt Williams is hitting a team-high .381, while Jacob Olson is batting .333 with three homers and six RBIs.
QUICK HITS
• Clemson has won each of the last two regular-season series against South Carolina with a 2-1 record.
• Clemson is the designated visiting team and will occupy the third-base dugout for Saturday's game at Fluor Field.
• Tiger graduate righthander Tyler Jackson was a member of the 2013 South Carolina team before playing at USC Lancaster and USC Upstate.
TIGERS AT FLUOR FIELD
• Clemson has a 19-6 all-time record at Fluor Field in Greenville, S.C.
• The Tigers have outscored the opposition 203-103 at Fluor Field, an average score of 8.1-4.1.
• The only teams to defeat Clemson at Fluor Field are South Carolina (2010,11,14,15), Presbyterian College (2011) and Michigan State (2015).
BOB BRADLEY AWARD PRESENTED SUNDAY
• Clemson's MVP of the South Carolina series is presented the Bob Bradley Award. The Gamecocks' MVP receives the Tom Price Award.
• The two late athletic communications directors served as baseball contacts for their respective schools for decades.
K CLUB
• Clemson is averaging 11.7 strikeouts per nine innings pitched this season thanks to 99 strikeouts in 76.0 innings pitched.
• The school record for strikeouts per nine innings pitched is 9.69, set by the 1996 squad that featured Kris Benson and Billy Koch.
• Tiger pitchers have totaled double-digit strikeouts in seven of the eight games in 2017.
• Charlie Barnes, Ryley Gilliam, and Brooks Crawford had a school-record 23 strikeouts in the 1-0 victory over Elon in 13 innings on Feb. 24.
• The Tigers have allowed just 15 walks, good for a 6.60 strikeout-to-walk ratio. The school record in that category is 3.16, set in 1996.
• Gilliam (14-0), Crawford (7-0), Barnes (17-1), Alex Eubanks (13-1) and Jacob Hennessy (14-2) all have outstanding strikeout-to-walk ratios.

Upgrade Your Account
Unlock premium boards and exclusive features (e.g. ad-free) by upgrading your account today.
Upgrade Now

Tags: Clemson Baseball
,
Reed Rohlman
,
Charlie Barnes
,
Alex Eubanks
,
,
Pat Krall
,
Brooks Crawford
,
Ryley Gilliam
,
Tyler Jackson
,
Jacob Hennessy
,
Monte Lee