| | |
| --- | --- |
| Orange defeats White, 34-26, in Clemson spring game | |
---
| | | |
| --- | --- | --- |
| Saturday, April 13, 2013, 10:22 PM | | |
Clemson, SC— Cole Stoudt
Cole Stoudt
Jr. Quarterback
#8 6-5, 205
Dublin, OH
View Full Profile set a Clemson spring game record with 304 yards passing and threw four touchdown passes, but his White team lost to the Orange team 34-26 at the annual Clemson Spring Football game on Saturday. The contest was the 15th and final practice for Dabo Swinney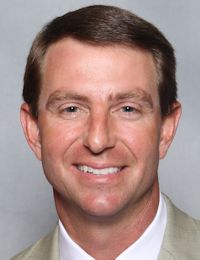 Dabo Swinney
Head Coach
View Full Profile 's Clemson Football team.
A spring game record crowd of 30,000 attended the game at Memorial Stadium, the last time Clemson fans will see the Tigers play in that legendary facility until Dabo Swinney's team opens the 2013 season with an epic clash against a top 10 Georgia team. It will be the first time the two schools have met on the gridiron since 2003.
The Spring game was marred by some injuries in the first half. Freshman quarterback Chad Kelly
Chad Kelly
So. Quarterback
#11 6-2, 210
Buffalo, NY
View Full Profile , who was competing with Stoudt for the backup spot behind Tajh Boyd
Tajh Boyd
RS Sr. Quarterback
#10 6-1, 225
Hampton, VA
View Full Profile , suffered a knee injury that could be serious. Swinney indicated to the media after the game that it was probably a torn ACL. Tight end Sam Cooper
Sam Cooper
RS Jr. Tight End
#86 6-5, 250
Brentwood, TN
View Full Profile and tackle Kalon Davis
Kalon Davis
RS Jr. Offensive Guard
#67 6-5, 330
Chester, SC
View Full Profile also suffered knee injuries, but they are not believed to be as serious. All three injuries took place in the first 20 plays of the game.
Boyd, a returning first-team All-American who has set school records for passing yardage in a season and touchdown passes in a career, did not play as Swinney wanted to see his younger quarterbacks in stadium game action.
Kelly got his Orange team off to a great start by driving his team 70 yards in 10 plays for a score. The nephew of former Buffalo Bills quarterback Jim Kelly completed 6-7 passes for 43 yards on that opening drive and also had two rushes for 14 yards. He completed the drive with a 16-yard scoring pass to Charone Peake
Charone Peake
Jr. Wide Receiver
#19 6-3, 200
Moore, SC
View Full Profile .
Kelly was driving his team for another score when he was injured at the end of a 17-yard run. Bradley Pinion
Bradley Pinion
So. Punter
#92 6-6, 230
Concord, NC
View Full Profile had a 43-yard field goal at the end of the drive. Martavis Bryant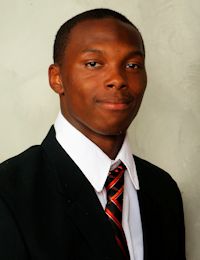 Martavis Bryant
Jr. Wide Receiver
#1 6-5, 200
Calhoun Falls, SC
View Full Profile , who had seven catches for 110 yards for the Orange team, caught a 34-yard touchdown pass from Donny McElveen
Donny McElveen
RS Sr. Quarterback
#14 6-2, 205
Summerville, SC
View Full Profile with 6:16 left in the first period to give the Orange team a commanding 17-0 lead.
But, the White team came back with 26 points thanks to the four touchdown passes by Stoudt, who has been Boyd's backup the last two years. He hit touchdown passes of 41 and 50 yards to All-America receiver Sammy Watkins
Sammy Watkins
Jr. Wide Receiver
#2 6-1, 205
Fort Myers, FL
View Full Profile to put his team within 17-14. After Nick Schuessler

Nick Schuessler
So. Quarterback
#17 6-3, 185
Grayson, GA
View Full Profile scored on a 35-yard run for the Orange, Stoudt threw two more touchdown passes, a 75-yarder to Stanton Seckinger
Stanton Seckinger
RS Jr. Tight End
#81 6-4, 210
Isle of Palms, SC
View Full Profile , and a 51-yarder to Adam Humphries
Adam Humphries
Jr. Wide Receiver
#13 5-11, 190
Spartanburg, SC
View Full Profile ..
Stoudt was 16-24 for 304 in the first half when his team led 26-24. But, he did not play in the second half as Swinney and offensive coordinator Chad Morris
Chad Morris
Offensive Coordinator / QBs
View Full Profile decided to give more playing time to other players.
The Orange team outscored the White team 10-0 in the second half, scoring on a 50-yard touchdown pass from McElveen to freshman Jordan Leggett
Jordan Leggett
Fr. Tight End
#16 6-6, 235
Navarre, FL
View Full Profile , and a 41-yard field goal by Pinion.
Watkins led all receivers in yardage with seven catches for 156 yards and the two scores. Leggett, a tight end who entered Clemson in January, finished with seven catches for 97 yards and a score for the Orange. Schuessler played quarterback for both teams and combined to throw for 220 yards on 21-34 passing.
There were also some defensive standouts as well. Grady Jarrett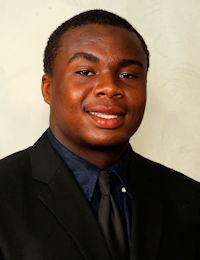 Grady Jarrett
Jr. Defensive Tackle
#50 6-1, 290
Conyers, GA
View Full Profile had three sacks in the contest. He was co-MVP of the Clemson team last year on defense. Tavaris Barnes
Tavaris Barnes
RS Jr. Defensive End
#6 6-4, 275
Jacksonville, FL
View Full Profile added a pair of sacks as well. Safety Robert Smith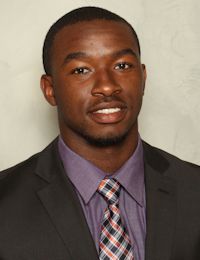 Robert Smith
Jr. Safety
#27 5-11, 210
St. George, SC
View Full Profile was the top tackler for the victorious Orange. Kellen Jones
Kellen Jones
Jr. Linebacker
#52 6-1, 215
Houston, TX
View Full Profile and Darius Robinson
Darius Robinson
Cornerback
#21 5-10, 175
College Park, GA
View Full Profile both had intercetions.
The top tackler in the game was linebacker B.J. Goodson
B.J. Goodson
RS Jr. Linebacker
#44 6-1, 240
Timmonsville, SC
View Full Profile with 13 stops for the White team. DeShawn Williams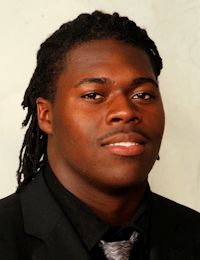 DeShawn Williams
Jr. Defensive Tackle
#99 6-1, 285
Central, SC
View Full Profile had two sacks, three tackles for loss and seven total tackles. Travis Blanks
Travis Blanks
So. Defensive Back
#11 6-1, 190
Tallahassee, FL
View Full Profile had an interception and six tackles from his safety positin. Vic Beasley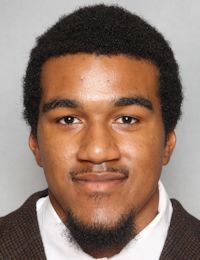 Vic Beasley
RS Jr. Defensive End
#3 6-3, 225
Adairsville, GA
View Full Profile had two sacks, giving him 10 sacks in four scrimmages or half scrimmages this spring.
Scoring by Quarters


Orange		17	7	0	10	34


White		0	26	0	0	26
Scoring Summary
Orange—Peake 16 pass from Kelly (Pinion Kick)
Orange—Pinion 43 FG
Orange—Bryant 34 pass from McElveen (Pinion Kick)
White—Watkins 41 pass from Stoudt (Catanzaro kick)
White—Watkins 50 pas from Stoudt (Catanzaro Kick)
Orange—Schuessler 35 run (Pinion Kick)
White—Seckinger 75 pass from Stoudt (Kick Failed)
White—Humphries 51 pass from Stoudt (Kick Failed)
Orange—Leggett 50 pass from McElveen (Pinion Kick)
Orange—Pinion 41 FG
Attendance: 30,000 (Clemson Spring Game Record)
Weather: 79 degrees and sunny
Time of Game 2:35
Individual Statistics
Rushing
Orange: Howard 8-41, Davidson 13-29, Kelly 4-23, Schuessler 7-21-1, Johnson 7-18
White: Brooks 6-51, McDowell 3-10, Williams 1-4, Stoudt 5-3, Goode 4- (-2), Schuessler 10- (-18).
Passing (Comp-Att-Yards-TD-Int)
Orange: Schuessler 13-16-125-0-0; McElveen 6-11-101-2-1 ; Kelly 6-7-43-1-0
White: Stoudt 16-24-304-4-1; Schuessler 8-18-95-0-1
Receiving (Rec-Yards-TD)
Orange: Bryant 7-110-1;Leggett 7-97-1; Peake 8-51-1; Cooper 2-4, Davidson 1-1, Smith 1-3
White: Watkins 7-156-2; Seckinger 2-81-1; Humphries 2-77; Hopper 5-13; Maass 3-39; Goode 1-13, McCullough 3-20
Tackles
Orange: Robert Smith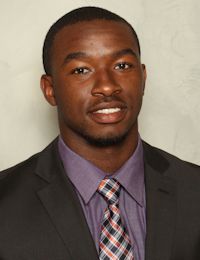 Robert Smith
Jr. Safety
#27 5-11, 210
St. George, SC
View Full Profile 7, Garry Peters
Garry Peters
RS Jr. Defensive Back
#26 6-0, 195
Conyers, GA
View Full Profile 6, Marcus Bullard

Marcus Bullard
RS So. Linebacker
#57 6-3, 205
Columbia, SC
View Full Profile 6, Stephone Anthony
Stephone Anthony
Jr. Linebacker
#12 6-3, 235
Polkton, NC
View Full Profile 5, Grady Jarrett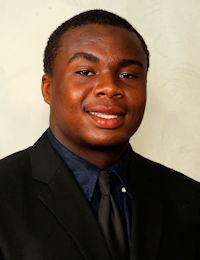 Grady Jarrett
Jr. Defensive Tackle
#50 6-1, 290
Conyers, GA
View Full Profile 4, Corey Crawford
Corey Crawford
Jr. Defensive End
#93 6-5, 270
Columbus, GA
View Full Profile 4, T.J. Burrell
T.J. Burrell
So. Linebacker
#41 5-11, 215
Goose Creek, SC
View Full Profile 4,
White: B.J. Goodson
B.J. Goodson
RS Jr. Linebacker
#44 6-1, 240
Timmonsville, SC
View Full Profile 13, DeShawn Williams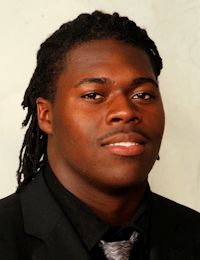 DeShawn Williams
Jr. Defensive Tackle
#99 6-1, 285
Central, SC
View Full Profile 7, Travis Blanks
Travis Blanks
So. Defensive Back
#11 6-1, 190
Tallahassee, FL
View Full Profile 6, Jerrodd Williams
Jerrodd Williams
RS Sr. Cornerback
#36 6-0, 205
Central, SC
View Full Profile 6, Spencer Shuey
Spencer Shuey
RS Sr. Linebacker
#33 6-3, 230
Charlotte, NC
View Full Profile 6,
Sacks
Orange: Grady Jarrett 3-26, Tavaris Barnes
Tavaris Barnes
RS Jr. Defensive End
#6 6-4, 275
Jacksonville, FL
View Full Profile 2-19, T.J. Burrell 1-8
White: DeShawn Williams 2-13; Vic Beasley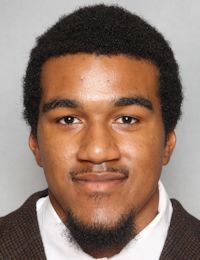 Vic Beasley
RS Jr. Defensive End
#3 6-3, 225
Adairsville, GA
View Full Profile 2-11, Ebenezer Ogundeko
Ebenezer Ogundeko
Fr. Outside Linebacker
#1 6-3, 240
Brooklyn, NY
View Full Profile 1-2
Interceptions
Orange: Kellen Jones
Kellen Jones
Jr. Linebacker
#52 6-1, 215
Houston, TX
View Full Profile 1-44, Darius Robinson
Darius Robinson
Cornerback
#21 5-10, 175
College Park, GA
View Full Profile 1-8
White; Blanks 1-0

Tags: Clemson Football
,
Adam Humphries
,
B.J. Goodson
,
Bradley Pinion
,
Chad Kelly
,
Chad Morris
,
Charone Peake
,
Cole Stoudt
,
Dabo Swinney
,
Darius Robinson
,
DeShawn Williams
,
Donny McElveen
,
Grady Jarrett
,
Jordan Leggett
,
Kalon Davis
,
Kellen Jones
,
Martavis Bryant
,
Nick Schuessler
,
Robert Smith
,
Sam Cooper
,
Sammy Watkins
,
Stanton Seckinger
,
Tajh Boyd
,
Tavaris Barnes
,
Travis Blanks
,
Vic Beasley