| | |
| --- | --- |
| Clemson 2012 preseason practice report: Day 1, Practice 1 | |
---
| | | |
| --- | --- | --- |
| Friday, August 3, 2012, 7:30 PM | | |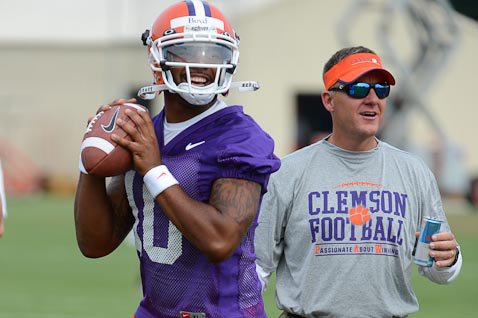 CLEMSON – "Buckle your chin straps, boys!"
Offensive coordinator Chad Morris shouted those words to his offensive players as warm-ups ended Friday afternoon, signaling the beginning of Clemson's 2012 fall camp with the Tigers' first practice in the shadow of the shell of the new indoor practice facility.
The media were allowed to watch the first 30 minutes of Friday's practice, not a lot of time but enough to get a feel for a few things.
WHAT'S NEWS?
*Backup kicker Ammon Lakip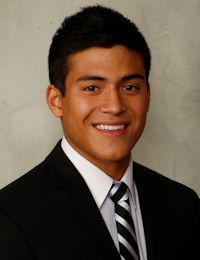 Ammon Lakip
RS So. Punter / Kicker
#36 5-11, 185
Alpharetta, GA
View Full Profile was in a walking boot with a crutch just four days after surgery on his right foot. Lakip was playing soccer for his club team Georgia - playing in a national championship game in Rock Hill – when he felt a pop in the foot. X-rays confirmed that he broke the fifth metatarsal bone in the foot. He had surgery on Monday, but said he should be back by the Furman game, Clemson's third of the season. He said one good thing that might come out of the injury is the fact that he is hopping around on his left, or plant leg, giving that leg strength.
*Linebacker Justin Parker
Justin Parker
Jr. Linebacker
#8 6-1, 225
Port Royal, SC
View Full Profile was in a yellow jersey, the result of a strained groin.
* Sammy Watkins
Sammy Watkins
So. Wide Receiver
#2 6-1, 200
Fort Myers, FL
View Full Profile , Nuk Hopkins, Daniel Rodriguez
Daniel Rodriguez
So. Wide Receiver
#83 5-8, 180
Stafford, VA
View Full Profile and Germone Hopper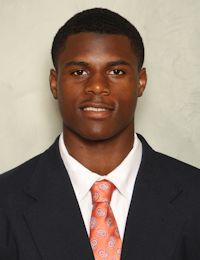 Germone Hopper
Fr. Athlete
# 6-0, 175
Charlotte, NC
View Full Profile were returning punts in the first part of the session. Sammy looked the most comfortable.
OBSERVATIONS
*Freshman punter Bradley Pinion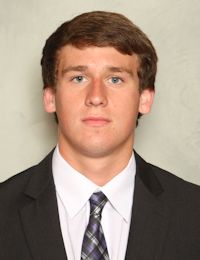 Bradley Pinion
Fr. Punter / Kicker
# 6-6, 220
Concord, NC
View Full Profile continues to impress me. He had a few punts that went off the side of his foot – every young punter will struggle with consistency – but there is no denying his leg strength. He booted a few that were 60-plus yards in length. I don't know how the coaches feel, but I think Pinion is going to be a weapon sooner rather than later.
*Freshman quarterback Chad Kelly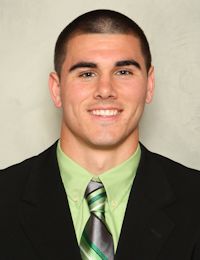 Chad Kelly
Fr. Quarterback
# 6-3, 205
Buffalo, NY
View Full Profile already looks the part of a college quarterback. I was impressed with both his footwork and his arm strength in the limited time we were allowed to watch. He has quick feet.
*Starting quarterback Tajh Boyd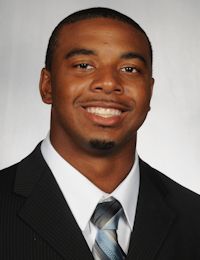 Tajh Boyd
RS Jr. Quarterback
#10 6-1, 225
Hampton, VA
View Full Profile weighed in at 220 pounds yesterday, and he looked slimmer during the drills. And there is no mistake this is his team, as many of the younger players and certainly the offensive players, look to him for leadership.
*Middle linebacker Stephone Anthony
Stephone Anthony
So. Linebacker
#12 6-3, 235
Polkton, NC
View Full Profile is – at least from a physical standpoint – the kind of linebacker Clemson has been missing the last few years. He weighed in at around the 239 mark on Thursday, and he looked like a prototypical NFL linebacker during drills.
*The wide receivers were using tennis balls to soft toss, but there was a machine ready for use. Many programs use tennis balls in order to increase hand-eye coordination.
*Wofford head coach Mike Ayers was a visitor at the practice, and I spoke with him for a few minutes. I asked Ayers why he was at the practice, and I received a typical Ayers' answer.
"I am trying to figure out how these guys beat us last year," Ayers quipped. "Actually, Dabo was gracious enough to invite us over, and see how Clemson runs things from an organizational standpoint. We had the opportunity to watch some film – both offense and defense – and I really liked what I saw. I wanted to see some things on special teams, but we didn't have enough time."
Ayers said he can see a difference in the Clemson program, at least from the standpoint of an interested observer.
"I really like the approach I am seeing around here," Ayers said. "There really is an improved energy from this staff, and you can see it when they are watching film and in the meetings."
Ayers also had something to say about the talent he saw out on the field.
"Phenomenal. Just phenomenal. They will have guys playing third team this year that would start at a lot of other places."
WHAT'S NEXT
Clemson will conclude Friday's practice, and TigerNet will have audio, video and stories from players and coaches on the first practice. I wouldn't be surprised to also hear something official about Watkins' punishment when we talk to Dabo at 8:30. The Tigers practice Saturday at 5:10 and will practice until 7:30. They have Sunday off.