---
| | | |
| --- | --- | --- |
| Tuesday, March 19, 2013, 4:05 AM | | |
Program Identity
After the 2010 football season at Clemson I criticized Dabo Swinney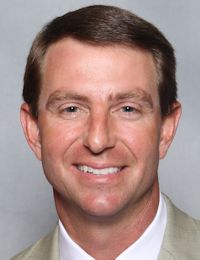 Dabo Swinney
Head Coach
View Full Profile and his staff for lacking an offensive identity. I had grown up with Clemson football and it was clear to me what the identity of the offense was during the glory years.
In January of 2011 Dabo hired Chad Morris
Chad Morris
Offensive Coordinator / QBs
View Full Profile and we immediately knew that Clemson had an offensive identity in football.
I was in Orlando in January met a gentleman from Ohio who saw a Tiger paw on my shirt and he said, "You guys at Clemson run that fast-paced offense. I love that offense. I watched your bowl game against LSU and loved you guys running 100 plays in that game."
In basketball, Oliver Purnell had his supporters for most of his time here at Clemson but a few slipped off of the bandwagon in his final season. Like every coach he was criticized at times during his stay here but even Purnell's detractors had to admit he branded Clemson basketball with an identity.
Anyone that knew anything about college basketball at that time could tell you that Purnell's Clemson teams were going to press you for 40 minutes and make the game a 94-foot game. The offense was not beautiful at times and the NCAA tournament record was not terrific, but the program had an identity.
I am hoping Brad Brownell
Brad Brownell
Head Coach
View Full Profile can soon establish an identity or a brand for Clemson basketball. After a season filled with bad luck, injuries, buzzer beaters and a long losing streak, I have compassion for Brownell who seemed to be snake bit over the last 11 months. He lost his top assistant in Rick Ray, who left to become the head coach at Mississippi State. He hit a home run with the hiring of James Johnson, an assistant at Virginia Tech, who a few days later left to go back and become the head coach in Blacksburg.Program Identity
I remember getting the phone call about Devin Coleman
Devin Coleman
So. Guard
#15 6-2, 200
Philadelphia, PA
View Full Profile in the off-season too. I knew when I first heard the news that an achilles tendon had cost the Tigers one of their promising players for the entire 2012-13 season. I also remember reading about Jaron Blossomgame
Jaron Blossomgame
Fr. Forward
#5 6-7, 205
Alpharetta, GA
View Full Profile 's broken leg and at the time I thought it was a possibility that he too could be out for a while but didn't know it was for the entire season.
So Brownell had a nightmare season where everything seemed to have him running uphill with 100 pound ankle weights on. But that is when you really need an identity.
Sometimes you have to play with the cards you are dealt and you have to adjust. For years North Carolina won with a two post offense. The Tar Heels almost always have big, physical post players that dominate on both ends of the floor. However, this year North Carolina does not have a physical post presence and Roy Williams has had to resort to putting four shooter out on the floor. For the first time in a long time, the Tar Heels look like Duke with their four out and one in offense.
Good coaches have to adapt to situations but I have little doubt that Williams and his staff will go right back to their two-post system in practice number one next season.
What will Clemson go back to?
Brownell prides himself on being a defensive minded coach and I hope his teams can get back to that but I didn't see great defense very often in the second half of the season.
Maybe the biggest goal of the off-season will be a re-dedication to that style of defense. Maybe this staff needs to make it clear that that is the way they have to play in order to win here. Hopefully the day of teams shooting over fifty percent from the field and the opponent having someone go off for a career high are behind us.
Identity is easy when you have players too. Chad Morris had Tajh Boyd, Dwayne Allen, Nuk Hopkins and Sammy Watkins in his first season. UNC had James Worthy, Sam Perkins, Tyler Hansbrough and a cast of a bunch of All-ACC post players.
However, I welcome the day where Clemson basketball is branded again. What is our program about right now? When prospects, fans and opponents think of Clemson basketball what do they think of at this point?
Hopefully in 2013-14 season and beyond, that won't be a difficult question to answer.
The Brad Hughes All-State Insurance Agency
Prayer List
We have started a prayer list on the blog. Here are the guidelines:
If you are offended by prayer or prayer lists then I apologize in advance. The blog is free and the prayer list will be on the bottom of the page so you don't have to read it.
If you would like to add someone to the list please email me at mickeyplyler@hotmail.com
*Please let me know when it is appropriate to take the person off of the prayer list.
Those who need our prayers include: Finn Brookover, Jo Ann Bachman, Kenneth Bryant, Pruitt Martin, Got igers and his family, David Rowland, Leonard, Gillespie and his family, Jim S, Daniel Rosborough, The Huffman family, Nancy Winkler, John Reeve, Ethel Southard, Vinnie Brock, Kaitlyn L, Susan Miller, Joyce Harley, Steve Proveaux, Jeffrey Greene, the Hutto family, Sherl Drawdy, Caleb Kennedy, Teresa O'Connor, Matt Jacobs,Perrin Seigler, Candee Massee, Lindsey Jordan, Sam Catoe, Tyler Felch, the Nicolopulos family, "the Jacksonville, FL guys", Kim Sims, the Coyle family, Ryleigh Tedder, Steve Lee, Kelly Trakas, Jimmy Moore, the Thomas. V Family, Emary Claire Young, Kitty Bowers,Julie Locke, the Scheider family, Lauren Kittles' family, Frank Gentry, Joyce Bussey, Stacey McKeown, Dale Childs, Larry Lentz, Jr, Carl Sharperson, Scott Hannon, William Perry, Tyler Swaney, Lillian, Mark Feit, David Frame, Chad Berry, the family of Matthew M. Watson, the Dowis family, Shervin Messer, Alan Putnam, the Olivers, Lee Tate, Ronnie Abrams, Eddie Greene, the Jackson family, Bill Vader, Jim Taylor, Tina DeWitt, Rock Horne, Christopher Tuten, Bobby Wayne Thomas, Emma and Danielle Carothers, Robert Ditty, Mr. and Mrs. Murray Smith, Dot Cartee, Ayden Mills, Millie Heatley, Lynn Martin and family, Michael Pinson, Jake David family, Angie Crowley, Ira, Mike Tolson, Poly Wells, Dr. Muriel Bishop, Jack Cunningham, Emily Jefford Meister, Zachary Stoller, Aaron Clackum, Pat James, Cortney Moore, William Moore, Angelia and Savannah Anderson, William Ross, Meredith Legg, Scott Johns, Frank Carroll, Brandon Thompson, Alvin Sammons, Georgine McAlhaney, Glen Davis, Mike Price, Clay Childers, Aaron Knight, Danielle Johnston and family, Nicholas Abrams, Lana Kuykendall, Gary, Gary G., William Huggins, Jim Bennett, Chantz Fowler, Ethel McElveen, Michele Gurganus, William Gentry, Lewis Usher and Tanya Sanders, Shon Cooper, Nick Collins, Travis Patterson, Amanda Peake, Danny Hammond, Chip Turner, Nick Collins, Allen Steen, The Sturkey Family, the Lance family, Marcus Lattimore, Nick Chrisley's family, Allison Williams, Lt. Kyle Walker, Summer and Joel Johnson, Nicole O'Donnell, James O. Johnson, Joy Pruett and family, Patrick Heher, Bill Schmidt, Jack Bailey, Bill Early, Gardner Family, Charles Turner, Kathy Bartholomew, Ray Sanders, David and Robin Blocker, J.R. Ray, Kenneth Kowe, Lauren Sielicki, Doug Bailey and family, Johnnie Walker, Jenna Phipps, Mark Lawrence, Harlan Sullins, Peter Laboy, Kat and Carlisle Jones, our great country and the men and women in uniform that protect and serve it every day plus their families.