---
Number Three
I woke up yesterday morning concerned about an upcoming Clemson game for only the third time all year.
I had no idea what to expect in the season opener against Auburn. No one knew what to expect from both teams. Clemson was without Sammy Watkins
Sammy Watkins
So. Wide Receiver
#2 6-1, 205
Fort Myers, FL
View Full Profile . Auburn had two new coordinators while Clemson had a new defensive coordinator. In the end, no one knew Auburn would be a dumpster fire this season but going into the game I was nervous.
Going into the Florida State game I was worried for only the second time this season. FSU was ranked in the top five and this was a night game in Tallahassee. The Noles had a NFL defensive line and speed in the secondary and at wide out. I thought Clemson would play well but knew the Noles were ultra-talented.
The other eight opponents have not worried me. I have gone into the Ball State, Furman, Boston College, Georgia Tech, Virginia Tech, Wake Forest, Duke and Maryland games without major concerns. They have not held my attention. I always have concerns about injuries, bad weather, turnovers and bad officiating, but I just couldn't find a way to be overly concerned about those contests.
This morning was different. For the third time this season, I am concerned.
NC State is a solid program that can beat FSU one week but inconsistent enough to lose by 27 at home to Virginia as well. Mike Glennon is dangerous as a passer who has almost 3,000 yards through the air. Defensively, State will blitz you coming off of the bus. Few teams bring as much pressure as NC State. However, the secondary has given up big plays as a result.
But my main concern right now is not NC State. It's Clemson.
This week on my radio show this week, no one calls talking about NC State. Instead they are calling about next week's South Carolina game or the possibility of a Sugar Bowl bid. Heck, this morning we were talking about trying to get Clemson play-by-play guy Pete Yanity to pull a Larry Munson and claim, "Look at the sugar falling from the sky!"
I know two things. Clemson is not playing South Carolina this week and the Tigers are not playing in the Sugar Bowl this week.
Dabo Swinney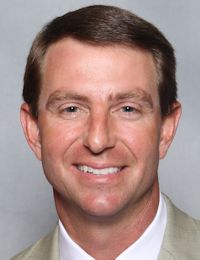 Dabo Swinney
Head Coach
View Full Profile has done a terrific job of keeping his team focused throughout this season. When FSU was two weeks away, the Tigers did not overlook Ball State or Furman. However, even if they did then they would have still beaten the Cardinals and Paladins.
They don't have that luxury this week. If Clemson lays an egg this week, NC State is more than capable of pulling the upset.
Last week at Alabama the players were still getting asked about LSU, while A&M was waiting to ambush the Tide. This week Clemson players are walking around campus and their classmates are asking them about South Carolina or the Sugar Bowl possibilities. No one is asking them about the Wolfpack.
Yesterday we found out the Clemson-South Carolina game will be a night game. The campus was buzzing. Yipee! Finally a night game! But the Tigers don't play South Carolina at night this week. They play NC State at 3:30.
I am also concerned that this team has not laid an egg all season. Few teams can go through a 12-game season without laying an egg. Can this team do it?
This is the perfect trap game for the Tigers. Most likely, Florida State will clinch the Atlantic Division title before the Tigers and Wolfpack take the field. This has trap game written all over it.
In the end, I still trust this team. This staff has had this team prepared every single week. The head coach has preached preparation every week. Chad Morris
Chad Morris
Offensive Coordinator / QBs
View Full Profile and Brent Venables
Brent Venables
Defensive Coordinator / Linebackers
View Full Profile are extremely focused personalities and that has helped this team focus as well.
I also felt better after talking to a football staff member yesterday at lunch. He said, "This team just feels like a different 9-1 team this year."
I hope that is the case. I hope the focus is there. If not, State is more than capable.
The Brad Hughes All-State Insurance Agency
Prayer List
We have started a prayer list on the blog. Here are the guidelines:
If you are offended by prayer or prayer lists then I apologize in advance. The blog is free and the prayer list will be on the bottom of the page so you don't have to read it.
If you would like to add someone to the list please email me at mickeyplyler@hotmail.com
*Please let me know when it is appropriate to take the person off of the prayer list.
Those who need our prayers include:Finn Brookover, Jo Ann Bachman, Kenneth Bryant, Pruitt Martin, Got igers and his family, David Rowland, Leonard, Gillespie and his family, Jim S, Daniel Rosborough, The Huffman family, Nancy Winkler, John Reeve, Ethel Southard, Vinnie Brock, Kaitlyn L, Susan Miller, Joyce Harley, Steve Proveaux, Jeffrey Greene, the Hutto family, Sherl Drawdy, Caleb Kennedy, Teresa O'Connor, Matt Jacobs,Perrin Seigler, Candee Massee, Lindsey Jordan, Sam Catoe, Tyler Felch, the Nicolopulos family, "the Jacksonville, FL guys", Kim Sims, the Coyle family, Ryleigh Tedder, Steve Lee, Kelly Trakas, Jimmy Moore, the Thomas. V Family, Emary Claire Young, Kitty Bowers,Julie Locke, the Scheider family, Lauren Kittles' family, Frank Gentry, Joyce Bussey, Stacey McKeown, Dale Childs, Larry Lentz, Jr, Carl Sharperson, Scott Hannon, William Perry, Tyler Swaney, Lillian, Mark Feit, David Frame, Chad Berry, the family of Matthew M. Watson, the Dowis family, Shervin Messer, Alan Putnam, the Olivers, Lee Tate, Ronnie Abrams, Eddie Greene, the Jackson family, Bill Vader, Jim Taylor, Tina DeWitt, Rock Horne, Christopher Tuten, Bobby Wayne Thomas, Emma and Danielle Carothers, Robert Ditty, Mr. and Mrs. Murray Smith, Dot Cartee, Ayden Mills, Millie Heatley, Lynn Martin and family, Michael Pinson, Jake David family, Angie Crowley, Ira, Mike Tolson, Poly Wells, Dr. Muriel Bishop, Jack Cunningham, Emily Jefford Meister, Zachary Stoller, Aaron Clackum, Pat James, Cortney Moore, William Moore, Angelia and Savannah Anderson, William Ross, Meredith Legg, Scott Johns, Frank Carroll, Brandon Thompson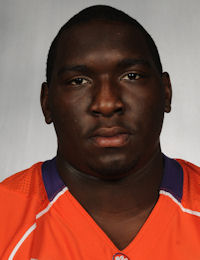 Brandon Thompson
Defensive Tackle
#98 6-2, 310
Thomasville, GA
View Full Profile , Alvin Sammons, Georgine McAlhaney, Glen Davis, Mike Price, Clay Childers, Aaron Knight, Danielle Johnston and family, Nicholas Abrams, Lana Kuykendall, Gary, Billy McLeroy, Gary G., William Huggins, Jim Bennett, Chantz Fowler, Ethel McElveen, Michele Gurganus, William Gentry, Lewis Usher and Tanya Sanders, Shon Cooper, Nick Collins, Travis Patterson, Jennifer Chancy, Eden Chandler, Amanda Peake, Danny Hammond, Chip Turner, Nick Collins, Allen Steen, The Sturkey Family, James Caylor, Ron Johnson, John Ellis Haddad, the Lance family, Marcus Lattimore, Nick Chrisley's family, Allison Williams, Lt. Kyle Walker, Summer and Joel Johnson, Nicole O'Donnell, Jennifer McManus, James O. Johnson, our great country and the men and women in uniform that protect and serve it every day plus their families.

Upgrade Your Account
Unlock premium boards and exclusive features (e.g. ad-free) by upgrading your account today.
Upgrade Now