---
Friday Email Bag
Each Friday I publish your comments and answer your questions.  To submit a comment or questions please email me at mickeyplyler@hotmail.com.
Mickey,
Am I alone in thinking the latest news that John Swofford is "exploring" a branded ACC network, right after signing a new TV deal, reeks of desperation? With MD leaving for the Big10 and the Big East being dropped from "elite" status, what does the ACC offer a school like Clemson or FSU that would justify turning down the Big12/SEC/Big10 when they decide to expand? If the ACC cannot find a way to bridge the financial gap with these other conferences (bowl payouts, TV deals, etc.), it seems inevitable that ACC schools will fall behind in facilities/coaches/recruiting budget/etc. Our new practice facility is beautiful, but keeping up with USC, Bama, LSU, UGA, Auburn, Florida et al. is going to be a tall order over the next 15 years if we cannot match their financial resources. I don't particularly want to leave the ACC, though I see being stuck as the only football school in a watered down ACC as a far worse fate than jumping ship now and securing our football and financial future.
Go Tigers!
Luke
Luke,
I think the conference is doing anything they can to keep FSU and Clemson. The financial aspect is the most important. FSU is going to have a hard time watching Florida make more money. Clemson is going to have a difficult time watching South Carolina make more money. The other side of this is identity. I think everyone needs to ask themselves who they are and what they want to be. In my opinion FSU and Clemson are football schools. The ACC is made up of a bunch of basketball schools. FSU and Clemson are southern schools. The ACC is making moves north. I think FSU and Clemson need to ask themselves who they are and who they want to surround themselves with.
Hey Mickey - really enjoy the Friday Mail bag and your blogs -
Why doesn't the Athletic Dept, put an end to the misery that is Clemson Lady Tiger Basketball ?  Ever since Jim Davis was forced out the program has been embarrassing, mismanaged, miscoached. I believe the program is on it's 3rd coach and  3 players have quit the team this season and will transfer. That should be a big clue that something is not right. I would love to see the lady basketball team scratched and a lady softball team replace the basketball. The Upstate is a hotbed of lady softball and would be a well attended, unlike the lady basketball games. The softball could probably come close to breaking even or even turning a small profit with some good promotions. Land could be found for a field . Think of all the money that could be saved just from not having to open up and staff Littlejohn for 370 "fans" of the lady basketball team. Just a thought.
Thank You
Jody
Jody,
Clemson will never drop women's basketball. It won't happen. They may add softball one day but it won't replace basketball. I agree that the program is broken at this point. I am not sure why and certainly don't know how to fix it but what I do know is that it's broken.
Mickey,
I heard you talking about recruiting and how it's important about getting the right guy. Not having a "space" guy. College football has turned into a business and would like your opinion on this topic. How do you feel about coaches pulling scholarships on rising seniors that hasn't contributed on the field. I know they are involved in a lot off the field, but playing time has been "mop up duty" at best. As always, BAN THE WOO HOO!!
Mike
Mike,
I don't like it when scholarships are pulled because a guy is not a good player. If he breaks team rule then that is a different story but if a guy is not as good as you thought then the coaches should not have signed him. That's should be on the coaches, not the player.
Mickey,
Regarding great Clemson games, I was living near Chicago in 1979 and had the privilege of watching Clemson beat Notre Dame at South Bend. There was very little orange in the stands that day, and those of us who witnessed it felt like it was a game of significance.  As the game drew to a close, the Notre Dame fans, who were very kind, became very inquisitive about Clemson, one seriously asking in what part of Tennessee was Clemson located.
Question: In last week's email bag, Andy mentioned a game in Charlotte where Pistol Pete's LSU was pitted against Clemson. Seems like when I was a student in the late '60's I remember Pistol Pete, and the LSU Tigers playing a game at Clemson.  Can you verify if this is correct?  I recall that although LSU won the game, we held Maravich to a very low score.
Dennis
Dennis,
Pistol Pete Maravich played at LSU in the 1967-68 season, the 1968-69 season and the 1969-70 season. Clemson lost at LSU 104-81 in January 1968 where he hit 33 points. In 1968-69 LSU played at Clemson and beat Clemson 86-85. Maravich was 10 of 32 and scored 38 points because he was 18 of 22 from the free throw line. That game was the fourth worst shooting game of his college career. The two teams played in Charlotte in his senior season when LSU won 111-103. Maravich was 22 of 30 from the field and scored 49 points. Hope this helps.
Mickey,
ACC Basketball and Clemson's warm weather climate were major factors in my decision to attend Clemson from southeast VA in 1979. I rarely missed a game in my time at Clemson, and over the years enjoyed the play of personal favorites incl. Terrell McIntyre, Dale Davis, Larry Nance, Moose Campbell, Elden Campbell, Trevor Booker, Greg Buckner and of course Horace Grant. Demontez Stitt was a quality player - maybe our last up until now. No doubt "one and done" has diminished college and ACC basketball, but cannot be blamed for Clemson's current malaise on the court. 
Now that Purnell's midnight train out of Clemson and Terrence Oglesby's early exit to Norway are several years in the rear view mirror, maybe you could shed some light and your perspective on what really happened. In my mind, the two departures are indirectly linked and also a factor in the current decline of Clemson Basketball. Oglesby was an exciting player ... a brash gunner with range up to halfcourt completely fearless about letting it fly. I doubt Oglesby was a favorite of Purnell or other players, and I rarely saw a screen set for Oglesby even though he was a rare shooting phenom with JJ Reddick accuracy and range - without the maturity and discipline (but he11 he was a freshman/soph kid). Oglesby was a bomber and fan favorite who like Reddick could be a liability on defense. While the great and hated Coach K pushed Reddick, Coach K also set up dozens of screens and catered to Reddick's defensive limitations; Coach Purnell seemed unable to make peace with Oglesby.    
I was greatly looking forward to the 2009-2010 season with Trevor Booker, Demontez Stitt, Jerai Grant and Oglesby returning. They finished 21-11 / 9-7 ACC - a good year in Book's last season but not the year it could have been with Oglesby on the team.  The mad bomber was gone, and while Book and Stitt were much better all-around players, significant spark and excitement was gone from Clemson Basketball as well. My UVA friends never quite knew what to make of Oglesby, but they were somewhat reverential of his range, accuracy and game-winning shots. I recall Oglesby being kicked out of a controversial NCAA tournament game in 2009, Purnell stating all starting positions "besides Booker" were open for 2009-10, and Oglesby stating "see you later coach". Seemed like Purnell and Oglesby were having a prideful tug-of-war which both of them and the Clemson fans lost in the end.
Well Oglesby's time at Clemson ended too soon for me. I would have enjoyed seeing him play another year with Book and Stitt. Purnell did a great job in his years at Clemson. Coach Purnell optimized the talent of athletes incl. Hammonds, Mays, Rivers, & Sam Perry who gave 100% on defense. He utilized a full-court press defense and fast-break formula which was exciting and proved successful up until NCAA tourney time. All that said, I believe 2009-10 could have been a springboard for Coach Purnell and Clemson Basketball and represents a lost opportunity.
So in conclusion, admittedly lacking your sources Mickey, am I completely off base? What am I missing? Thanks for your thoughts and insights on a curious and perhaps short-changed chapter in Clemson Hoops history.  
Soc
Soc,
I agree that it would have been nice to see both stay at Clemson longer. Oglesby was an unbelievable shooter and his range helped the rest of his teammates on that end of the floor.
Purnell got frustrated with the lack of support. He was promised things that he did not get. He was frustrated with the lack of communications with the AD.
Clemson basketball is hard job. Things have to go right to be successful. The margin of error for Clemson basketball is far less than Duke or UNC. Everyone has to be on the same page and rowing in the same direction and even then it is still difficult.
My guess is that it will take a huge commitment to get over the hump. Clemson is going to have to make a conscious effort to change the approach to basketball.
Mickey:
I just saw the Historical Photo #8 on TigerNet from 1964 that shows the team running down the hill.  They are wearing white jerseys.  I haven't seen the Tigers wear white at home.  My first game at Death Valley was in 1977, and I have never seen white at home.  Did they used to wear white at home?
Also, do you suppose that we will ever go to some of the "modern" uniforms like Oregon or stay with the traditional?  Your thoughts please.
Walt
Walt,
Clemson wore white jerseys at home a few years in the 1960s but I have been seen almost every home game since 1974 and have never seen Clemson wear white jerseys at home. To my knowledge, LSU and Georgia Tech are the two only schools that routinely wear white jerseys at home.
I think as long as Dabo is here we will see the classic look.
The Brad Hughes All-State Insurance Agency
Prayer List
We have started a prayer list on the blog. Here are the guidelines:
If you are offended by prayer or prayer lists then I apologize in advance. The blog is free and the prayer list will be on the bottom of the page so you don't have to read it.
If you would like to add someone to the list please email me at mickeyplyler@hotmail.com
*Please let me know when it is appropriate to take the person off of the prayer list.
Those who need our prayers include:Finn Brookover, Jo Ann Bachman, Kenneth Bryant, Pruitt Martin, Got igers and his family, David Rowland, Leonard, Gillespie and his family, Jim S, Daniel Rosborough, The Huffman family, Nancy Winkler, John Reeve, Ethel Southard, Vinnie Brock, Kaitlyn L, Susan Miller, Joyce Harley, Steve Proveaux, Jeffrey Greene, the Hutto family, Sherl Drawdy, Caleb Kennedy, Teresa O'Connor, Matt Jacobs,Perrin Seigler, Candee Massee, Lindsey Jordan, Sam Catoe, Tyler Felch, the Nicolopulos family, "the Jacksonville, FL guys", Kim Sims, the Coyle family, Ryleigh Tedder, Steve Lee, Kelly Trakas, Jimmy Moore, the Thomas. V Family, Emary Claire Young, Kitty Bowers,Julie Locke, the Scheider family, Lauren Kittles' family, Frank Gentry, Joyce Bussey, Stacey McKeown, Dale Childs, Larry Lentz, Jr, Carl Sharperson, Scott Hannon, William Perry, Tyler Swaney, Lillian, Mark Feit, David Frame, Chad Berry, the family of Matthew M. Watson, the Dowis family, Shervin Messer, Alan Putnam, the Olivers, Lee Tate, Ronnie Abrams, Eddie Greene, the Jackson family, Bill Vader, Jim Taylor, Tina DeWitt, Rock Horne, Christopher Tuten, Bobby Wayne Thomas, Emma and Danielle Carothers, Robert Ditty, Mr. and Mrs. Murray Smith, Dot Cartee, Ayden Mills, Millie Heatley, Lynn Martin and family, Michael Pinson, Jake David family, Angie Crowley, Ira, Mike Tolson, Poly Wells, Dr. Muriel Bishop, Jack Cunningham, Emily Jefford Meister, Zachary Stoller, Aaron Clackum, Pat James, Cortney Moore, William Moore, Angelia and Savannah Anderson, William Ross, Meredith Legg, Scott Johns, Frank Carroll, Brandon Thompson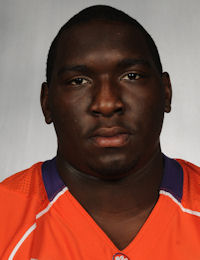 Brandon Thompson
Defensive Tackle
#98 6-2, 310
Thomasville, GA
View Full Profile , Alvin Sammons, Georgine McAlhaney, Glen Davis, Mike Price, Clay Childers, Aaron Knight, Danielle Johnston and family, Nicholas Abrams, Lana Kuykendall, Gary, Gary G, William Huggins, Jim Bennett, Chantz Fowler, Ethel McElveen, Michele Gurganus, William Gentry, Lewis Usher and Tanya Sanders, Shon Cooper, Nick Collins, Travis Patterson, Amanda Peake, Danny Hammond, Chip Turner, Nick Collins, Allen Steen, The Sturkey Family, Lance family, Marcus Lattimore, Nick Chrisley's family, Allison Williams, Lt. Kyle Walker, Summer and Joel Johnson, Nicole O'Donnell, Jennifer McManus, James O. Johnson, Joy Pruett and family, Patrick Heher, Bill Schmidt, Jack Bailey, Bill Early, Gardner Family, Charles Turner, Kathy Bartholomew, Ray Sanders, David and Robin Blocker, J.R. Ray, Kenneth Kowe, Lauren Sielicki, our great country and the men and women in uniform that protect and serve it every day plus their families.

Upgrade Your Account
Unlock premium boards and exclusive features (e.g. ad-free) by upgrading your account today.
Upgrade Now