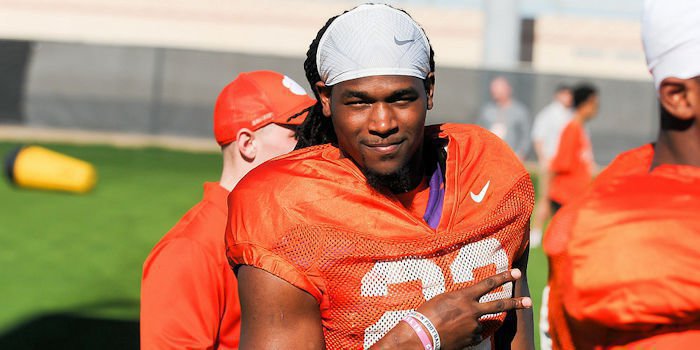 | | |
| --- | --- |
| Tony Elliott on the loss of Tyshon Dye: "He made me a better person" | |
---
| | | |
| --- | --- | --- |
| Tuesday, July 16, 2019, 9:24 AM | | |
Clemson co-offensive coordinator Tony Elliott spoke to a large gathering at the Clemson media outing Tuesday discussing several subjects including the sudden passing of Tyshon Dye.
Dye drowned at Lake Russell in Russell B. State Park on July 5.
"That was devastating," Elliott said. "Just like when I got the news with C.J. (Fuller), it was devastating. These are my guys. These are like my sons and it is really really hard. I think with Tyshon there was a lot more denial than it was with C.J. just because this 'can't be happening' again, there is no way."
Elliott shared that Dye was a very special person to him.
"Tyshon was very focused and the thing that made it so tough for me, Tyshon probably gave more to me than I gave to him. I take pride pouring everything I got in my players. The person that he was, how he conducted his business, obstacles that he overcame, he gave me so much. He made me a better person. That's what really caught me off-guard cause I wasn't expecting that call on a Friday night."
Tigernet would like to give out our warmest condolences to the family and friends of Tyshon Dye.