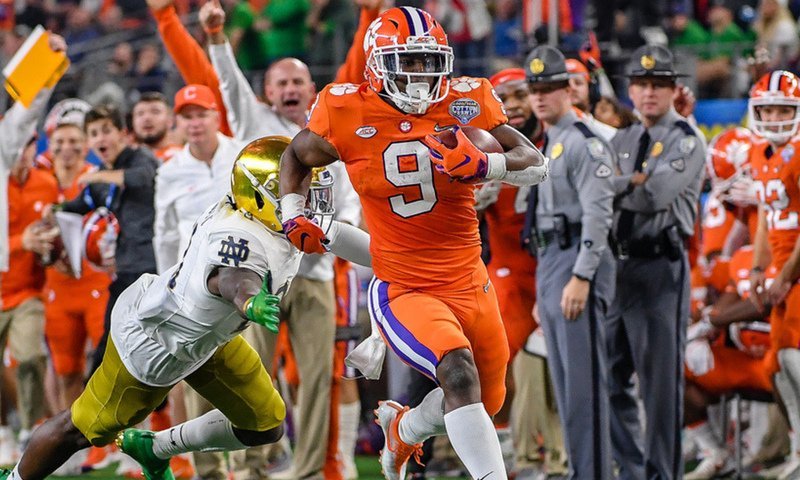 | | |
| --- | --- |
| Eliott discusses Etienne's potential high-ceiling | |
---
| | | |
| --- | --- | --- |
| Sunday, January 6, 2019, 12:40 PM | | |
One of the most dynamic players in the country is Clemson sophomore running back Travis Etienne. His speed and change of direction is already on an elite level in college football.
Clemson co-offensive coordinator Tony Elliott was asked about the high-ceiling with Etienne.
"He's still got a lot of room before he hits his ceiling," Elliott said. "First, you'll start physically. He's made some progress, put on some good weight. He really hasn't started to fill out. If you look at him, he doesn't look like a typical running back from the top up. From the bottom down he does. He's going to continue to mature upper body-wise, put on some more good weight to help him be more physical, a stronger runner."
Etienne can get even better once he fully understands how to make quick decisions based on different plays.
"Better understanding of the schemes," Elliott said about his possible improvement. "The more reps he gets with the different schemes that we run, he's going to be able to develop more patience, to be able to use his blocking a little bit better in pass protection, just continue to increase his knowledge, to be able to anticipate a little bit better so that he can beat guys to the point of attack and give himself more of advantage, as opposed to being at a disadvantage being late."
Elliott knows there is even more ability that Etienne has not shown Clemson nation.
"He's very dynamic right now, a special talent," he said. "But he and I both know there's more in that tank that we got to continue to figure out what are the buttons I got to push to help him grow, make sure that I'm giving him good instruction to help him develop the way he needs to develop."
Etienne has 190 rushes for 1572 yards and an impressive 22 touchdowns this season.