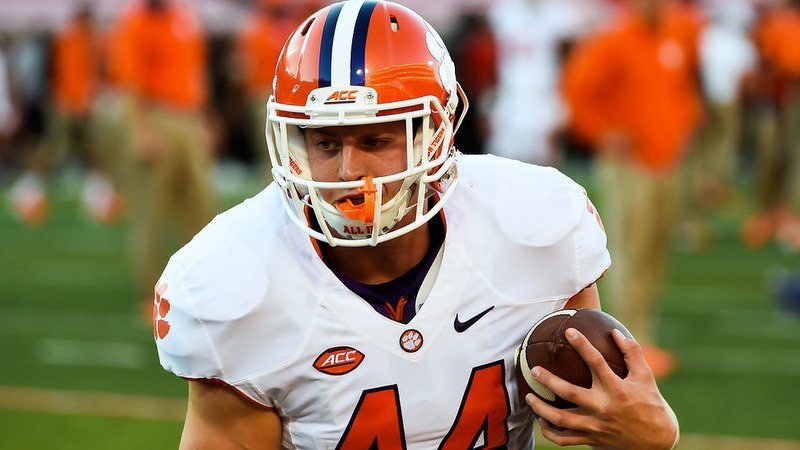 | | |
| --- | --- |
| Clemson TE "most likely" will not return | |
---
| | | |
| --- | --- | --- |
| Wednesday, February 6, 2019, 3:16 PM | | |
Clemson coach Dabo Swinney talked about his current roster for the 2019 season and shared that graduate tight end Garrett Williams might forego his final year of eligibility and start his military career.
"Garrett most likely will not be back in the fall," Swinney said. "He is around this spring, and he will be out there helping us. He is dealing with his health issues. He's getting his knee back right. He's got a lot of things he is dealing with. But he really wants to go into the military. So right now I would say he is probably not going to be back, but we're kind of leaving that open-ended right now."
Swinney is going to keep all the options on the table and allow Williams time to make his decision.
"Just kind of see where he is when he really gets healthy and what he really wants to do," he said. "But right now that's probably the direction he's going. He wants to be a Navy Seal and join the military. He's excited about that."
Williams discussed with TigerNet what he was thinking regarding his future in November.
"It's something I've been thinking about for a while. I came in here and didn't redshirt originally. I played my first two years and tore my ACL, so I sat out my third year, so in a sense, I've always felt like a senior," Williams said. "I'm thankful for the opportunity to potentially play another year, but right now I'm just going back and forth on what I want to do. At this point, I'm not 100-percent sure on what I want to do, but after talking with Coach (Dabo) Swinney, he told me that even if it was a consideration of mine to leave that he wanted to give me the opportunity to walk on senior day and experience that just in case. I'm thankful for that, and it just shows you how great coach Swinney is honestly. He cares about us and wants us to experience everything. I love this place with all my heart and if I did make the decision to leave that would be very difficult to do. I'm going to follow God's plan for me and listen to him."