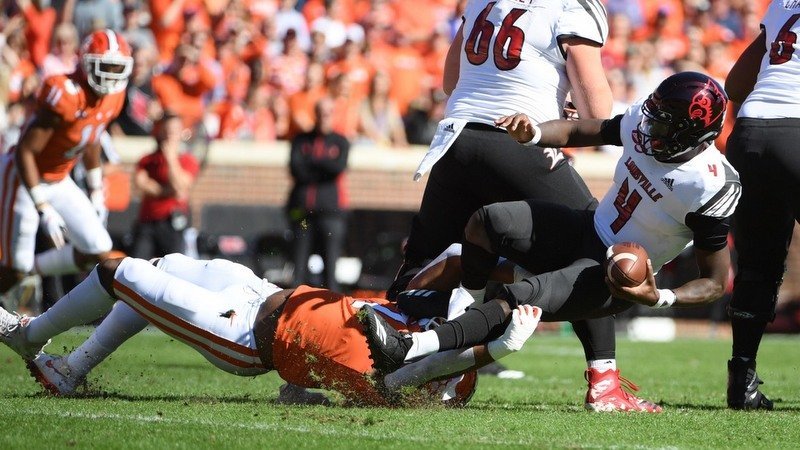 | | |
| --- | --- |
| Notes & Quotes from Clemson's 77-16 victory over Louisville | |
---
| | | |
| --- | --- | --- |
| Saturday, November 3, 2018, 5:42 PM | | |
NOTES
Prior to the game, Clemson completed "the most exciting 25 seconds in college football" for the 400th time in history. The Tigers have run down The Hill prior to every home game since 1942 with exception of the 1970-71 seasons, the first four games of 1972 and the first game of 1973.
On his 19th snap of the game, a four-yard reception by Amari Rodgers, tackle Mitch Hyatt broke center Dalton Freeman's record (3,361 from 2009-12) for the most career snaps from scrimmage in Clemson history.
Hyatt made his 51st career start to add to his school record for career starts by an offensive lineman. It pulled him one start shy of kicker Chandler Catanzaro's school record of 52 career starts.
Clemson's 77 points were the fourth-most in a game in program history, trailing only contests against Guilford (122-0 on Oct. 5, 1901), Furman (99-0 on Sept. 25, 1915) and Wake Forest (82-24 on Oct. 31, 1981).
Clemson reached the 70-point mark for the first time since a 73-7 win against South Carolina State on Sept. 6, 2014. It was Clemson's first 70-point game against an FBS opponent since Oct. 20, 2007, when the Tigers defeated Central Michigan, 70-14.
Clemson reached the 70-point mark against an ACC opponent for only the second time in program history, joining the school's 82-point output against Wake Forest on Oct. 31, 1981. It marks the sixth time in ACC history that a team has scored 70 points in a conference game.
The 61-point victory was Clemson's largest in conference play in school history, surpassing its 60-point win at Wake Forest earlier this year.
Clemson has now scored 50 points in consecutive games for the first time since 2015 against Miami (58) and NC State (56).
Clemson tied a school record by scoring 40 points in a fourth consecutive game. Clemson has previously recorded four straight 40-point games three times (2009, 2012, 2013), with all three previous instances coming under Head Coach Dabo Swinney.
With 240 points in the last four games, Clemson broke the previous team record for points in a four-game span, set in 1900 (208). That four-game stretch in 1900 featured point totals of 39, 12 and 35 prior to a 122-0 win vs. Guilford.
Clemson has now outscored its last four opponents (all ACC opponents) by a margin of 240-36. Clemson's differential of 204 points is the largest in four consecutive ACC contests in conference history, surpassing Florida State's margin of 184 points in 2000.
Clemson has now won four consecutive games by at least 30 points for the first time in school history. The Tigers earned wins of 60, 34 and 49 points in their three most recent contests prior to the game against Louisville.
With 661 yards, Clemson reached 600 yards for the second time this season (698 at Wake Forest). It marks Clemson's first time posting 600 yards on multiple ACC opponents since 2015 vs. North Carolina and NC State.
Clemson averaged a school-record 11.6 yards per play, breaking a record that had stood since 1903 (11.2 vs. Georgia Tech).
For the second time this season, Clemson set a school record in yards per carry. The Tigers rushed for 13.3 yards per carry, surpassing the program record of 11.8, set earlier this season at Wake Forest.
Clemson rushed for 492 yards, its most under Dabo Swinney and the fourth-most in team history. Clemson is 51-1 when rushing for at least 200 yards under Dabo Swinney.
Clemson has now reached 500 yards of offense in consecutive games for the first time this season and the first time since closing the 2016 season and opening the 2017 season with 500-yard games.
Clemson has now accrued 450 yards of offense in seven straight games for the first time since a 12-game streak spanning the final 11 games of 2015 and the opener in 2016.
Clemson outrushed Louisville, 492-81, and outrushed an opponent for the eighth time in nine games this season. The Tigers have now outrushed opponents in 19 of their 23 games since 2017 and are 19-0 when outrushing opponents in that time frame.
Clemson's 411-yard rushing advantage is the program's largest in single-game records dating back to 1954.
Clemson had three players (Travis Etienne, Tavien Feaster and Lyn-J Dixon) rush for 100 yards in the game. It marked the seventh time in team history and second time this season that Clemson had three different players rush for 100 yards in a single game. It marks the first time Clemson has accomplished the feat twice in one year.
Quarterback Trevor Lawrence was 8-12 for 59 yards with two touchdowns through the air.
Lawrence threw an interception on his seventh pass attempt of the day, his first interception since his fourth pass attempt against Georgia Tech on Sept. 22. It snapped a streak of 136 consecutive passes without an interception, only seven passes shy of Cullen Harper's single-season school record of 143 in 2007.
Clemson won its fifth game with Lawrence as the starting quarterback to give him the school record for most wins as a true freshman starting quarterback.
Running back Travis Etienne amassed 153 yards on eight carries, including one for a touchdown.
The 100-yard rushing game was the sixth of Etienne's career and his fifth of the season. Clemson has now posted a 37-2 record when producing a 100-yard rusher since 2011.
Clemson opened the scoring on a 10-yard touchdown run by Etienne, his 15th rushing touchdown of the season and 28th rushing touchdown of his career. Clemson improved to 35-0 when scoring first since 2015.
Etienne's touchdown on Clemson's opening drive marked the second time this season that Clemson scored on its opening drive, joining an opening drive score against NC State.
The rushing touchdown was Etienne's 28th of his career, tying him with Terry Allen (28 from 1987-89) for eighth on the school's leaderboard for career rushing touchdowns.
It was Etienne's 29th total touchdown of his career, tying him with Sammy Watkins (29), for eighth on the school's leaderboard for total touchdowns in a career.
Running back Tavien Feaster rushed six times for 101 yards with a career-high two rushing touchdowns.
Feaster scored a 70-yard touchdown run on his first carry of the game. It was his third touchdown run of the season and the 12th of his career.
The 70-yard touchdown run was Feaster's longest rush since scoring on an 89-yard touchdown run at NC State in 2017.
Feaster's 70-yard run also tied a 70-yard touchdown run by Etienne against Wake Forest for the longest play by the Tigers this season.
Feaster later added a three-yard rushing touchdown in the third quarter.
On an 11-yard touchdown reception from Lawrence in the second quarter, wide receiver Tee Higgins became the first Clemson player to catch a touchdown in four straight games since Mike Williams posted two four-game streaks in 2016.
Wide receiver Amari Rodgers recorded his fourth receiving touchdown of the season on a three-yard pass from Lawrence in the second quarter.
Rodgers has now caught a touchdown pass in back-to-back games for the first time in his career.
Wide receiver Trevion Thompson recorded his first touchdown reception of the season, the second of his career, on a six-yard pass from quarterback Chase Brice.
Running back Lyn-J Dixon scored his fourth rushing touchdown of the season on a 55-yard run in the fourth quarter.
Dixon finished the contest with 116 yards on four carries.
Wide receiver Will Swinney recorded the first touchdown reception of his career on an eight-yard reception from Brice in the fourth quarter.
Swinney scored Clemson's final touchdown in a game in which 10 different players recorded a touchdown.
Clemson scored 11 touchdowns on 15 drives, including touchdown streaks of four drives (twice) and three drives. Ten different Clemson players scored Clemson's 11 touchdowns.
Wide receiver Hunter Renfrow caught a pass to extend his streak of consecutive games played with a reception to 37, moving past Jerry Butler for sole possession of the second-longest streak in school history. It pulled him within one game of Artavis Scott's team record of 38 from 2014-16.
Clemson recorded a season-high six sacks. Clemson has now registered at least five sacks in consecutive games for the first time since 2017 vs. Auburn and Louisville.
Clemson forced a three-and-out on Louisville's opening drive on defensive end Austin Bryant's fourth sack of the season on the third play of the drive.
In the second quarter, linebacker J.D. Davis recorded the first forced fumble of his career while notching his second sack of the season.
Linebacker Isaiah Simmons scored a pick-six on his first career interception, returning it 28 yards for a touchdown.
Simmons' interception return for touchdown was Clemson's first of the season and first since Ryan Carter's 12-yard pick-six at South Carolina on Nov. 25, 2017.
With Simmons' interception, Clemson has now forced a takeaway in 17 consecutive games, the program's longest streak since an 18-game stretch across the 2004-05 seasons.
Defensive tackle Dexter Lawrence recorded a half-sack to give him 10.0 career sacks. He joined teammates Clelin Ferrell, Christian Wilkins and Austin Bryant with double-digit career sacks.
Lawrence later scored the first rushing touchdown of his career on a two-yard run in the third quarter. He scored the rushing touchdown one week after Christian Wilkins became the first Clemson defensive lineman to score a rushing touchdown in the two-platoon era.
Safety Tanner Muse recorded his team-leading and career-high second interception of the season in the third quarter.
Linebacker Kendall Joseph led the team with 10 total tackles. Joseph also matched his career high with 1.5 sacks.
Clemson led, 35-3, after the first half. It marked Clemson's second 35-point half of the season, matching a 35-point second half against Wake Forest.
Clemson allowed a 25-yard Louisville field goal with 3:16 remaining in the first quarter. It marked the first points allowed by Clemson's defense in the first half since a Syracuse field goal with 0:24 remaining in the second quarter on Sept. 29, a span of 103:08 of game play. Clemson shut out opponents in the first half of its three previous contests (at Wake Forest, vs. NC State, at Florida State).
Clemson did not allow a first-half touchdown and has not allowed a first-half touchdown in its last four games. Clemson has allowed only one first-half touchdown in its 12 home games since 2017.
After a sack-free game at Florida State last week, Clemson has now posted back-to-back games with zero sacks allowed for the first time since 2012 vs. NC State and Maryland.
Clemson's captains for the contest were cornerback Trayvon Mullen, tight end Milan Richard, wide receiver Trevion Thompson and linebacker Jalen Williams.
WITH THE WIN
Clemson has now opened a season 9-0 for the fifth time in program history and the third time in the last four years (1948, 1981, 2015, 2016 and 2018). Clemson earned conference titles in all of the previous four seasons in which it opened 9-0.
Clemson has now won the first nine games of a season for the third time under head coach Dabo Swinney (2015, 2016 and 2018). All other coaches in Clemson history have combined for two 9-0 starts, including one each by Frank Howard and Danny Ford.
Clemson improved to 5-0 all-time against Louisville.
With five wins in five all-time games against Louisville, Clemson won its first five contests against a school for the seventh time in history. The Tigers previously won each of their first five contests against Appalachian State, The Citadel, Furman, Newberry, Virginia and Western Carolina.
Clemson won the 27th of its last 28 games against ACC Atlantic Division opponents.
Clemson defeated an ACC foe for the 31st time in its last 33 opportunities, including conference championship games, dating back to 2015.
Clemson won its 13th consecutive game at Memorial Stadium, dating back to a 56-7 win against South Carolina on Nov. 25, 2016. The current 13-game streak is tied for Clemson's second-longest home winning streak in Dabo Swinney's tenure as head coach (21 from 2013-16, 13 from 2011-12 and 2016-18).
Clemson improved to 37-4 in ACC contests at Memorial Stadium under Head Coach Dabo Swinney.
Clemson extended its winning streak in Saturday games to 25 to extend the longest Saturday winning streak in school history. The 25-game streak is the longest of any school in the country.
Clemson has now won 52 of its last 56 overall games, dating to 2014. The Tigers have also won 31 of their last 33 games against ACC teams.
Clemson has now won 60 of its last 62 games when leading at halftime.
Clemson improved to 81-2 since 2011 when leading after three quarters.
QUOTES
CLEMSON HEAD COACH DABO SWINNEY
On the hot start to the game:
"We got the ball first with an opportunity to set the tempo for day. We then scored three touchdowns in a row on offense, which created the spark that we needed."
On the impressive performance of his team:
"I love the focus of our team. I challenged our defense at halftime, and Louisville converted only two third downs in the second half. Our defense played cleaner in the second half. Offensively, we scored nearly every time we had ball in the second half."
On the well-rounded victory:
"10 different guys scored touchdowns for us, and we had over 600 yards of offense. We also had three running backs go for over 100 yards. We had a season-high six sacks, and that was our 17th game in a row with a pick. That was a great interception by Isaiah Simmons. It was fun to see so many guys getting an opportunity to play. Over 90 guys played for us. Dexter Lawrence even got himself a touchdown."
On the impact of the win:
"That was a good experience for our team, and it was a lot of fun. We're 9-0, but we're not satisfied. We want to win our division, and we'll have that opportunity next week. We've worked all year to get to this point, so we'll enjoy this win and get back to work on Monday."
On his team's mindset:
"I've been doing this a long time, and the focus of this group is special. They're so committed to what we're doing and what we want to accomplish. They prepare and practice the right way and believe in what they do. As coaches, we're doing everything we can to help them get what they want to achieve. They want to be remembered forever, not just remembered."
On the performance of the running backs:
"I didn't know what we had that in Lyn-J [Dixon] at that time. It didn't take him long to get to 100 yards, because he is electric. The running backs just have fun. You saw the heart and soul of Adam Choice today. That drive where he just kept going is the epitome of who that guy is. That play was amazing, and I'm really proud of him. It was great to see [Tavien] Feaster get on track and run for 100 yards, too. The running backs are a veteran group, and they support each other. There is just so much more experience on this year's team than last year. Travis [Etienne] is awesome, and we truly have the type of depth that you need to have to produce a championship-caliber team. You have to give credit to the offensive line, too. We challenged the offense to run the ball today, and it was just a great day for those guys."
On Mitch Hyatt:
"He has played more snaps than any player in the history of Clemson football. For a left tackle to do that, that is pretty awesome. We had a great moment in the locker room. Everyone wanted a speech from Mitch and, in classic Mitch fashion, he just said 'Thanks, y'all.' It was a really special moment, and I'm really proud of him."
CLEMSON CO-OFFENSIVE COORDINATOR Tony Elliott
On calling plays for so many players:
"First of all, the guys have to take care of business and put themselves in a position where they can call a bunch of plays. Coming out of the gate with five plays and 14 points...we've really challenged our guys to let that become a part of our identity and not wait until the third drive, so we took care of business. Dexter [Lawrence] is in there...everybody talks about Christian [Wilkins], but [Dexter] is lead blocking every time Christian touches the ball, so we wanted to reward [Dexter] as well."
On Mitch Hyatt's catch:
"Mitch has been our left tackle for four years, and for just about every snap, has been reliable. We never had to worry about the backside of the quarterback, so having the opportunity there…didn't go as we had planned. Obviously, we were hoping they were going to pursue a little bit harder, but he got his catch...and he's got his play count and his career starts, and he did get a catch in his career."
On calling games high-scoring games:
"It's still stressful. You're always sitting up there wondering, 'What's the adjustment going to be? What's going to be different?' The biggest joy is when we walk into the locker room and you hear those names called...coach [Swinney] calls out the superlatives and you hear them chant for Big Dexter [Lawrence] for getting a touchdown. That's what's really cool. During the game, you're focused on the next play and just not taking your foot off the gas, because playing against Coach Petrino and knowing what they can do on offense, you know they can score points at any moment in the football game."
CLEMSON CO-OFFENSIVE COORDINATOR Jeff Scott
On the game:
"I'm really proud that we were able to get off to a fast start. We've been talking about how even though we've played well the last few weeks that there was even another step that we can take, and I feel like we came closer to that today. We had three different [running] backs go over 100 yards rushing, which was awesome to see. We had 10 different guys score a touchdown today, nine of them were on offense, and I think that really speaks to our depth. I'm really proud of how we're playing, and our goal this time of year is to continue to improve and get better each week as we start this championship phase, and I feel like we did that today.
On getting Tavien Feaster more involved in the game plan:
"That was important to us. Feaster's a guy that has been practicing really well. It was not a surprise to us at all to see him go score on that play that he did because he's been running that way in practice."
On Dexter Lawrence's touchdown run:
"They have fun. Our offensive players have fun with it. So it was great that we were able to do that two weeks in a row."
CLEMSON DEFENSIVE COORDINATOR Brent Venables
On the game:
"It was good. Personally, the expectation isn't to stop every single play. Sometimes, the other team has a good play call or they execute. I think, as much as anything, there were three third downs early in the game that we were just too casual in a spot or two on the field. We said going in that Louisville is a team that can expose you and execute, particularly in the throwing game. We've been pretty good in recent years on third downs, but on those, we were just a little bit sloppy. I was really pleased with the overall effort, but there are still some things that we can coach the guys on."
On the ceiling of the defense:
"I don't think that we are dominant in every aspect yet. There are a whole lot of little things that are still there for us to keep getting better at. What I love, with us playing for a division championship this week, is that there are a lot of places for us to improve. Our guys have a great sense of humility, and we are in a good place mentally and physically. I'm proud of of guys like Mario Goodrich, who got in there, played against some good receivers and played well."
LOUISVILLE HEAD COACH BOBBY PETRINO
On the game:
"That's a good football team...there is no question about that. I'm not too happy with the way we played, particularly on defense, but you have to take your hat off to Clemson. They're the No. 2 team in the nation for a reason. Offensively, I thought we had a good drive there in the first quarter, but we stuttered and didn't get the points. That drive was what we were trying to do, which was to utilize the clock, run the ball and keep them on the sideline. I felt like our guys kept playing and were excited to make plays, but it was a tough game. They were a really good football team, and they beat up on us today."
On Clemson's run game:
"I was really concerned coming into the game about their running backs because of their speed and explosiveness. They've made those big runs against everybody, and we weren't able to shut them down at all. We couldn't tackle them the way that we needed to tackle them. They were more physical runners than we were tacklers."
On toughness of the loss:
"The guys prepared and practiced hard this week, and they were excited to come to this type of atmosphere. It's an unbelievable atmosphere, but it's hard to get beat like that. We were trying to move the ball and make some plays, but we were never really in it."
CLEMSON OFFENSIVE LINEMAN MITCH HYATT
On the game:
"It's been a fun year, just putting all the pieces together on offense. We're starting to hit our stride later in the season, and it's been a fun experience these past few games."
On playing the most snaps in Clemson history:
"It's a great opportunity to be able to stay healthy and be able to play this many snaps. Having the support from the fans, the coaches, and all the other players on the team...especially the offensive line...it's just an awesome experience."
On the fun the team is having:
"We always enjoy what we do, and we get rewarded for it. The coaches feed into the joy that we have and put in these plays for us, because they know that we enjoy the experience. It shows the joy and appreciation we have for each other as teammates. We are always having fun on and off the field, and the coaches reward us by putting in these plays. "
On his reception:
"We didn't get as much of a rush as we like so when I dropped back for the lateral, we didn't have the opportunity we had hoped, but I was just happy I caught the ball. We've practiced the play before, but I never believed they'd actually call it. It was just fun that they let us run it.
CLEMSON RUNNING BACK LYN-J DIXON
On the game:
"We work hard every practice...we work hard on the field, and that work pays off. We're getting our confidence, coming out hot, and having a mindset that we can go out and do it if we just put our minds to it. We play every game like it's a championship game. We don't take any games for granted and always play our hearts out."
On teammates' opportunities:
"We're like brothers. We like to see everybody get out there and do good. As a running back, it puts a big smile on my face to see the defensive linemen get in the end zone. Even if we don't get a shot to go in, we still cheer everyone on, because as long as we get the win, we're all happy. I kept my mind straight on the sidelines. I cheered my teammates on and waited for my chance to go in, and I got it."
On the message at halftime:
"They told us not to give up, play like the game is 0-0, and keep going hard."
CLEMSON DEFENSIVE TACKLE DEXTER LAWRENCE
On his touchdown run:
"We've practiced it a couple of times. I tried to take advantage of my opportunity. 'I'm a natural running back' is what I tell myself. I stopped playing [running back] in high school, so ever since then, I was a running back. I know what to do with the ball a little bit."
On the decision to let him have the carry vs. Christian Wilkins:
"Christian tried to [get the play call], but Coach Swinney told him that it was my time to shine. I also told him, 'Christian can't score again until I get the ball,' so that's how that went down."
On his run vs. Christian's against Florida State:
"I had a little more traffic to go through. I created a good hole for Christian to come through, so it was a little easier for him...it was a walk-in for him. I had it a little tough. It was a tough run right there."
CLEMSON SAFETY ISAIAH SIMMONS
On the pick-six:
"I felt like I was due for one, so when the time came, I made the play. It was a great feeling. I just took advantage of the opportunity to the fullest."
On the defense as a whole:
"It looked like the defensive line had a lot of fun today. We always want to be physical and disrupt the quarterback's timing as much as we can. Whether it's coming for a corner blitz, safety blitz, or nickel blitz, we always want to show a lot of pressure and make sure to disrupt things."

Tags: Clemson Football
,
Amari Rodgers
,
Mitch Hyatt
,
Dalton Freeman
,
Chandler Catanzaro
,
Travis Etienne
,
Tavien Feaster
,
Lyn-J Dixon
,
Trevor Lawrence
,
Sammy Watkins
,
Tee Higgins
,
Mike Williams
,
Trevion Thompson
,
Chase Brice
,
Will Swinney
,
Hunter Renfrow
,
Jerry Butler
,
Artavis Scott
,
Austin Bryant
,
J.D. Davis
,
Isaiah Simmons
,
Ryan Carter
,
Dexter Lawrence
,
Clelin Ferrell
,
Christian Wilkins
,
Tanner Muse
,
Kendall Joseph
,
Trayvon Mullen
,
Milan Richard
,
Jalen Williams
,
Adam Choice
,
Mario Goodrich
,
Brent Venables
,
Tony Elliott
,
Jeff Scott
,
Danny Ford