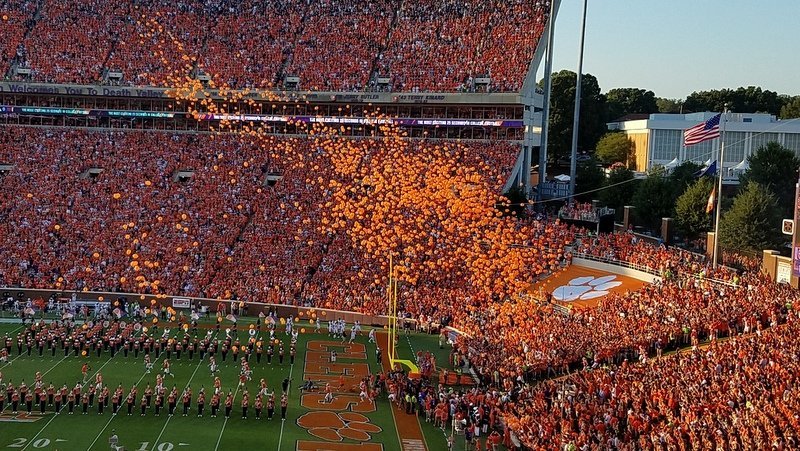 | | |
| --- | --- |
| No More Balloons: Clemson ends 30-year tradition of balloon launch | |
---
| | | |
| --- | --- | --- |
| Friday, July 27, 2018, 10:02 PM | | |
For all of those who love the pageantry and excitement of the Clemson Tigers running down the hill, a part of that tradition is going away this season. There will no longer be a balloon release during the "Most Exciting 25 Seconds in College Football."
A source confirmed to TigerNet Friday night that the decision was made recently (not made by the Board of Trustees). TigerNet was told that it was a "campus decision" and it had been a "long time coming." During the 2017 season, only half the number of balloons were released as compared to 2016.
The tradition started during the 1983 season. According to clemsontigers.com, during the 1983 season, Student Body President Mark Wilson came to Athletic Director Bill McLellan with the idea of breaking the existing Guinness Book of World Records mark for a balloon launch. Wilson thought it would be quite a spectacle as the Tigers ran down the Hill prior to the Maryland contest, Clemson's final home game of the season.
Showing his great organizational skills, and with the fundraising help of IPTAY members, Wilson bought 250 miles of string, 400 tanks of helium, 195 balloon fillers, and somehow got 3,000 Clemson students (without the use of social media) to come to the stadium at 7:00 AM for the 1:00 PM game.
Balloons were filled by 11:30 AM, and at 12:57 PM as the cannon sounded, the Tigers descended the Hill while 363,729 balloons ascended to the heavens.
From the press box, it was almost black, something out of an Alfred Hitchcock movie. You can go on YouTube.com and see the video of it. IPTAY collected $28,000 from private donations and the excess money raised was donated to Cooper Library on campus. And yes, Clemson won the game by a score of 52-27.
However, environmental groups have said that the balloon launch is a danger to the environment, including loggerhead turtles on the South Carolina coastline.
Spent an entire semester setting up bait stations with latex balloon pieces on Clemson's experiment forest. pic.twitter.com/Yu1d3Z2P1w

— C. H. Baird (@CyrusBaird) July 28, 2018