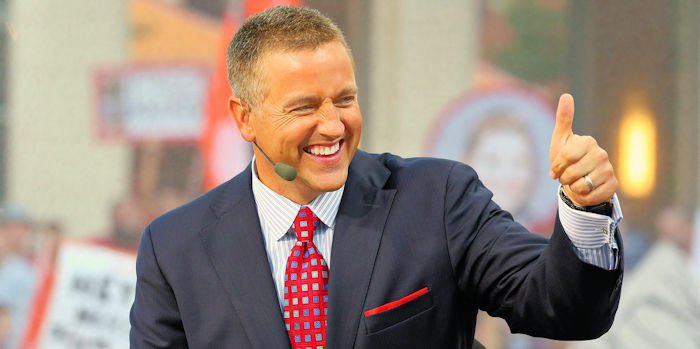 | | |
| --- | --- |
| ESPN's Herbstreit says Clemson's playing 'as well as any team' going to BC | |
---
| | | |
| --- | --- | --- |
| Thursday, November 8, 2018, 4:39 PM | | |
No. 2 Clemson heads to No. 17 Boston College for a primetime division matchup Saturday night (8 p.m./ABC).
ESPN's College GameDay will be in town, but with longtime panelist Kirk Herbstreit on the call, he won't be making a prediction on the game.
That said, he says the Eagles - currently a 20-point underdog - are up against it versus a team playing like the nation's best unit.
"You see a contrast as far as Clemson is playing as well as any team in the country," Herbstreit said on his ESPN podcast. "Their offense is as explosive as it's ever been. That's an aspect of the offense that was missing a year ago. They've been able to hit big runs and big passes all year and especially the last couple weeks."
What has to go right for the Eagles?
"BC at home - a lot of emotion, it's cold, it's one of those games - here's BC in a nutshell, they have to have a great running game," said Herbstreit, where the Eagles take on a No. 6-ranked Clemson rush defense. "AJ Dillon is a physical back. They have a nice, experienced offensive line. They like to put in two or three tight ends in formations. Love to be very different from most of the offenses Brent Venables prepares against in the ACC.
"They've got to hope that that curveball and physicality gets them to 2nd-and-6 and 3rd-and-2 and they get a first down and mix in some playaction passes off of those runs looks to get a tight end in the flat or maybe in that second level...just methodically body-blow, body-blow and occasionally hit a playaction pass. If they can't run the ball, they don't have any chance to win in this game.
"They have to be able to control the clock and run the football and dink-and-dunk in the passing game because it's hard to move 70 and 80 yards against this Clemson defense that way. They're going to have to have to hope that Dillon or (Travis) Levy gives them some potential big plays. But on paper, this is a tough matchup - and they know that. But the fact that they're at home and playing with confidence and (they're) hoping their physical brand on both sides of the ball is the difference."
Herbstreit expects Clemson's coaches have their team in the right mindset to confront the Eagles.
"I can tell you this," Herbstreit said. "Clemson is challenging their guys with, 'We're looked at as fast and explosive and they're talking about physicality. Do you guys know how to be physical? Dexter Lawrence, do you know how to be physical? Christian Wilkins, do you know how to be physical?' They're saying you can't be physical up in the cold. Are you guys going to be OK up there? They're challenging their team on can you meet the physicality of Boston College? And we'll see if the Clemson players put that mentality on and kind of show them it's not just a finesse speed team and they can get physical in the trenches.
"Because I've seen Christian Wilkins and I've seen that whole defense and they typically don't have a problem with rolling up their sleeves and going down the alley and deciding to get physical against people. It will be fun to watch."