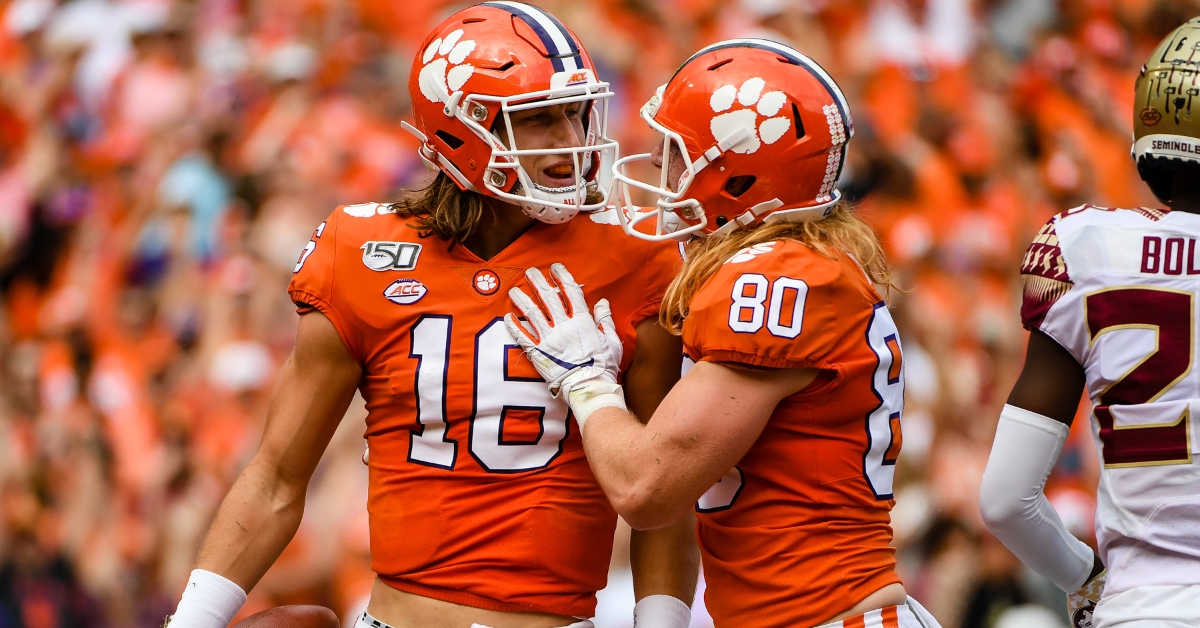 | | |
| --- | --- |
| Clemson ranked No. 4 in updated AP Poll | |
---
| | | |
| --- | --- | --- |
| Sunday, November 3, 2019, 3:07 PM | | |
The Associated Press top-25 pollsters tallied their last rankings before Tuesday's first College Football Playoff rankings (approx. 9/ESPN).
With Clemson the only top-5 team in action over the weekend, the first five stayed the same with LSU (1,479 points; 17 first-place votes) on top heading into its date at No. 2 Alabama (1,472; 21) on Saturday, followed by Ohio State (1,467; 17), Clemson (1,406; 7) and Penn State (1,306).
The only top-10 matchup moved Georgia up two spots to No. 6, ahead of another team in Oregon that kept its Playoff hopes alive.
Wake Forest rounds out the ACC representatives at No. 22.
AP Top 25 - 11/3
RANK TEAM PV RANK CONFERENCE POINTS
1 LSU (8-0) 1 SEC 1,479
2 Alabama (8-0) 2 SEC 1,472
3 Ohio State (8-0) 3 Big Ten 1,467
4 Clemson (9-0) 4 ACC 1,406
5 Penn State (8-0) 5 Big Ten 1,306
6 Georgia (7-1) 8 SEC 1,196
7 Oregon (8-1) 7 Pac-12 1,180
8 Utah (8-1) 9 Pac-12 1,090
9 Oklahoma (7-1) 10 Big 12 1,045
10 Florida (7-2) 6 SEC 938
11 Baylor (8-0) 12 Big 12 909
12 Auburn (7-2) 11 SEC 901
13 Minnesota (8-0) 13 Big Ten 831
14 Michigan (7-2) 14 Big Ten 780
15 Notre Dame (6-2) 16 IA Independents 571
16 Wisconsin (6-2) 18 Big Ten 558
17 Cincinnati (7-1) 17 American Athletic 527
18 Iowa (6-2) 19 Big Ten 491
19 Memphis (8-1) 24 American Athletic 448
20 Kansas State (6-2) 22 Big 12 364
21 Boise State (7-1) 21 Mountain West 310
22 Wake Forest (7-1) 23 ACC 296
23 SMU (8-1) 15 American Athletic 250
24 San Diego State (7-1) 25 Mountain West 87
25 Navy (7-1) American Athletic 83
Others receiving votes:
UCF 52, Texas 37, Indiana 27, Texas A&M 19, Oklahoma State 11, Louisiana Tech 7, Appalachian State 5, Washington 2, Pittsburgh 2, Iowa State 1, Virginia 1