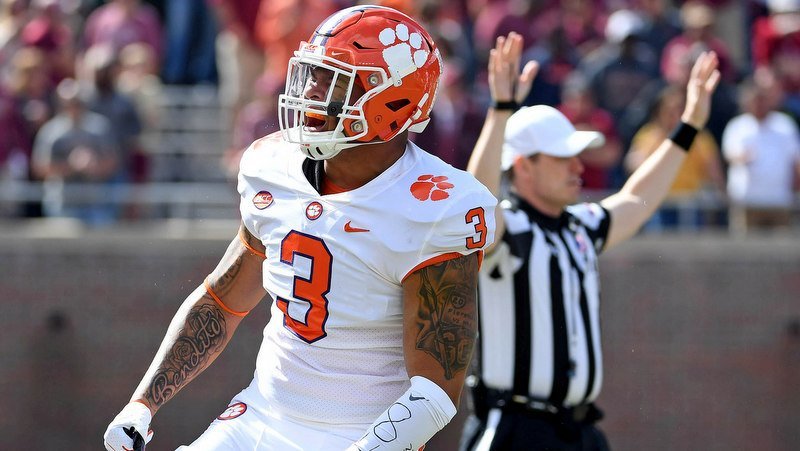 | | |
| --- | --- |
| Clemson ranked No. 2 in latest AP Poll | |
---
| | | |
| --- | --- | --- |
| Sunday, October 28, 2018, 2:19 PM | | |
A slew of upsets donned Saturday's slate of college football games.
AP ranked teams that lost in the past week included No. 6 Texas, No. 9 Florida, No. 15 Washington, No. 16 Texas A&M, No. 18 Iowa, No. 19 Oregon, No. 20 Wisconsin, No. 21 USF, No. 22 North Carolina State, No. 24 Stanford, and No. 25 App State.
However, Clemson was not one of those teams that suffered a defeat as they utterly embarrassed Florida State in a 59-10 beatdown that tied a school record for the worst loss in program history on Saturday afternoon. They were ranked No. 2 by the new AP Poll Sunday, behind Alabama and ahead of Notre Dame, LSU and Michigan.
The Tigers stayed at the No. 2 ranking in the latest Coaches Poll as well and received two-first place votes (previously 2).
The top five teams ranked were Alabama, Clemson, Notre Dame, LSU, and Michigan. The Crimson Tide received 60 first-place votes in the poll and ahead of Clemson by only 67 points.
AP Top 25
1. Alabama (60 first-place votes)
2. Clemson
3. Notre Dame
4. LSU
5. Michigan
6. Georgia
7. Oklahoma
8. Ohio State
9. UCF
10. Washington State
11. Kentucky
12. West Virginia
13. Florida
14. Penn State
15. Texas
16. Utah
17. Houston
18. Utah State
19. Iowa
20. Fresno State
21. Mississippi State
22. Syracuse
23. Virginia
24. Boston College
25. Texas A&M
Dropped from rankings: Washington 15, Oregon 19, Wisconsin 20, South Florida 21, NC State 22, Stanford 24, Appalachian State 25
Others receiving votes: Washington 120, Northwestern 86, Georgia Southern 62, Michigan State 51, Cincinnati 45, Iowa State 42, South Florida 29, Stanford 26, Oklahoma State 24, UAB 17, Oregon 13, Wisconsin 12, Auburn 7, San Diego State 6, Army 6, NC State 5, California 2, Buffalo 1