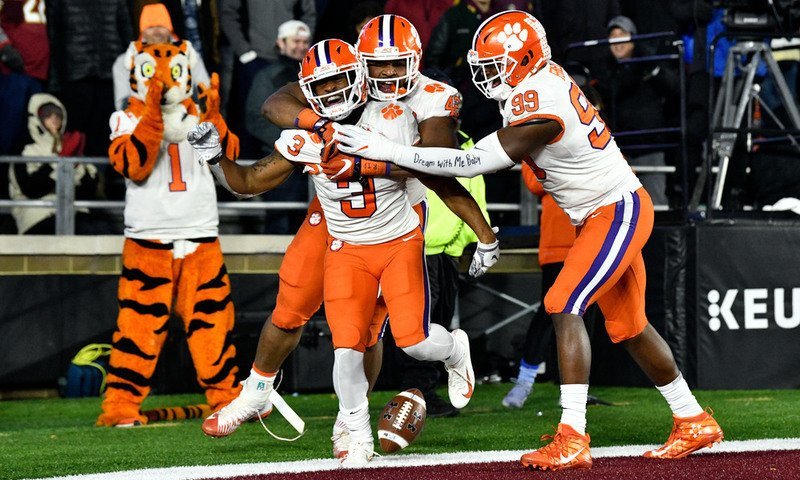 | | |
| --- | --- |
| Clemson among top Playoff contenders improving standing | |
---
| | | |
| --- | --- | --- |
| Sunday, November 11, 2018, 9:36 AM | | |
The top Playoff contenders all went through the weekend unscathed to only increase the CFP chances for those in the top-four in the poll currently.
With three games to go, ESPN's Playoff Predictor gives Clemson an FBS-leading 95 percent chance and ESPN's FiveThirtyEight gives a likewise 93 percent shot to return to the Playoff for a fourth-straight year.
The Tigers have a far-and-away best 80 percent chance to win out, per 538.
Alabama (62) and Clemson (64) are heavily favored to meet in the title game, with the Crimson Tide narrowly favored to win it all by ESPN (38 percent; 35 for Clemson).
Of the current top-four also including Notre Dame and Michigan, the Fighting Irish have the toughest test next week in the NYC area versus Syracuse. A win there boosts their CFP chances 16 percent alone, per 538.
Teams given at least a 10 percent shot down the stretch include Georgia (37), Oklahoma (25), Ohio State (22) and West Virginia (10).
When it comes to weekly rankings, there shouldn't be a shake-up in the top-tier with all top-10 teams triumphant. The Tigers' 27-7 road win Saturday night caught ESPN's Jesse Palmer's eye.
"I was really, really impressed with Clemson," Palmer said on College Football Final. "Getting that win at Boston College. That was supposed to be the biggest test before the Playoff and can Trevor Lawrence play in the cold weather? He had never been above the state of Virginia. He was outstanding and this defense holds (BC running back) AJ Dillon to just 39 yards. This was a statement game to me."
CFB Rankings - 11/11
Kirk Herbstreit: 1. Alabama 2. Clemson 3. Notre Dame 4. Michigan 5. Georgia
Joey Galloway: 1. Alabama 2. Clemson 3. Notre Dame 4. Michigan 5. Georgia
Jesse Palmer: 1. Alabama 2. Clemson 3. Notre Dame 4. Michigan 5. Georgia
My top 6 after Sat:

1. Alabama
2. Clemson
3. Notre Dame
4. Georgia
5. Michigan
6. Oklahoma

1-5 actually control their own destiny. If chalk holds except Bama falls to Georgia, the Bama/Michigan/Notre Dame debate for two spots will be fun

888-573-5335 to join @SXMCollege 84

— Barrett Sallee (@BarrettSallee) November 11, 2018
Season rolls on...this week's #DKtop8 not much change and still most accurate

1. Bama
2. Clemson

3. Notre Dame
4. Michigan
5. West Va
6. Oklahoma
7. Georgia
8. Washington State

— Danny Kanell (@dannykanell) November 11, 2018