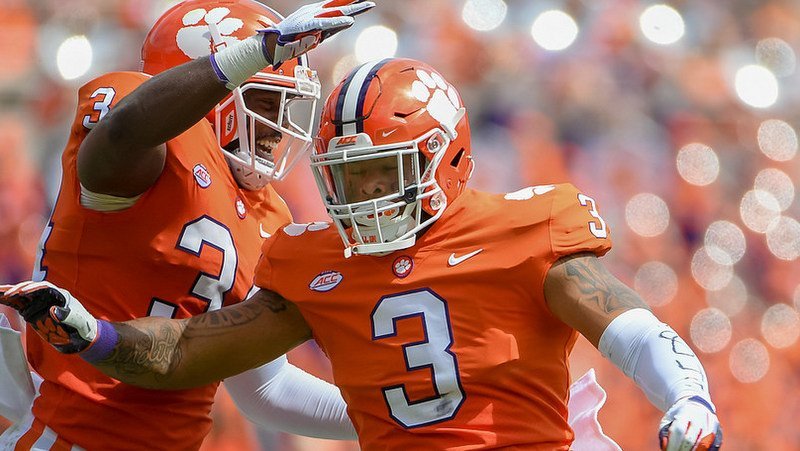 | | |
| --- | --- |
| CFB analysts give their CFB Playoff Top 4 picks | |
---
| | | |
| --- | --- | --- |
| Sunday, December 2, 2018, 10:18 AM | | |
It's finally Selection day as top college football programs along with their fans sweat out who will make the playoff in an announcement at 12:30 p.m. ET on ESPN.
The Playoff Semifinals match the No. 1 seed vs. the No. 4 seed, and the No. 2 seed vs. the No. 3 seed. However, national media pundits can't agree with the No. 4 seed after Georgia almost pulled off the upset over Alabama.
Most people have Oklahoma making it at No. 4, some have Georgia slotted there, and a few have some other choices like Notre Dame penciled in.
Here are some of the top 4 picks from different analysts across the country:
Oklahoma is gonna get into the CFB Playoff and they should be in! However, if asked who would you're TOP 4 Teams be?
1) Alabama
2) Clemson
3) Georgia
4) Notre Dame love my guys in LA, however These are the BEST 4 TEAMS! It must be changed. This helps that happen.Bama got in!

— Tim Brando (@TimBrando) December 2, 2018
Keeping my prediction same: 1. Bama 2. Clemson 3. Notre Dame 4. Oklahoma ... I do not think Georgia gets in.

— Heather Dinich (@CFBHeather) December 2, 2018
We all know it's supposed to be 4 best teams.
BUT C'MON — The system was built to maintain conference power structure. Truth: @FootballUGA is top 4 team.
Rewind 4th&11. SEC title .
Bama punt safe Def (a.k.a. 5?? future NFLers)
Oh noooo you didn't just.... u did. #playoff

— Joe Tessitore (@JoeTessESPN) December 2, 2018
My CFB Playoff Ranking:
1. Alabama
2. Clemson
3. Notre Dame
4. Oklahoma

5. Georgia
6. Ohio St
(6 team playoff w top 2 getting byes would be incredible but that's for another day)

7. UCF
8. Michigan

— Kevin Negandhi (@KNegandhiESPN) December 2, 2018
CFB Playoff Top 4 per @KirkHerbstreit just now on ABC:

1. Alabama
2. Clemson
3. Georgia
4. Notre Dame

— FBSchedules.com (@FBSchedules) December 2, 2018
Let's do this. 8 team #CFBPlayoff starting next week at home field of higher seeds. 5 P5 champs, top Gof5 champ, 2 wild cards. 1 Alabama vs. 8 Washington, 2 Clemson vs. 7 UCF, 3. Notre Dame vs. 6 Georgia, 4 Oklahoma vs. 5 Ohio State. Winners get three weeks to chill for CFP. Go.

— Pete Fiutak (@PeteFiutak) December 2, 2018
Still a fan of the 8-team playoff with P5 champs, best G5 and 2 at-large

1 Bama vs 8 Washington
4 Oklahoma vs 5 Georgia

2 Clemson vs 7 UCF
3 Notre Dame vs 6 Ohio State

— Max Olson (@max_olson) December 2, 2018
8 best teams in the country imo, in order

1. Alabama

2. Clemson
3. Georgia

4. Oklahoma
5. Ohio State
6. Notre Dame
7. UCF
8. LSU

— Jon Ledyard (@LedyardNFLDraft) December 2, 2018
Just go back to the BCS.

Clemson vs Alabama January 7th, see you there

— Big Cat (@BarstoolBigCat) December 2, 2018
Let's not make this difficult...

#1 - Bama
#2- Clemson
#3- Notre Dame
#4- Oklahoma

— Cousin Sal (@TheCousinSal) December 2, 2018
1. Alabama
2. Clemson
3. Notre Dame
4. Oklahoma

This means the #B1G Champion will have missed the @CFBPlayoff three straight seasons.

If you want playoff expansion, think about how upset Jim Delany will be with that reality.

— Matt Hayes (@MattHayesCFB) December 2, 2018
My final @WatchStadium bowl projections before rankings release. Last year, I projected 53 of 78 teams in correct bowl. @CFBPlayoff: Bama-OU, Clemson-ND; Sugar: UGA-Texas; Rose: OhSt-Wash; Peach: UF-Mich; Fiesta: LSU-UCF https://t.co/N1EXkEWdOm

— Brett McMurphy (@Brett_McMurphy) December 2, 2018
My top four would be.

1. Alabama
2. Clemson
3. Notre Dame
4. Oklahoma

I want an 8 team playoff more than anything this year. Ohio State's and UCF should both have a shot to play for the #CFBPlayoff

— George Wrighster III (@georgewrighster) December 2, 2018
The playoff is supposed to let us decide on the field who the best team is. Georgia had its shot to do that. To me, there are 5 remaining teams who still lack a data point eliminating them from No. 1: Bama, Clemson, ND, UCF & Oklahoma.

— Ok, cool. Hale 'em???? (@ADavidHaleJoint) December 2, 2018
Alabama
Clemson
Notre Dame
Oklahoma

— Booger (@ESPNBooger) December 2, 2018
If the teams are 1) Alabama, 2) Clemson, 3) Notre Dame, and 4) Oklahoma, look for Alabama and Oklahoma in the Orange and Clemson-Notre Dame the Cotton. Committee will not ask the No. 1 seed to play Oklahoma in Dallas.

— Tony Barnhart (@MrCFB) December 2, 2018
One thing I can say about the Clemson fans I met yesterday is that they were nothing but class.

— Mark May (@mark_may) December 2, 2018
How I'd vote if I was on the College Football Playoff selection committee:

1. Alabama
2. Clemson
3. Georgia
4. Notre Dame

5. Oklahoma
6. Ohio State

— Mel Kiper Jr. (@MelKiperESPN) December 2, 2018
If you're asking me who the BEST four teams are. Bama, Georgia, Clemson,Oklahoma. That order. That's the BEST four. Those however, won't be the final four voted in.

— Colin Cowherd (@ColinCowherd) December 2, 2018
As much as I would love to see Kyler get a shot in a playoff game, these are the best 4 teams in CFB:
1. Alabama
2. Clemson
3. Notre Dame
4. Georgia

— Todd McShay (@McShay13) December 2, 2018
My Top 4:

1. Alabama
2. Clemson
3. Notre Dame
4. Oklahoma

5. Georgia
6. Ohio State

(I also think that will be what it is)

— Barrett Sallee (@BarrettSallee) December 2, 2018