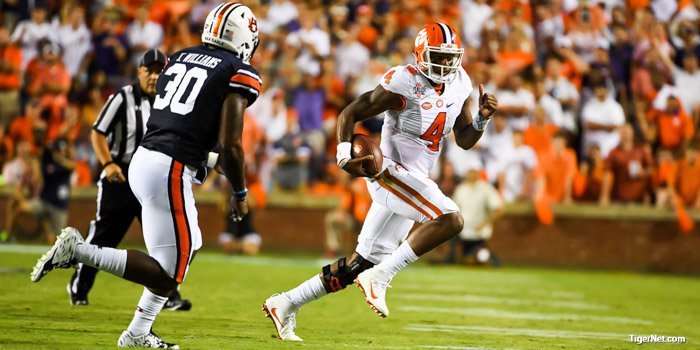 | | |
| --- | --- |
| Watson on the offense: "There is never a perfect game" | |
---
CLEMSON – Preseason expectations for Clemson's talented offense were as high as they've ever been, but the Tigers scored just 19 points and totaled 399 total yards in the 19-13 win over Auburn Saturday.
Clemson saw its streak of 11 consecutive games with at least 500 yards of total offense end, but quarterback Deshaun Watson says he isn't worried and will make sure the things that need to be fixed get fixed this week.
Watson met with the media Monday morning in the WestZone, and he said he thought the offense did some good things in the win.
"My personal performance was solid. I had a couple of missed throws, a couple of BIJs (ball in jeopardy), and a couple of things like that," he said. "As a whole, the offense did a good job. Sometimes we kind of slipped up at times when we needed it. The tempo could have been better and that's on me. I am responsible for driving the team and making sure everybody is set. All of the things that can be fixed will be fixed this week.
"There is never a perfect game, even though the stats may seem that way. Good or bad, there is never that game when you watch the film it's perfect and everything goes well. And when it's bad it's not the way it seems on Saturday. There are things we all can fix and get the little things down this week."
Watson threw an interception in the contest but said the other team sometimes makes a great play.
"That was just a miscommunication between me and the receiver. It happens," he said. "The corner made a great play. You have to give the corner credit for making that play."
Clemson's offensive tempo appeared sluggish, and Watson said he would take responsibility for making sure the Tigers are faster this week.
"It's a sense of urgency and getting everyone lined up quick and watching the sidelines and getting a play," he said. "It's everyone communicating and getting on the same page, and it starts with me. I have to encourage the guys getting a play in, and calling the right play, and seeing what the defense is doing and everyone being on the same page."
On Auburn playing man coverage
"We knew they were going to play man. We knew they were going to play press on the outside and make us earn the throws and catches. Auburn is a great team and they have a lot of great skill guys and they came out really confident and ready to play. We knew what we were in for and we came out up to the task and we overcame it. You have to give them credit for handling their own."
On Auburn taking away the QB run
"They swarmed to the ball very well, and they contained on the outside and didn't let us get outside. They swarmed everything - it wasn't really containing the quarterback because I didn't have too many designed runs, but they did a good job of swarming to the ball and making tackles when they needed it."
The return of Mike Williams
"It's always good to have Mike out there. As you've seen before and you saw out there this past weekend, he's a great ballplayer. He makes plays. He is just another talent on the field that the defense has to worry about. We have so much depth and so many guys that are capable of making those plays. But having him back giving us his experience and his leadership has been great."
Playing at home this week
"Of course, we love to be home and see the fans and see all the orange and just be excited to be back in Death Valley and running down the hill and put up points in this stadium. So it is going to have a good feeling coming home on Saturday."
Playing Troy
"I haven't seen too much - a little bit of what they did last year and what they did this previous week. A lot of great skill. A lot of guys that are very confident and it will be interesting to see over the course of the week how they are going to gameplan against us."
Are you going to watch Ole Miss and FSU tonight?
"Of course. That will be another classic. Just like the Notre Dame-Texas was last night. A lot of guys on both teams that I know, so it's going to be fun to see those guys play."
Is it difficult playing on the road the first time
"Yeah that's always a challenge - going on the road especially early on in the season. It's a hostile environment. It's very similar after seeing the stats and what we did in both games (Lousiville in 2015 and Auburn). It's good tape for us, just get the experience and get that out of the way. A lot of young guys getting to play on the road and now just having that confidence and understanding of what it is going to take to be able to go throughout this season, especially when you go on the road."
Were you surprised there were no offensive penalties
"Not at all because that is what we worked on throughout the course of the preseason and that is what Coach Swinney wanted us to kind of nail and make sure we focus on. If we communicate and be on the same page, then all that stuff won't happen. So we did a good job of handling that and just continue to build on it from here."
Are you disappointed the offense didn't live up to the hype
"No, not at all because the main goal is to get the win and we don't live up to what the media have to say about what the potential of this offense can do. We understand what we have and we understand what we can do. We are all on the same page. We knew that just because we didn't put up over 500 yards and 40 points doesn't mean that we are still not explosive. We knew Auburn was going to come out and be ready to play and we got to earn it. So it's just a learning process and that's what we are doing, trying to figure out what plays are good for us and what plays are not and build on it from there."
Did the receivers have trouble getting off the line?
"I didn't see it. maybe y'all saw different, but I think my receivers are doing a good job of getting separation and getting their hands on the ball and having the opportunity to catch it."
What did you learn about your team?
"We handle adversity very well. No one got down on each other and everyone just communicated and cares for one another. It just started off with the offense encouraging the defense, defense doing it for the offense and offense and defense supporting the special teams. It is all just one unit, one team. If we continue to do that and build on that each and every week we will have a special year.

Upgrade Your Account
Unlock premium boards and exclusive features (e.g. ad-free) by upgrading your account today.
Upgrade Now