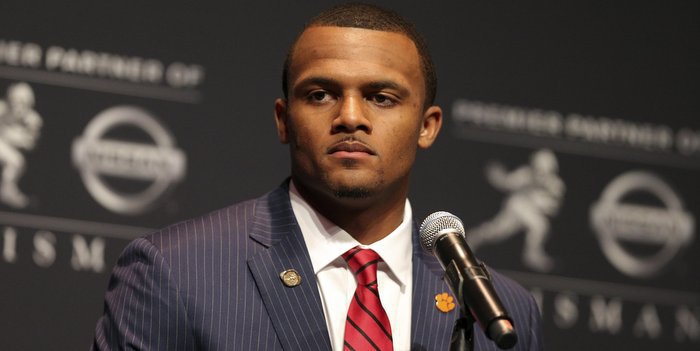 | | |
| --- | --- |
| Watson more concerned with Clemson than Alabama as showdown nears | |
---
TAMPA, FL – While the national media and talking heads are focusing on the matchup between Clemson quarterback Deshaun Watson and the vaunted Alabama defense, Watson is more concerned with his own play and how his own team responds.
Clemson and Alabama square off Monday night in the College Football Playoff National Championship at Raymond James Stadium in Tampa and Watson spent the majority of Saturday's media session answering questions about Alabama's defense.
His answers always trickled back to Clemson, and he said his focus has been on what he has to do rather than what Alabama will try and do.
"You know, I don't really focus on that because I focus on what we have to do on our side of the ball," Watson said. "They just do a good job of getting the turnovers and creating those into touchdowns and points. I just focus on what I gotta focus on, and I don't really focus on what they have going on over there.
"We believe in each other. We are just going on out there to play football. It's no different than any other game. We just focus on the task at hand and make sure that we execute our game plan and worry about Clemson. We weren't worrying about what Alabama is doing."
Watson said practice has been outstanding.
"Yeah, I feel like this week has been very sharp, very good for all the players," he said. "Everyone has been focused in, getting a lot of rest, everyone is healthy, no one is really banged up so this week has been good and we still have three more days to carry over this past week and finish up the final touches of the game plan and getting everyone prepared and ready for Monday night."
Watson wouldn't even talk about the win over the Buckeyes in the Fiesta Bowl.
"We just tried to focus on creating that momentum and carrying it over to this game," he said. "We don't focus on what we did against Ohio State because it's a whole different team, it's a whole different week. It's hard to get the same results. It's different than is going to happen through this game. We just try to focus on what we can do this week to get the same results and get the W."
Watson said the memories of last year's 45-40 loss to the Crimson Tide have fueled this team.
"I Just remember the hurt, just walking off the field and having the confetti rain down on us for the wrong reason, and that reason was because Alabama won and we lost the game," Watson said. "We just try to regroup, refocus and try to get back here and have it happen for the right reason."
This year's team has something last year's team lacked heading into the finale.
"We just have experience. We are just more focused on the task at hand this year. Last year was an eye-opener. We had never been there before, and it was new to all of us," Watson said. "The only person that has really been to a national championship is Coach Swinney and a couple of other coaches but as far as players none of us been to this stage so last year we just kinda -- it was new for us to see the "hype" of the game and how it really was but this year everyone is keeping it calm and simple and just preparing for the game, keeping it calm and focused."
What has to go right for the Tigers to win the championship? Watson gave yet another Clemson answer.
"Just be Clemson. Don't try to do too much. Everyone do their job and don't make it bigger than what it is," he said.
The moment? It won't be too big for the junior signal caller.
"It's going to be crazy, a lot of emotions, but I'm going to be locked into the moment and focus on my game plan and the task at hand," Watson said. "This is a chance, an opportunity for us to flip that pain into some joy and be able to be happy about the results that we get. It means a lot, having the opportunity. It's very hard to set your chances in life, and for us to be able to come back and have another chance at it against a very good team, it's a blessing. It's a great opportunity for us, so we don't want to miss out on this opportunity and take it for granted. We want to go full throttle at it."

Upgrade Your Account
Unlock premium boards and exclusive features (e.g. ad-free) by upgrading your account today.
Upgrade Now