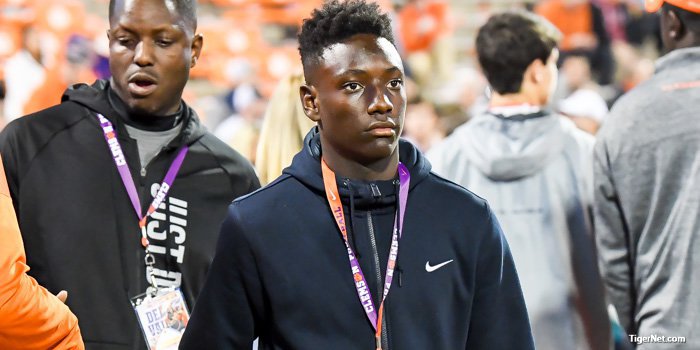 | | |
| --- | --- |
| Texas defensive back checks out Clemson | |
---
| | | |
| --- | --- | --- |
| Thursday, December 8, 2016, 7:01 AM | | |
With Clemson's rise into national prominence, its recruiting footprint is also growing, and now the Tigers are battling the Big 12 for the best of the Lone Star State.
Verone McKinley III, a 2018 4-star cornerback out of Carrollton (TX) Hebron, made the trip to Clemson for the 56-7 win over archrival South Carolina.
This was McKinley's second trip to Clemson this year, but he and his parents extended their weekend through Monday to get the full experience.
"It went well. I enjoyed the game," McKinley told TigerNet earlier this week. "I got to see the new facility with all of the academic stuff and practice facility and weight room. It was good. I enjoyed it."
During the dominating win over the Gamecocks, the Tigers accounted for three sacks and eight total tackles for loss, and McKinley came away impressed with Brent Venables' game plan.
"They really like sending pressure," McKinley said. "Defensively, they're going to send the house and make it easier for the defensive backs to not have to be in coverage for too long. That ball will come out hot, so they'll have a chance to make plays on the ball."
While the facilities at Clemson impressed McKinley, it was head coach Dabo Swinney's message that brought Clemson into the picture.
"Really Coach Swinney and his message of graduating players, that was something that really stood out to me," McKinley said. "Everything is surrounded with keeping the players in mind and what's best for the players."
McKinley also spent a good amount of time with defensive backs coach Mike Reed.
"I talked to him pretty much the whole time after the game. I really like Coach Reed," McKinley said. "I talk to him pretty frequently on the phone since the summer when I started getting offers so I could start building that relationship with him. HIs reputation with sending players to the NFL, it's definitely important to me. Of course, I have a dream to go to the NFL, but I also know that academically I'll still have my education just in case that doesn't happen. That for sure would play a role."
The 5-10, 170-pound defensive back owns 26 offers including – Alabama, Arizona, Baylor, Clemson. Colorado, Florida, Georgia, Houston, LSU, Mississippi St., Nebraska, Oklahoma, Oklahoma St., Penn State, Texas A&M and Texas Tech.
However, McKinley hasn't narrowed down his list but did say that distance won't be a factor when he makes his decision.
"I think it'd be okay going that far away from home," he said. "When I was there, it was a smooth trip. I just flew to Atlanta and drove to Clemson, so it wasn't too bad. I'm not sure when I'll make it back. I'd probably want to take an official visit there, but I'm not sure. They're pretty high up on my own list, even though I won't release anything."