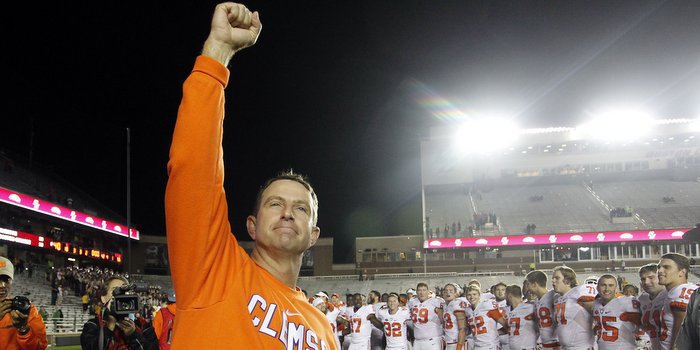 | | |
| --- | --- |
| Swinney not here to protect feelings; it's all about a championship | |
---
It seems as though not everybody agreed with Dabo Swinney's decision to try for an onside kick in the third quarter of the Tigers' eventual 56-10 win at Boston College Friday night. And that's ok. He doesn't have to make an angry segment of the fans happy, and he doesn't have to make sportswriters happy.
He's trying to win the national championship that eluded the school last season.
In case you missed it, and I doubt you did, Clemson went for an onside kick up 35-3 in the third quarter against Boston College, following the second of Deon Cain's two touchdown receptions. The kick sailed out of bounds, Boston College got the football on a short field and turned into its only touchdown of the evening.
Yahoo sports decided they needed to write an article about it, and I sat in the press box at Alumni Stadium and watched my Twitter feed explode with words like "trashy" and "classless" and "bad sportsmanship." I even got a text from a friend that said, simply, "What in the world?"
People aren't used to seeing Clemson – or Swinney – go for it like that when leading by 32. They are used to a coach who backs off early, who agrees to shorten the last two quarters against South Carolina St. They're also used to a program that sometimes backs off too early and lets the opponent back in the game.
Swinney's statement Friday was simple: Not anymore.
Swinney was also irate with Cain at the end of the first half. Clemson led 21-3 and got the ball back with under a minute to go and elected to get into field goal range. Cain caught a 23-yard pass from Deshaun Watson inside the Eagle 30 yard line, but instead of going down and preserving time, Cain fought for a few more yards and ran out the clock.
Swinney stayed in Cain's ear from the sideline all the way to the locker room, prompting another text from a friend who wondered if Swinney was "too tight" and jumping all over the players for no good reason.
We asked him about that play, and the onside kick in the postgame press conference, and his answer was the one I expected to hear.
"Yeah, we're trying to get better as a football team, and any time you have opportunities to work through unusual situations, you want to do that," Swinney said. "I wasn't really worried about the score, I just wanted to coach to our standard. We practiced that exact same, we practice that. We practice it in fall camp, we script it in the stadium, and I was so frustrated because we called time out, and we said exactly what we had to do, and then when you have a moment of insanity. It's so frustrating. So it's a teachable moment.
"It's an opportunity to get better from that. I mean, we knew exactly what was going to happen. We were going to be wide open over the middle, catch the ball, get down, call a time-out, kick a field goal and go into half, and man, what a great drive. There's eight seconds. This is what we practice. So just very disappointed with our execution right there, but good job getting down there, good job putting ourselves in that situation, and it was a good opportunity to practice or have a live rep at what we practice, and it was frustrating that we didn't execute it properly. That's on me, and we've got to clean that up because those are things that could be the difference in a ballgame down the road."
It was just one play, people said. He didn't have to react the way he did. But I go back to something he said at his media outing in July, when he talked about the fact that just a few plays made the difference in being number one and number two in mid-January.
Swinney later went for it on fourth down deep in Boston College territory instead of kicking the field goal, and at that point his message was perfectly clear. No more letting off the gas. No more sitting back and waiting on an opponent to catch up. The Tigers failed to put Georgia Tech away. They failed to put Troy away. They failed to put Auburn away. They failed to step on Louisville's neck when they had the chance.
During his July golf outing with the media, Swinney got intense when he was asked about how a few plays can make or a break a season, and he said it's a message he presented to his team during the spring. He started with the loss to Bama.
"I took five plays that really had nothing to do with the opponent," Swinney said. "It was a message as we started in the spring that it's all about Clemson. It's all about what we can control. It's not about anything else and let's take care of us. I started with our best player (Deshaun Watson) because he had two plays in that game that were critical mistakes. They were critical errors. It was kind of an easy way to transfer into spring practice and make sure everybody had their mind right as we got back to basics. Because it was the little things that cost us in that game. We made a couple of mistakes. And when you're in a game like that and you're playing an opponent like that, it is a few plays.
"Yes, there are some games where we have a bigger margin for error. But when you're playing championship caliber football, and it's really good-on-good kind of even, it's really a few plays. And of the five that I presented, if you could change two of them the outcome is probably different. But you can't change them."
Following Friday night's demolition of Boston College, it's easy to see that Swinney has a championship-caliber team on his hands. This team is solid in all phases of the game, and that includes special teams. During his Sunday teleconference with the media, he bristled at the idea that the season was half over, saying the goal is to play 15 games. That means playing in an ACC title game, winning a game in the College Football Playoff and playing for the championship for the second year in a row.
If that is going to happen, the Tigers have to be a few plays better than they were last season, and Swinney isn't waiting on the players to get the message on their own. He's sending a message to his team, his coaches and the opponents and it's loud and clear.
He doesn't care if that hurts a few feelings along the way. He's trying to win a National Championship.
And that's okay, right?

Upgrade Your Account
Unlock premium boards and exclusive features (e.g. ad-free) by upgrading your account today.
Upgrade Now