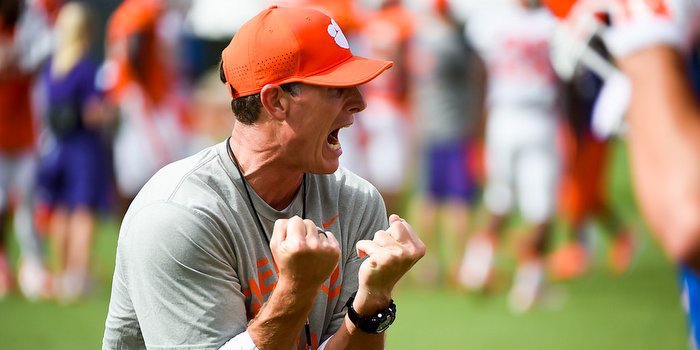 | | |
| --- | --- |
| QB Jimmy Greenbeans preparing Tigers for Tech's option | |
---
CLEMSON – When Brent Venables met with media Tuesday afternoon he looked tired and his voice was nearly gone – a testament to the difficulty of preparing to Georgia Tech's option offense, especially on a short week.
Clemson's defensive coordinator has faced Paul Johnson and Georgia Tech for the last four years, but the task never gets any easier and he said facing the Yellow Jackets is the most frustrating task of the season.
"Probably not (have ever been more frustrated). They're just unconventional, simplistic in some ways, but unconventional," Venables told the media Tuesday afternoon in the WestZone. "This is a different type of preparation. I'm sure every defensive coordinator sits in front of the media and says that the week of a game when they are playing a triple-option type team, one they are not used to," he said. "Some principals carry over, but most of them don't so you have to change a lot of things and get the players caught up familiarity-wise and technique-wise."
Venables said the difficulty comes with having to be disciplined in everything you do because Tech has so much window dressing and can do so many different things out of its offense.
"The mental aspect of it of having the discipline to play play after play after play with the same discipline that it requires," Venables said. "They're going to continue to challenge all three levels and your discipline in regards to the fullback-quarterback alley and pitch and they do it in a variety of ways - formationally, motion or the different styles of option. It requires different responsibilities and discipline. It's not just like they run the dive option every snap. They've run all different variations of it and then the play action pass that looks very similar to the run, so it just challenges your eye discipline, your physical discipline and technique."
Unlike years past, Venables will have nearly a whole new defensive line and secondary facing the Yellow Jackets and he said while they have prepared well, he still doesn't know how they'll react during the actual game.
Ask me Thursday around 11 p.m. Honestly, I don't know. I'm excited to see them go out and play and compete. They've looked pretty good, like they've got a decent understanding, but you just don't know," Venables said. "What they do is they just don't go away, so it's one thing to come out and stone them right away. You have to play 60 minutes against (Georgia Tech), and they're going to keep doing what they do over and over and over and hopefully the dam breaks and they start to wear you out a little bit and get you to be less and less precise and less physical and then they expose you."
The secondary will be on an island most of the night because of all of the resources dedicated to stopping the run.
"It's high stress and you're in high-stress coverages," Venables said. "When you're in option defense, you're in option coverages, so there's a lot of one-on-one," said Venables of the secondary. You don't have a where's your buddy at. Everybody is running solo back there, so it's a tremendous stress on those guys."
Luckily for Clemson's defensive personnel, they have Jimmy Greenbeans (aka Venables) at quarterback during practice.
"I just have experience with the offense. I have been able to control the tempo, the mesh points and how to operate the offense pre-snap," Venables said. "Scouts are a little more scared of me so I can hurry up and get them lined up faster. Snap it when I want to. Make sure the defense is adjusted the right way so if I need to stop just before I snap it I can. I'm just being efficient. Unfortunately, with these guys when they throw and they're open, they're usually for touchdowns. We have fun with it."

Upgrade Your Account
Unlock premium boards and exclusive features (e.g. ad-free) by upgrading your account today.
Upgrade Now