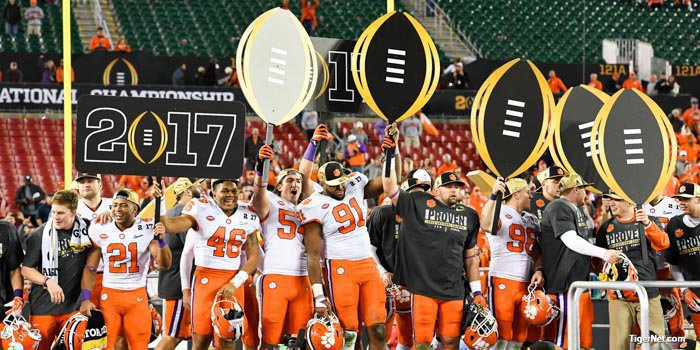 | | |
| --- | --- |
| Money Ball: What does a National Championship mean to Clemson's bottom line? | |
---
| | | |
| --- | --- | --- |
| Monday, February 27, 2017, 8:01 AM | | |
Clemson made its second consecutive trip to the College Football Playoff this past season, and the Clemson Athletic Department took home a bigger share of this year's College Football Playoff check to the ACC. The man that Clemson fans love to hate played an important role in Clemson's monetary gain.
We wrote last year that Clemson wound up with a deficit of more than $3 million after last season's trip to the playoff. Factoring in the bonuses for the coaches and three expensive trips to Charlotte for the ACC Championship Game, to Miami for the Orange Bowl and Phoenix for the National Championship, Clemson had no way of even coming close to breaking even.
Athletic Director Dan Radakovich was determined to chart a different course this season and turned to ACC Commissioner John Swofford for help.
ESPN pays the College Football Playoff about $470 million a year for the media rights to the three playoff games and four other bowls, and most of the money is distributed to the 10 FBS conferences and schools.
The following estimates of the CFP revenue distribution are based on preliminary calculations for the 2015-2016 season and are only approximate projections of potential revenue distribution from each component:
(1) Each conference will receive $300,000 for each of its schools when the school's football team meets the NCAA's APR for participation in a post-season football game. Each independent institution will also receive the $300,000 when its football team meets that standard.
(2) Each of the 10 conferences will also receive a base amount. For conferences that have contracts for their champions to participate in the Orange, Rose or Sugar Bowl, the base combined with the full academic performance pool will be approximately $51 million for each conference. The five conferences that do not have contracts for their champions to participate in the Orange, Rose or Sugar Bowls, will receive approximately $79 million in aggregate (full academic pool plus base), which the conferences will distribute as they choose. Notre Dame will receive a payment of $2.58 million if it meets the APR standard; the other two independents will share $618,241.
(3) A conference will receive $6 million for each team that is selected for the semifinal games. There will be no additional distribution to conferences whose teams qualify for the national championship game. A conference will receive $4 million for each team that plays in a non-playoff bowl under the arrangement (in 2014-2015, the Cotton, Fiesta and Peach Bowls).
(4) Each conference whose team participates in a playoff semifinal, Cotton, Fiesta or Peach Bowl, or in the national championship game will receive $2.08 million to cover expenses for each game.
Additionally, certain conferences in the Football Championship Subdivision conferences will receive $2.34 million in aggregate.
That means the CFP wrote a $6 million check to the ACC, to be divided 14 ways among the member schools. However, Clemson made the trip to Phoenix for the National Championship last season, and many fans made the budgetary decision to stay home this time around, waiting to see if Clemson advanced to the more travel-friendly spot in Tampa.
Because of that, Clemson couldn't sell enough Fiesta Bowl tickets. The other 13 schools in the conference were able to take their $350,000 checks to the bank, but Clemson would have taken a hit from the number of unsold tickets.
That's when Radakovich came up with a revolutionary idea, according to Deputy Director of Athletics Graham Neff.
"We (Dan Radakovich) spent a lot of time with the ACC on looking at their old travel stipend - specifically their College Football Playoff travel stipends. Boston College was netting about $350,000 because of Clemson participating in the CFP," Neff told TigerNet last week. "Well, that's fine, and we're not going to change the equity portion, but our claim to the conference was because of our participation and us getting a new six million dollars and we're losing money because it's expensive and the travel.
"Is there a way we could take a portion of that six million dollars and compensate the participant better, so they're not going backward while everyone else is going forward? We put a proposal together, and Dan Radakovich took time with a bunch of other athletic directors and took it to the Commissioner (John Swofford) to provide an additional stipend to Clemson this year because of our participation in the CFP. That was an extra $750,000 that the league provided to us because of our participation. We generated money for the whole conference, but we also protected the participant."
It was a step that greatly enhanced Clemson's bottom line.
"It's really good. It's a really positive view from the ACC," Neff said. "We had to do some work because some of the schools didn't necessarily want to give back some their conference-earned money just because the CFP isn't a huge consideration for them. Dan did a lot of work, we got it, and everybody wants to protect the participants, and it was a really positive step."
Clemson was also able to add extra revenue by creating and licensing its own National Championship logo to sell on merchandise, meaning Clemson will do better than last year's $3 million loss.
"By way of us winning the National Championship, we're able to significantly increase our licensing revenue," Neff said. "You've seen the National Championship logo that we have and everyone buying that and t-shirts, stickers and flag. We project about $700,000 of increased licensing revenue because we won the National Championship and are able to create our own mark and sell merchandise and generate royalties because of that. Since we didn't win it last year, we got some sort of bump in royalties but not to the tune of this $700,000 figure we're projecting. That's a significantly new royalty increase.
"If you include that royalty revenue plus the operational saving with the travel stipend. There was another piece with the ticketing. We do project to come out in the black for the bowl post-season. When we talk about coaches bonuses, we would still have a negative of about two million dollars. Coaching bonuses are separate and we budget for those separately, but then operationally we try to break even. This year, with some help from the ACC and the licensing revenue, we will show a profit."