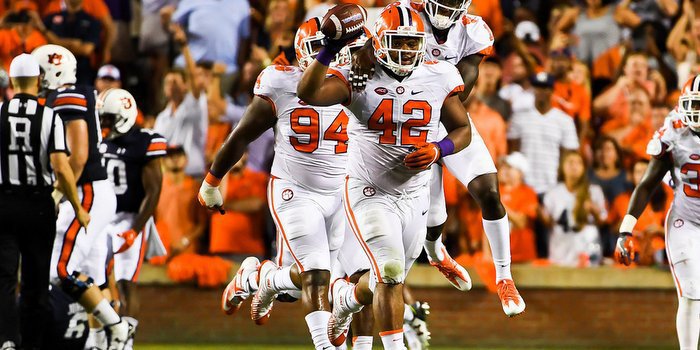 | | |
| --- | --- |
| Goal line stand highlights dominant defensive performance | |
---
The dominant performance against Boston College was nice.
The dominant performance at the goal line made it even better.
Clemson's defense stepped up with a strong outing last week in a 56-10 win over the Eagles. Included in that was a goal-line stand midway through the second quarter, which included two fourth-down tries for Boston College because of an offsides penalty on the Tigers.
"That's a lot of fun. I like that challenge, personally," Clemson defensive lineman Christian Wilkins said. "There's no better feeling, really, as a defensive player than to get a goal-line stand. No matter how far they went down; even if they get the ball, start with the ball inside the 10, there's nothing better than a bend, don't break defense. They get that close, but we're not going to let them in.
"There's no better feeling than driving the guy in front of you back and preventing them from getting into the end zone. It's just really a feel-good feeling for the defense."
That series of plays summed up the Tigers' performance Friday night: dominant and unyielding, and that was good to see after giving up more than 500 yards against Louisville the week before.
"It felt real good. Any time you can keep a team to 10 points or less and just put on a dominant performance, it's always real big," Wilkins said. "You feel real good as a defense, and we made some mistakes in the game, too, that we're going to have to learn from and get better. It just helps us toward what we want to be at the end of the day as a defense."
And Wilkins got to perform in front of family and friends. The Massachusetts native said he had 150 or so friends and family at the game cheering him on.
"It was a lot of fun. My family and friends definitely showed up. Just having all of them there was a lot of fun," he said. "Playing back home and in a familiar place; it's so weird, but to actually play in a stadium … I've always been to a lot of games and been around and seen the stadium and the campus and everything, but it was just funny to actually be in there and play a game in there in that stadium."
Next up is N.C. State, which scored 41 points last year against the Tigers. The Clemson offense, however, had more than 600 yards of offense and scored 56 points.
"We didn't play good against them at all. Good thing our offense was on point that day or else we might have taken a loss," Wilkins said. "Just looking back at it, there are a lot of ways we can improve. We can get a lot better and put on definitely a better performance this time."
Gone is Jacoby Brissett at quarterback for the Wolfpack, but Boise State transfer Ryan Finley has stepped right in, and N.C. State is 4-1 overall, having won three straight games.
"Brissett, he was just a heck of a competitor and played real hard. He was real tough to bring down," Wilkins said. "We had a lot of opportunities to get him down, bring him down for sacks. We just couldn't because he was so big and just really tough and competitive. They've still got a lot of those guys back, their running back and their H-back type of guy, they're both coming back, and I thought those guys were both really good, talented players.
"So they're going to present a lot of challenges for us, but we're just going to have to have a good week of preparation and be ready for them."
That challenge starts up front with the Clemson defensive line.
The Wolfpack are averaging 197.8 yards rushing and 245.8 yards passing per game, while Clemson's defense ranks in the top 10 nationally in scoring defense, passing defense and total defense.
"Last year, I thought they were one of the better O-lines we faced, and this year, with some of the guys returning, they've got a good, strong, solid O-line, and we're just going to have to be ready to play a physical, tough, competitive game if we want to win," Wilkins said. "That starts up front, and it starts with the guys on the D-line, and we're just going to have to put together a good game for four quarters and just be as physical as possible."
Daniel Shirley is the sports editor of The Telegraph in Macon, Ga., and co-host of The Midday Sports Zone on Middle Georgia's ESPN, 93.1 FM and 99.5 FM. Follow him on Twitter at @DM_Shirley and read his blog at macon.com/peachsports

Upgrade Your Account
Unlock premium boards and exclusive features (e.g. ad-free) by upgrading your account today.
Upgrade Now