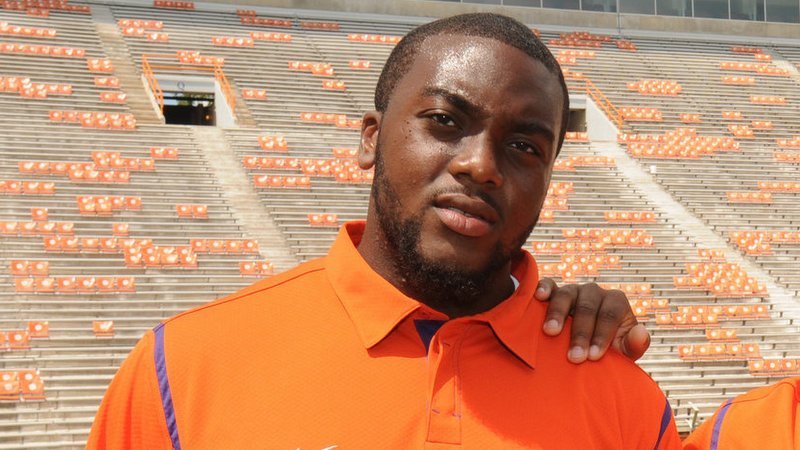 | | |
| --- | --- |
| Former Clemson player waiting on heart transplant | |
---
| | | |
| --- | --- | --- |
| Sunday, June 17, 2018, 8:01 AM | | |
Etta Etta-Tawo's world was turned upside down just five games into his Clemson career, and after leading a semi-normal life for nearly a decade, his health and world were turned on its axis once again.
Etta-Tawo came to Clemson in 2005 from Powder Springs, Georgia, but was sidelined with a heart abnormality after just five games into his redshirt freshman season, ending his football career before it ever really started.
However, then wide receivers coach Dabo Swinney made sure that Etta-Tawo could stay involved with football and continue working on his degree at Clemson.
"So, you know I was planning back in 2005 when I first started Clemson in the fall, I played for like two years. 2007 was when I got diagnosed heart sickness, I had to stop playing, basically ending my career," Etta-Tawo said. "From there I was just like the student coach. Actually, Coach Swinney is the one who brought me back on board as a student coach, just to stay involved."
After living a symptom-free life for nine years, Etta-Tawo knew something was wrong when he lost interest in what he was most passionate about it in life.
"Basically, fast forward nine and half years later, I had no symptoms at all. With a healthy lifestyle there were no issues. Everything is going good, the way that we want. I'm coaching at a private school, and all of a sudden my mind and my body are just not into coaching," Etta-Tawo said. "Coaching is what I did since I stopped playing so I was very passionate about it. At that point I was very nonchalant, going through the motions, feeling very sluggish. I lost my appetite, I would go buy my favorite foods on purpose just to see if I could eat. I still couldn't eat."
And, days later, he ended up in the hospital.
"As soon as I got back from the wedding two days later my younger brother called the ambulance. I was sitting in my bed and couldn't breathe, I was huffing and puffing feeling like the world was about it end," Etta-Tawo said. "Basically, from there I was in and out of hospitals since February of 2017, they've been doing a bunch of surgeries, heart surgeries, stuff for the blood clotting, I had a stroke on my left side."
The doctors have done all they can as far as surgeries, even going as far as putting Etta-Tawo on a left ventricle assistance device and there's only one option still available – a heart transplant.
"Now my heart has just gotten so weak I am needing a heart transplant," he said. "What I'm going through now is basically, I am healthy as possible. I have a machine called the L-VAD, it stands for a left ventricular assist device, and basically what it is, is a machine that works for the heart, basically now I have two hearts working as one."
While waiting is the most difficult part, Etta-Tawo has been out of work with medical bills mounting and was forced to turn to GoFund Me to try and ease some of the financial burden.
"You know, the last six months it's been hectic driving 40 minutes to the hospital for visits, and all of these different bills," he said. "Nobody can know how expensive dealing with the heart is. I have like 8 different doctors that I see weekly."
However, Etta-Tawo hasn't given up hope and can see that there is hope after an outpouring of love and support from friends, family and the Clemson Family.
"Once I get the transplant that's a whole other story. Two or three weeks of being monitored in the hospital. I've been coming to the hospital for two years for checkups, so it will be nice to finally be on my own," he said. "Still a long road but I can see the light at the end of the tunnel, I need God to walk with me today."