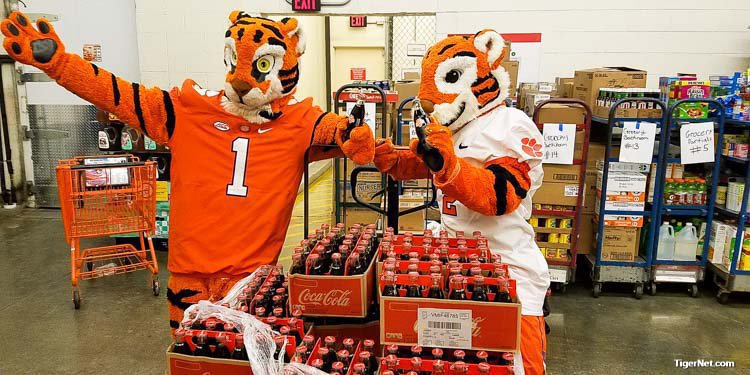 | | |
| --- | --- |
| Coke bottle craze sweeps Clemson and SC | |
---
| | | |
| --- | --- | --- |
| Thursday, August 17, 2017, 11:29 AM | | |
CLEMSON – The Clemson Coke bottle craze has swept the entire state of South Carolina and it doesn't show any signs of letting up anytime soon.
Commemorative national championship bottles have been hitting store shelves since Monday and fans around South Carolina and the Southeast have been tirelessly searching ever since, even going as far as tracking and stalking Coke delivery trucks.
The Bi-Lo in Clemson is set to receive a shipment at some point around mid-day on Thursday, and a manager said they received hundreds of calls on Wednesday and it got to the point that store employees stopped answering the phones.
The Bi-Lo staff expected a large turnout – bringing in extra staff – as people started lining up at 5 a.m. and there were over 200 people in line by 10 a.m. in anticipation of the event.
There were even prayers being said in hopes having divine intervention.
"I got here at nine o'clock - a little bit later than everybody else. I'm at number 33," Matt Peets of Clemson said. "I'm a Clemson fan and whatever it takes to get a Clemson Coke bottle, I'm going to do. I just want enough to keep my family and friends happy - about 16 bottles. I got to Bountland about five minutes too late. There's been a lot of people saying, 'Please God, let me get one,' as we've waited in line.
"I'm not surprised at all (by the turnout). They were really popular in 1981 and they're going to be doubly popular now. In 50 years, people will have broken them and lost them, so they'll be worth many times more than what we're paying for them now."
Don Kline of Central was first in line, arriving before the store even opened and he said his dedication to finding one of the 7,000 packs distributed is for his children.
"I've been in line since 5:00 a.m. I need two for my daughters," Cline said. "This is the first and last chance to get them. We came to the door at 5:00 a.m. and they let us inside at 6:00 a.m. We've been in line since then."
Tri-County students Emma Finch and Sullivan Foy of Rock Hill hold tickets two and three. Finch said she wants the bottles to commemorate attending the historic win in Tampa, Florida.
"We got up at 5:00 and got here at 5:10. We are really excited about this," Finch said. "We went to Walmart yesterday and ended up not getting them, so we came here and saw the sign on the door. It's something for us to remember the game by and say, 'Wow, we were there.'"
Foy said the quest for bottles has come with a price – a lot of gas money and a lot of yelling by store employees who are receiving thousands of calls.
"We got a chance to go to Florida for the National Championship, so this is a once in a lifetime opportunity, so we just had to," Foy said. "We've been to several places, called several places and got yelled at several times for calling."
South Carolina fan and Central resident, Susan Abercrombie, has been in search of the Coke products for family members, but she said Clemson winning the title is great for the entire Palmetto State.
"I've only been looking today, but I expected this kind of a turnout," Abercrombie said. "I'm looking for two six packs. I'm trying to get them for my mom and for my youngest brother. Clemson won the National Championship and it's a great thing for our state and our town."
The last customer to receive a pack of Coke bottles was coincidentally holding ticket No. 81.
There are still deliveries of the 2016 National Championship Coke bottles being made, but Coke has said once supplies are gone, they are gone.