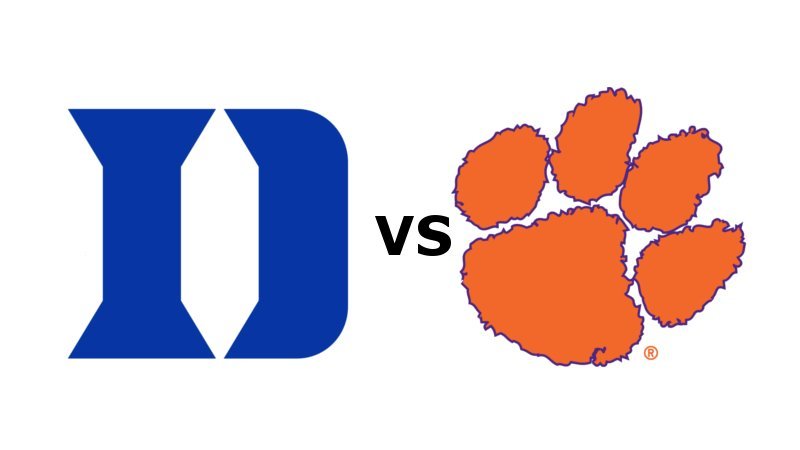 | | |
| --- | --- |
| Clemson vs Duke Prediction: Break out the Purple | |
---
Welcome to the new ACC – Clemson hosts Duke Saturday evening under the lights in Death Valley, and even though the teams play in the same conference it's the first time they've met on the gridiron since 2012, and it's the first visit for the Blue Devils to Death Valley since 2008.
Nothing is on the line from a conference perspective – Clemson has clinched the ACC Atlantic and the Blue Devils can't make the ACC Championship Game from the Coastal – but Duke is looking for an 8th win and the Tigers are still chasing the College Football Playoffs.
This will be the first game this season in which Duke faces a ranked opponent, and they get a good one in the Tigers, who will wear purple in honor of Military Appreciation Day.
Duke (7-3, 3-3 ACC) at No. 2 Clemson (10-0, 7-0 ACC)
When: 7 p.m. Saturday
Where: Memorial Stadium, Clemson (81,500)
TV: ESPN: (Steve Levy, Brian Griese, Todd McShay)
Spectrum (35, 808 HD), DirecTV (206), Dish (140)
Radio: 105.5 WCCP-FM, 97.7 ESPN Upstate, Sirius 134, XM 194, Internet 956
Spread: Clemson by 28 1/2
Tailgating/Parking: Gates open at 1 p.m.
NOTABLE
*Clemson's 2018 senior class is still in the midst of writing a legacy that will leave the group as one of the most decorated classes in school, conference and national history. Last week, the group tied Clemson's 2017 seniors with its 50th win in a four-year span, matching the ACC record set by the 2017 class. The 2018 seniors can stand alone in ACC and Clemson history with their 51st win on Saturday. Clemson would become only the second school ever to produce a 51-win class, joining Alabama, which has produced classes of 53 wins (2014-17) and 51 wins (2013-16 and 2015-18).
*Duke has not won at Clemson since a 34-17 victory over Danny Ford's second Clemson team in 1980. Clemson has won 14 in a row over the Blue Devils in Death Valley, including the last meeting, a 31-7 Clemson victory in 2008 in Dabo Swinney's fourth game as Clemson's interim head coach. In the 14-game home winning streak at Death Valley, Clemson has outscored, Duke 551-187, an average victory of 39-13.
*Two Alabama graduates will lead their respective coaching staffs this Saturday. Duke Coach David Cutcliffe, a 1976 Alabama graduate, will lead Duke, while Dabo Swinney, a 1993 Alabama grad, will lead Clemson. The two are separated by only one career win, as Swinney enters the contest with 111 career victories to his credit, while Cutcliffe enters the game with 110. Cutcliffe did not play football at Alabama but was a student assistant coach under Bear Bryant. Swinney played for Alabama for four years, lettering three, including the 1992 season when Alabama won the National Championship. He played and coached under College Football Hall of Fame Head Coach Gene Stallings.
*Clemson has a history of success against Duke in the running game. Clemson players have recorded 23 games of at least 100 yards rushing vs. Duke, more than against any other opponent. That includes a pair of 260-yard games that rank as the top two running games in Clemson history. Raymond Priester had 263 against Duke in 1995 and Cliff Austin had 260 against the Blue Devils in 1982. Both of those games were at Clemson.
* Saturday's game against Duke will be Clemson's 25th Military Appreciation Day. The history of the special day dates to 1994 when Clemson had a special flyover for the Clemson vs. Georgia Tech game on Nov. 12, just one day after Veteran's Day. Clemson had a flyover of four F-16s from Shaw Air Force Base during pregame as the highlight of the celebration that day. Clemson has celebrated its military history every year since with the games held in November or when Clemson plays host to a school with its own military heritage. Clemson has a 20-4 record in the previous 24 Military Appreciation Day games. The Tigers have won 10 such games in a row, with the last loss coming against Virginia Tech in 2007.
THE MATCHUP
WHEN DUKE HAS THE BALL
Duke's offense is ranked 56th nationally, and they are an oddity in that they're average in rushing offense (60th) and passing offense (54th). Heck, they are even 49th in scoring offense. That won't work against a Clemson defense that is playing better than anyone else in the country right now.
Quarterback Daniel Jones is a weapon – he leads the Duke offense with nearly 2,000 yards throwing and over 300 on the ground despite missing time with a collarbone injury. Against UNC last week, Jones had a big game in throwing for 361 yards and running for 186 more. Deon Jackson leads the ground game with 725 rushing yards, but he's cracked the 100-yard mark just twice this season. In comparison, Clemson has had three running backs reach the 100-yard mark in game twice this season.
As for the Clemson defense - the defense has played five ACC games and 74 drives since the start of October. In that span, the unit has allowed a total of three touchdowns and three field goals. They've had more drives end in takeaways (seven) than points, and they've forced the second-most punts (48) in the country during that span.
The Tigers moved back to the No. 1 spot in scoring defense (12.7) after not allowing an offensive score in the 27-7 win over Boston College last weekend. Clemson is also in the top-10 defensively in total defense (2nd; 253.6), tackles for loss (2nd; 9.9 per game), sacks (3rd; 3.6), rushing defense (3rd; 251.7), fourth down defense (5th; .267), third down defense (6th; .270) and red zone touchdown percentage defense (10th; 47.8).
Jones will get the ball out quick and hit short throws and try to avoid pressure, and he'll make a few plays with his feet. But Clemson is on another level right now.
ADVANTAGE: CLEMSON
WHEN CLEMSON HAS THE BALL
Duke's defense needed to be healthy for this game, but its trending in the other direction. Linebackers Ben Humphreys and Koby Quansah have battled ailments this season, but both are scheduled to play this week. All-ACC cornerback Mark Gilbert has played just two games this year with a hip injury, and the injury problems have only gotten worse since. Leading tackler Joe Giles-Harris missed the Carolina game with a knee injury, and his status for Clemson is up in the air. Duke's No. 2 tackler, safety Deondre Singleton, broke his ankle against UNC and will miss the rest of the season. And the team also lost reserve lineman Ben Frye to an ACL tear suffered against the Heels.
That doesn't bode well for Duke. Clemson's offense had way too many mistakes last week at Boston College, and quarterback Trevor Lawrence faced a variety of pressures and blitzes from different angles, a learning experience for the young signal-caller. However, the game was really never in doubt and the offense put up over 400 yards of total offense. Duke's defensive line can cause some disruption, but the Blue Devils have been abysmal against the run in recent weeks, giving up 178 yards to UVa, 484 to Pitt, 300 to Miami, and 315 to UNC. That's 1,277 yards in four weeks. Clemson has given up 823 for the SEASON.
ADVANTAGE: CLEMSON
SPECIAL TEAMS
The Tigers got a big play from Amari Rodgers on a punt return last week, and Greg Huegel was good on both of his field goal attempts in the cold weather. However, the Tigers gave up a long punt return for a touchdown that turned out to be the only points Boston College scored.
Jackson is a threat in the return game for Duke, while punter Austin Jackson is decent and has had 20 punts downed inside the 20 this season. Collin Wareham is 7-10 on field goals.
ADVANTAGE: EVEN
WHAT WILL HAPPEN
Duke is 7-3 and dangerous, but unlike Boston College, the Blue Devils don't have the defense to keep this one close for more than a quarter or two. The Tigers will get back to running the football and Lawrence will make the outside throws that lead to long plays down the field.
Clemson will run early and run often on a cold night under the lights.
FINAL SCORE: CLEMSON 50, DUKE 10
---
GUEST PREDICTIONS
---
Mickey Plyler - 6-9 AM on WCCP 105.5FM - 47-17 Clemson
Tony Crumpton - Associate Editor - 44-13 Clemson
Nikki Hood - Staff writer - 56-21 Clemson
Brandon Rink - Staff writer - 45-17 Clemson
Hannah Rogerson - TigerNet Intern - 55-7 Clemson
Pigskin Prophet - 40-13 Clemson
| Game | Actual | David Hood | Mickey Plyler | Tony Crumpton | Nikki Hood | Brandon Rink | Hannah Rogerson | Pigskin Prophet |
| --- | --- | --- | --- | --- | --- | --- | --- | --- |
| Furman | 48-7 CU | 54-9 CU | 55-10 CU | 52-7 CU | 49-7 CU | 55-3 CU | 28-7 CU | 52-3 CU |
| Texas A&M | 28-26 CU | 27-13 CU | 34-17 CU | 31-17 CU | 28-13 CU | 34-16 CU | 31-20 CU | 31-16 CU |
| GA Sou | 38-7 CU | 47-10 CU | 42-10 CU | 51-13 CU | 38-7 CU | 45-10 CU | 32-10 CU | 48-9 CU |
| GT | 49-21 CU | 31-14 CU | 37-17 CU | 31-14 CU | 38-21 CU | 38-14 CU | 32-10 CU | 38-13 CU |
| Syracuse | 27-23 CU | 45-17 CU | 51-21 CU | 48-21 CU | 42-17 CU | 48-20 CU | 42-10 CU | 45-20 CU |
| Wake | 63-3 CU | 38-17 CU | 41-21 CU | 31-16 CU | 34-17 CU | 45-17 CU | 42-14 CU | 38-16 CU |
| NCSU | 41-7 CU | 41-17 CU | 41-20 CU | 35-20 CU | 35-17 CU | 38-20 CU | 31-28 CU | 38-14 CU |
| FSU | 59-10 CU | 38-13 CU | 37-17 CU | 38-17 CU | 35-17 CU | 34-20 CU | 34-12 CU | 45-10 CU |
| Louisville | 77-16 CU | 52-6 CU | 48-7 CU | 55-7 CU | 63-10 CU | 62-16 CU | 51-7 CU | 63-3 CU |
| BC | 27-7 CU | 37-20 CU | 34-17 CU | 35-13 CU | 42-13 CU | 38-13 CU | 42-17 CU | 37-16 CU |
| Points | - | 12 | 10 | 12 | 19 | 14 | 12 | 12 |
* Points: 3 pts for best prediction of the week (tiebreaker is Clemson score), 2 pts for picking score exactly, 1 pt for picking the correct winner

Upgrade Your Account
Unlock premium boards and exclusive features (e.g. ad-free) by upgrading your account today.
Upgrade Now