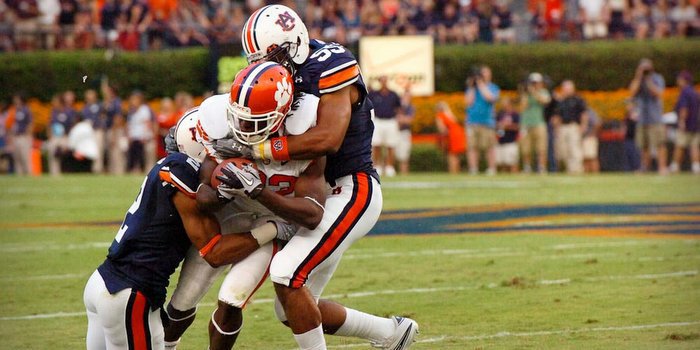 | | |
| --- | --- |
| Clemson at Auburn in 2010: The Night the Headsets Went Out on the Plains | |
---
| | | |
| --- | --- | --- |
| Monday, June 27, 2016, 7:12 AM | | |
The last time Clemson and Auburn tangled on The Plains, the home team used the victory as a springboard to a national championship.
Auburn defeated Clemson 27-24 on a hot, muggy evening in Jordan-Hare in a game that Clemson fans will forever remember as the night a longsnapper flinched and the headsets went out. Clemson was 2-0 heading into the game, but the mental and physical pounding taken in the loss led to a three-game losing streak. Clemson finished the season with a 6-7 record after a desultory loss to South Florida in a meaningless bowl game.
We have plenty of time between now and the Sept. 3rd opener at Auburn, and we'll have plenty of time to dissect the game and the players. However, I want to take a quick look back at 2010 from a sports writer's perspective and share some thoughts and memories from that summer and that weekend in Auburn.
If you remember, Clemson's baseball team played in a regional at Auburn that June, which gave the media a chance to reconnoiter and get ready for the return trip in September. We knew it would be fun our first night there when we saw students skating in the nude down the main drag on campus. It only got better from there.
I will always remember the heat of that regional – brutally hot and sticky – but another moment stands out. One of the younger members of our media group walked into the baseball press box and found a seat with his name on it. There was also a certain someone already sitting there and that someone didn't seem inclined to move, so the youngster cleared his throat, pointed to the name card, and said, "Excuse me, but that seat has my name on it."
The older gentleman turned around, smiled, and said, "Do you see that football stadium across the street? Well, that's my name on that stadium." And that's how Pat Dye sat with the Clemson media for a good portion of a baseball game.
The return a few months later was just as eventful – it was actually the first football trip a young lady named Nikki Steele made with me (she hasn't missed one since) and she sat in the stands with her friend Jamie. We hung out at GameDay, went back to the hotel to freshen up and made our way back to the stadium. Media parking was plentiful and we waited patiently for the media shuttle. We got a guy on a golf cart who knew every shortcut around the stadium, and we dodged band members and tailgaters and motorhomes and made it to the stadium safely.
Heck, the ride on the golf cart was worth the entire trip.
Three hours before the start of the game, there was already a buzz surrounding the stadium. It was a Blue Out and the students turned out by the thousands. They were loud and they were an absolute force. I've told anyone that will listen that was one of the best college football atmosphere's I've ever seen. Others who were at that game have agreed with me – it's hard to top the Auburn crowd that night. It was big-time college football at its best, and might now only be surpassed by Clemson and Notre Dame.
For some dumb reason another thing stands out – ESPN unveiled its 3D technology at the game, and the members of the media were allowed to take 3D glasses and watch portions of the game in 3D. I stood with ESPN analyst Kirk Herbstreit (he called that game) and watched halftime highlights in 3D.
Clemson took a 17-3 halftime lead and Kevin Steele's defense was holding Cam Newton in check when the headsets went out, which is apparently a common occurrence for opponents at Jordan-Hare. The headsets for Clemson's defensive coaches went out on the second play of the third quarter, and Steele was forced to make adjustments based off of what he was seeing from the sidelines. Auburn ran off 21 consecutive points to take a 24-17 lead, and poof, the headsets started working again.
Many fans will remember that quarterback Kyle Parker took a cheap shot in the back from Auburn defensive lineman Nic Fairley in that game. Parker came to the sideline spitting up blood, but young Tajh Boyd was untested and Parker went back in to play. However, it wouldn't be a stretch to say the talented Parker was never the same after that hit.
In going back through the box score, I was reminded that Michael Dyer played in that game for Auburn. He also played against Clemson for Louisville in 2015, a span of six seasons.
Clemson tied the game in the fourth quarter, but Wes Byrum hit a 39-yard field goal in overtime and Clemson had a chance to tie. Freshman Chandler Catanzaro's 27-yard field goal sailed true, but a penalty flag dropped and Clemson snapper Matt Skinner was called for double-clutching the snap. We had already made our way down to the sideline – I was standing beside Clemson SID Tim Bourret as the crowd went into full throat – and it all happened about 30 feet in front of me. The second kick wasn't good and Auburn walked away with an exciting 27-24 overtime win.
Wil this year's trip provide the same kind of memorable moments?

Upgrade Your Account
Unlock premium boards and exclusive features (e.g. ad-free) by upgrading your account today.
Upgrade Now