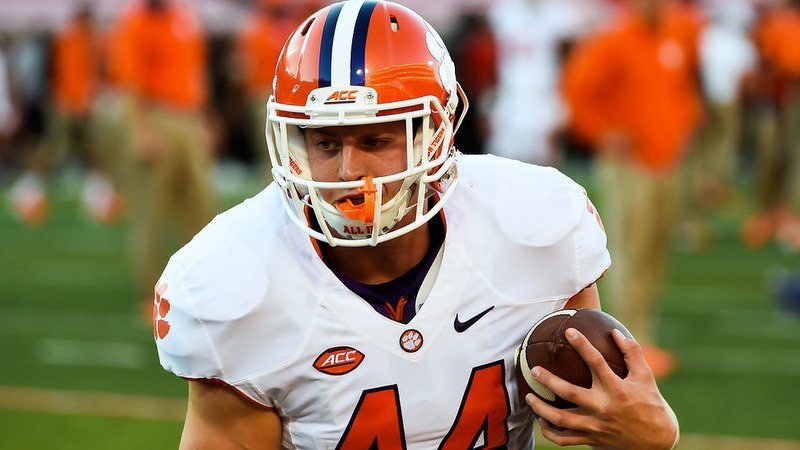 | | |
| --- | --- |
| Back on track: Blast from Clelin Ferrell lets Williams know his knee is okay | |
---
| | | |
| --- | --- | --- |
| Thursday, March 8, 2018, 8:15 AM | | |
CLEMSON – Garrett Williams will do whatever it takes to be a good teammate and help his team win, even if that means taking snaps on the scout team. That doesn't mean he has to like it, however, and he's ready to be a contributor again this fall.
Williams tore his ACL last spring and missed all of last season. He was healthy enough to return to practice in October and he spent the rest of the season on the scout team. He accepted that role because he knew it was best for him and the team.
"I went on the scout team last October of this past season, so doing that really helped to get it back to playing shape, kind of," Williams told the media Wednesday. "Then it was kind of bothering me at first, but now it's pretty much good because I took so much time to recover and really do it the right way. I probably could've come back for the season, but me and coach Swinney made the decision to take time and get it to full health, and that's where it is now. It really doesn't give me problems anymore so I'm very grateful for it."
Now, he's ready to get back with his teammates and contribute.
"The worst thing about being out is feeling like you're not contributing anything and feeling like you're just out there and taking up space," he said. "But being back and being with everybody all the time, it makes you really appreciate it more having been out for so long with my injury and everything. But now that I'm back out I look forward to competing again. With all the tight ends and with the offense and really getting after it this spring, summer, and fall."
With the physical part of the game taken away, Williams worked on the mental aspect of his game.
"In fall camp, you can only have so many people at fall camp so I was on the injured reserve, so I was not allowed to do segment meetings," he said. "But I was allowed to be here in Clemson and be in the facility but I couldn't be in the segment meetings so I'd go to coach (Danny) Pearman's office and really study the offense and really try to learn what the offensive line was doing, what the quarterback was doing, what the receivers are doing just so I can get a complete grasp of what we do here. So what I'd say the biggest part of my game that I improved was the mental aspect."
Williams said he hasn't had any issues with the knee and trusts it completely.
"You've just got to go all out and go for it 100-percent and trust it. Trust your rehab and you can't be thinking while you're out there because when you're thinking out on the football field is when you're going to get hurt," Williams said. "So from day one when I was out there, the first play I was out there on scout team after I decided to redshirt and back in a full-go situation on look squad for the defense, I was running a little shuttle pass and Clelin(Ferrell) just laid me out. So I think that was something good for me and getting back there on my first play and getting laid out. Trusting my knee and it feels good and it feels fine and you just can't think about it and gotta go for it and that's what really helped me."
He said he hopes to be more of a threat in the passing game this season.
"I just have to be consistent," Williams said. "Throughout my career, I'll have glimpses of good things then I'll do some bad things and if I can just be consistent that's what I feel like I can bring and contribute so consistency, that's what I really need to improve on.
"Yeah, even throughout high school I've always been a better blocker and what I've always done. I've never really done much spread out stuff but definitely pass game and that's what I really tried to spend a lot of time on because it just doesn't come to me as naturally."

Upgrade Your Account
Unlock premium boards and exclusive features (e.g. ad-free) by upgrading your account today.
Upgrade Now