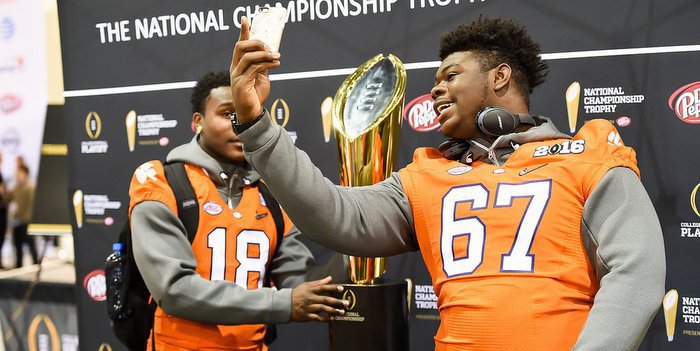 | | |
| --- | --- |
| Albert Huggins embracing senior season, wants another National Championship | |
---
| | | |
| --- | --- | --- |
| Thursday, March 22, 2018, 12:53 PM | | |
CLEMSON- Albert Huggins has big plans for his final hurrah at Clemson.
Huggins, the 6-3, 305-pound senior defensive tackle discussed his opportunities and goals with TigerNet after a recent practice. A native of Orangeburg, Huggins had 21 tackles and five tackles for loss in the 2017 season. Huggins played in 13 games with two starts.
"I feel like I opened a lot of eyes, and It allows the coaches to believe in me more than they already did, so I feel like that was a good thing," Huggins told TigerNet, when asked about his two starts back in 2017.
Huggins sat second string to Dexter Lawrence during his past two seasons at Clemson. Lawrence is currently sitting out of spring practice, which allows Huggins to perform for the coaches and take his chance at getting a starting spot for the 2018 season.
"We're missing the big guy, but like you said, it is an opportunity and I'm going to take my opportunity," he said.
Lawrence's return to Clemson could pose a problem for Huggins's goals of starting defensive tackle for the 2018 season, but that is not how Albert Huggins sees it.
"Let's go, another natty man, it didn't bother me, it didn't bother me at all," Huggins said. "Just more competition, makes me want to work harder".
Huggins is returning to Clemson for his senior year and has no intention of slowing down.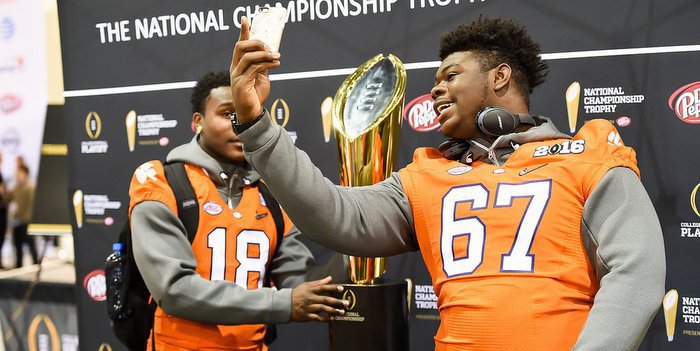 "It's the last hurrah, I have to make it the best one."
When asked where he felt he would fit in on the Tiger's defense next season, Huggins said he doesn't care – he just wants to play.
"I would say I really don't know where, I would love to be a starter but if I don't start, I'm still going to go out there and get it, wherever I can get It," Huggins said. "I don't really know where, but I'm aiming to be a starter."
One of head coach, Dabo Swinney's, mottos is, "finish with no regrets" and that's exactly what Huggins plans to do for his senior year.
"Like I said, just play every play to the fullest, when the balls thrown, run to the ball, you know try and get in on it every time," he said. "Just play every route to the fullest and don't have a bone movement you know, it's been hard these past four years. It's time to have fun, be serious and have fun with the rest of the guys. I've been given an opportunity, and I need to take advantage of it. "
?