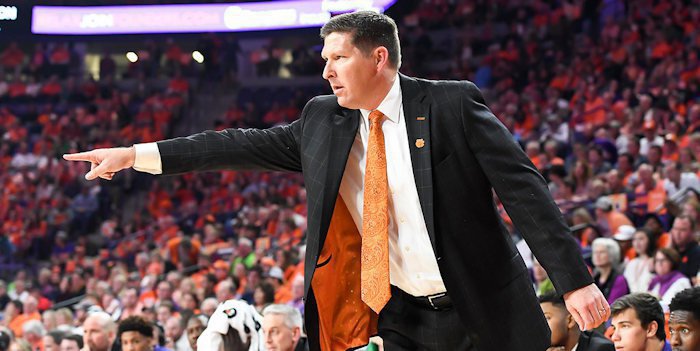 | | |
| --- | --- |
| Tigers take aim at Bacon and taller Seminoles | |
---
| | | |
| --- | --- | --- |
| Saturday, February 4, 2017, 2:01 PM | | |
CLEMSON – Both Clemson and Florida St. endured losing streaks at the end of January, but both teams appear to be back on a winning track and will meet Sunday afternoon in Tallahassee.
Florida St. lost back-to-back games against Georgia Tech and Syracuse before dismantling Miami in its most recent outing, while Clemson had a six-game slide in January; the Tigers won at Pitt and returned home with a 12-point triumph over Georgia Tech last time out.
The Tigers are in search of their third win over Florida State in the last four trips to Tallahassee, and the game will tip off at 12:30 p.m. in the Donald L. Tucker Center.
The Seminoles are led by the versatile Dwayne Bacon, who is 10th in the ACC in scoring at 17.1 points per game. They are also second in the ACC in points per game, trailing only North Carolina (88 ppg) at 83.3 points per game.
They also present the Tigers with a size disadvantage.
"They're as big a team as you'll play - 6-4, 6-8, 6-8, 6-10, 7-0. There are some matchup issues for us that we have to figure some things out with, but I think more than the size is their ball pressure, their ability to extend and defend your offense out and they just play so many people," head coach Brad Brownell said Friday. "They have guys off the bench that are 6-8, 6-9, 6-10, 6-6 wings. They have great length, and they play really hard because their guys are fresh. A big key to the game will be offensive execution. When you watch teams play against them, it's really hard to get into the flow of your offense and play the game any rhythm."
The Seminoles rank fifth in the ACC at 38 rebounds per game – Clemson averages 33.8 per game.
"It will be a big challenge for sure. They're a good rebounding team with their size and length," Brownell said. "We're going to have to block out in all positions. Some of that too is we can't get beat when we're in rotations because then it's really bad in terms of size matchups. We've got to keep the ball as best we can in front of us and try to make them make a few shots and when they miss we've got to be able to keep them out of the lane as best we can and get rebounds."
Brownell said the Seminoles are a familiar foe.
"Georgia Tech and Florida State are always a little different because you play each other twice every year and a couple of years we've played each other three times," he said. "In a league where it's a little bit bigger and you don't always know the tendencies of every team as well because you only play them once a year, when you play teams two and three times a year like we've played these guys I think we all just kind of know each other. It's really about execution and getting your guys comfortable to play well. We have a little success down there. Hopefully, that will continue."
GAME SETUP
CLEMSON (13-8, 3-6) vs. FLORIDA STATE (19-4, 7-3)
Date: Sunday, Feb. 5
Tipoff: 12:30 p.m. ET
Arena: Donald L. Tucker Center (12,100)
Radio: CTSN (Tony Castricone-pbp; Tim Bourret-color)
TV: ESPNU (Anish Shroff-pbp; Cory Alexander-color)
• Clemson has won two straight ACC games after enduring a six-game slide in the month of January; the Tigers won at Pitt and returned home with a 12-point triumph over Georgia Tech last time out.
• The Tigers are in search of their third win over Florida State in the last four trips to Tallahassee. Clemson won in back to back seasons, 2013-14 and 2014-15. Jaron Blossomgame averaged 12 points and 6.5 rebounds per game in the two victories. Blossomgame needs just four points to move into the top 10 in Clemson history in scoring.
SERIES HISTORY
CU Series W-L record: Florida State leads 38-31
Streak: Florida State won the most recent meeting
TIGER TRACKS
• The win over Georgia Tech on Wednesday was Clemson's 12th straight at home in the series with the Yellow Jackets; it marks the longest home winning streak in program history over another ACC team.
• Brad Brownell is No. 2 in Clemson coaching history with 55 wins over ACC teams, passing Oliver Purnell for sole possession of second with the win over Georgia Tech. Brownell needs five wins to pass Cliff Ellis for first place.
• Avry Holmes is shooting 51 percent from three in ACC play; it is the best accuracy in league games by a Tiger since Michael Tait (.545) in 1986-87.
• Holmes already has 24 threes halfway through the league schedule; last season, he made just 25 over the course of 18 ACC regualr season games.
• Elijah Thomas, who made his first start at home against Georgia Tech, responded with his first career double-double (12 points, 10 rebounds).
• Donte Grantham has averaged 10.8 points and 5.8 rebounds per game over Clemson's last four contests.
• Jaron Blossomgame has scored double figures in 20 of Clemson's 21 games.