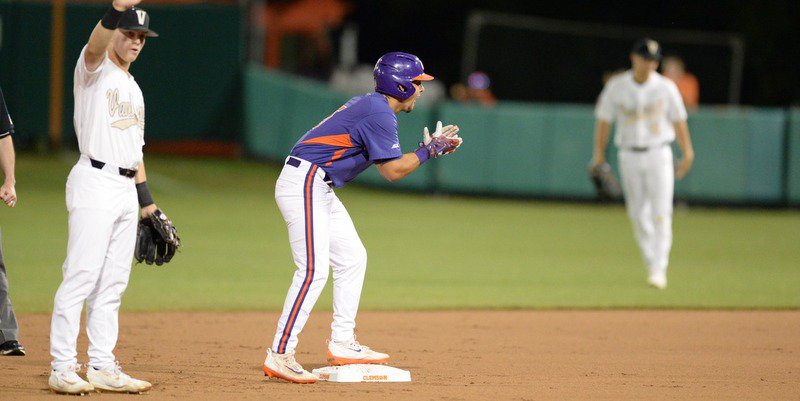 | | |
| --- | --- |
| Do or Die: Emotional Tigers not ready to quit | |
---
| | | |
| --- | --- | --- |
| Monday, June 5, 2017, 8:40 AM | | |
CLEMSON – The clock struck midnight, hot dogs were being thrown around the stands in a haphazard fashion and rain clouds darkened the already-night sky, but graduate students Weston Jackson and Tyler Jackson weren't prepared for Cinderella's magic ride to turn back into a pumpkin.
Tyler Jackson, a graduate student who transferred in from USC Upstate during the offseason, pitched the game of his life as Sunday night turned into Monday morning at Doug Kingsmore, pitching top-seeded Clemson past second-seeded Vanderbilt and into today's winner-take-all matchup at 4 p.m.
Jackson gave up just two hits while striking out three, inducing 10 fly ball outs and 14 groundouts. He was helped by his defense – outfielder Reed Rohlman made three highlight-worthy catches, Weston Jackson made another and the infield was stellar on a steamy night.
"I have been coaching for a long time, and that I think is the best baseball game that I think I have ever seen with my own two eyes," Clemson head coach Monte Lee said. "I don't know if I have ever seen that team play that well. When you look at the pitching performance by Tyler Jackson first and foremost, how we played defensively, I don't know if I have ever seen a better game defensively. We played extremely well, made a lot of not only good plays, but great plays and we had some big-time hits. We had two strike hits. We had two-out hits.
"Our guys really, really competed. I don't know if we could have played a better baseball game. I'm really proud of our guys."
Tyler Jackson said he pitched like it could be his last game – as a graduate student it could have been the last game he pitches as a collegian.
"I just kind of played it like it was the last game that I am ever going to play," Jackson said. "I just went out there and tried to enjoy every moment."
Weston Jackson is also a graduate student – he went to Eastside High School in Greenville but played his first three seasons at Presbyterian. He grew up a Clemson fan and wanted the chance to finish his college career as a Tiger.
Weston had three hits, scored two runs, drove in three runs and hit a solo home run in the top of the sixth inning.
"It was do or die," Weston Jackson said. "I don't have too many of these games left so I was just trying to enjoy it the best I possibly can."
Tyler said he wasn't nervous, even though he knew the season was on the line.
"We fell short last year. I wanted to be an impact on our team. I wanted to help do that. So I came in and did exactly what I wanted to coming here," he said. "Believe it or not, I actually wasn't nervous at all. I took it as this could possibly be — if I don't do my job — the last game of college or possibly my career playing baseball forever. I kind of took it that way."
In addition to the gold glove defense and outstanding pitching, the Tigers played with an emotion that has been lacking in recent weeks. Can they continue that today and earn a trip to Corvallis, Oregon, to take on Oregon St. in the Super Regional?
It will take another sound pitching performance, and Lee said the coaches will wait until they get to the ballpark Monday to make a decision on who starts and who is available. However, he didn't rule out Friday starter Alex Eubanks.
Lee could conceivably pitch Pat Krall, who threw 59 pitches against UNC Greensboro earlier in the day after a Friday relief appearance. After all, one loss and the season is over.
"Now we're in a position to play for the championship of this regional. We need to try to carry this momentum into Monday and see if we can find a way to get it done," Lee said. "I'm just grateful. I'm just grateful — No. 1 to be playing here at Clemson. We knew what was at stake. We had to win two ballgames and we were down by three runs early in the game against UNC Greensboro. It's just amazing to watch these young men step up. Guys have stepped up in big-time situations for us."

Upgrade Your Account
Unlock premium boards and exclusive features (e.g. ad-free) by upgrading your account today.
Upgrade Now