| | |
| --- | --- |
| Tiger Tidbits - Bowl Edition | |
---
| | | |
| --- | --- | --- |
| Monday, December 31, 2012, 1:51 PM | | |
ATLANTA, GA – Greetings from Atlanta and the team hotel.
In many ways, this bowl trip has been far better than the trip to Miami a year ago – the players haven't had as far to travel for events, the media has had more access to players and coaches, and it just seems like things have been more settled and focused this time around.
In fact, I just rode up in the elevator with defensive coordinator Brent Venables
Brent Venables
Defensive Coordinator / Linebackers
View Full Profile , and while many players have headed out to a movie, he seemed like he was headed to put in more work on the game itself. I get the feeling he is ready to get things kicked off, but not because he is tired of the trip. I think he wants to see how his group responds following the lumps his defense took in the last two regular season games.
With that said, however, we will get to some little tidbits we've garnered throughout the week.
*I will start with Eric Mac Lain
Eric Mac Lain
RS Fr. Tight End
#88 6-4, 260
Hope Mills, NC
View Full Profile , the former tight end who weighed in at around 255 pounds at the beginning of the season. He started working out on the offensive line earlier it year, and weighed around 270 in October, when he told us he would be working with a nutritionist to help him put on more weight. I saw him in the hallway outside of the locker room in the Georgia Dome late last week, and he said he thinks he is somewhere in the 285-290 pound range. And it's good weight, not fat. He came off the field wearing No. 78, which indicates he was getting work on the line during practices. He could make a serious move for playing time with a solid spring.
*The bowl practices have allowed the coaches to work with the "J.V." players who are either red-shirting this season or sitting out due to injury or transfer rules. The coaches have declined to tell us anything about these players or how they have performed during practices, but I've heard that Oklahoma transfer Kellen Jones
Kellen Jones
So. Linebacker
#52 6-1, 215
Houston, TX
View Full Profile continues to impress. He looks like he has recovered from his broken foot, and has asked to work at all three linebacker positions. He is another player that could make a move in the spring. Another linebacker, Justin Parker
Justin Parker
Jr. Linebacker
#8 6-1, 235
Port Royal, SC
View Full Profile , is going through a medical redshirt this season after suffering a groin injury early in fall camp. He is practicing, but isn't quite back to 100 percent.
And finally, I've heard that freshman defensive back Ronnie Geohaghan has been solid during bowl practices and is yet another player that could make a move with a solid spring. In one spirited practice, he went 1-on-1 with another redshirt – freshman receiver Germone Hopper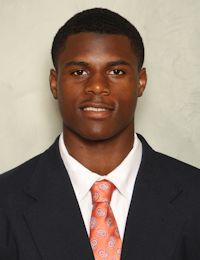 Germone Hopper
Fr. Wide Receiver
#5 6-0, 175
Charlotte, NC
View Full Profile – and locked him down. I've heard that Clemson's starters have had trouble stopping the young speedster, but Geohaghan has shown the coaches he deserves a spring look. I also heard he had an interception during one of his battles with Hopper.
*Here at the team hotel, the media has a hospitality suite, the players have a hospitality suite and there is a suite for the coaches and their families. For obvious reasons, the three are kept separate, but news still filters back and forth. I was in the media suite a few nights ago, and one of the bowl reps asked me what it was like to work with Dabo Swinney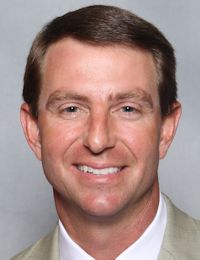 Dabo Swinney
Head Coach
View Full Profile . He then told me the reason that he asked: he said he had worked with the bowl for almost 30 years, and has worked for many of those years in the player's hospitality suite. He said in all that time, he has had only two head coaches who come into the player's suite to check in on the players, and Swinney was one of those coaches. He said Swinney then took time to thank each of the volunteers for what they did for the players and coaches, and then took a trip up to the suite set aside for the volunteers to thank them for their efforts. Does it win football games? No. But it is nice to have him representing the university.
*There were some notable visitors at some of the practices this week in the Dome. One day saw Swinney hosting good friend and former teammate Mickey Conn, who is now the head coach at Loganville (GA) Grayson, where he coaches Clemson commit Wayne Gallman and No. 1 recruit Robert Nkemdiche. Conn didn't get into specifics with me about Nkemdiche, but did say to not count out Swinney and the Tigers. That same day, current Penn St. defensive coordinator Ted Roof was at the practice. Roof played his high school ball at Central Gwinnett here in the Atlanta area, and played at Georgia Tech.
Former Clemson fullback Tracey Johnson and former quarterback Chris Morocco were also seen at the Georgia Dome this week.
*We went with the Clemson football team to Andretti Indoor Karting last week, and it was fun watching the players take turns taking their cars around the track. However, the real fun began when the coaches donned the helmets and waited their turn. Swinney immediately began talking smack to the other coaches, and let each of them know he was going to win when it was time for the coaches to take to the track. However, it was offensive coordinator Chad Morris
Chad Morris
Offensive Coordinator / QBs
View Full Profile who appeared to drive the best, and Swinney offered up some humorous excuses after he had driven 20 laps. However, one coach was heard to quip that Swinney didn't need to make excuses because "we already have dashcam evidence that coach drives fast."
*We had a press conference with LSU head coach Les Miles, safety Eric Reid and offensive lineman Josh Dworaczyk this past weekend, and Miles walked in with his players. However, before the three sat down at the podium, Miles got in a huddle with the two players and appeared to be giving them the ground rules. Both players then came out and couldn't give Clemson enough compliments. Good coaching extends beyond the football field.
*During the Football Family Feud event that happened Saturday, Clemson players and LSU players faced off in a "Family Feud" style event. One of the questions was "What would you skip if you were running late for class in the morning?" The typical answers of brushing teeth and brushing hair came up, but one LSU player said he would just skip the class altogether. The response drew a roar from the crowd, and even drew a laugh from Miles, who was sitting right behind me. Miles then turned to his wife and said, "Remind me to check his class attendance" which drew another laugh from those seated at his table.
We will have more after the bowl game, but I hope this kind of gives you an idea of what we've experienced during bowl week.