---
| | | |
| --- | --- | --- |
| Wednesday, July 20, 2011, 2:01 PM | | |
SUNSET, S.C. – "Why not us?"
Clemson head coach Dabo Swinney told the media on Tuesday at his annual media golf outing that he understands why the national media has lowered expectations for the Clemson program for the 2011 season, but Swinney said this team might surprise some people.
"I'm looking forward to the season," Swinney said. "Who knows what it's going to bring? I just know that we've got a lot good times in front of us at Clemson University. Why not us? It's been 30 years since Clemson won the national championship. It's been 20 years since we've won the conference championship at Clemson. That's long enough.
"That is my job. If I'm given the opportunity, we're going to do that. I don't have any doubt about it. I understand you don't get a lot of time these days in building a program. It's important that we take a big step this year in solidifying the direction that I want us to go. I'm very confident that we're going to do just that. It's time for us to take that step as a program and be one of the elite teams in the country and we are going to do that."
Swinney's first full season, in 2009, ended with an ACC Atlantic Division title and a berth in the ACC Championship, but 2010 was a nightmarish 6-7, and Swinney said winning is definitely more fun than the alternative.
"It's a lot more fun to win at Clemson than to lose," he said. "This is a team that's been in the penthouse, played in the championship game. Most of these guys, they've experienced that. And they've also been in the outhouse where they've experienced the other side of it. I think our guys know it's a fine line.
"It ain't very far from up or down. I am excited about building something that will sustain. I don't want to do it the wrong way or cut corners. It has been a grinding two years to get to this point. But I'd say we're right on track, from a program standpoint, where I want us to go long-term. I think our future is very bright."
The step back that Clemson took in 2010 was a combination of many factors – poor offensive execution and the failure to hit field goals at clutch times are just two – but many close to the program also understand that last year's squad was a team that lacked a true vocal leader.
C.J. Spiller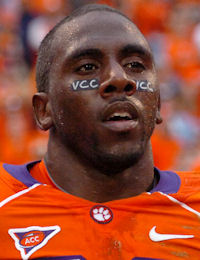 C.J. Spiller
Running Back
#28 5-11, 195
Lake Butler, FL
View Full Profile , Thomas Austin
Thomas Austin
Offensive Line
# 6-4, 285
Camden, SC
View Full Profile , Jacoby Ford
Jacoby Ford
Athlete
# 5-9, 175
West Palm Beach, FL
View Full Profile and Michael Palmer
Michael Palmer
Tight End
# 6-4, 228
Lilburn, GA
View Full Profile were all leaders on the 2009 team that didn't mind getting in a younger player's face if the situation warranted it, but 2010 was a "different dynamic" according to Swinney.
"I think last year we had 18 seniors, but only about eight them of even played," he said. "And I think we only had about four that even started and they were quiet guys. This offseason has been like night and day in that regard, however. I have seen guys like Landon Walker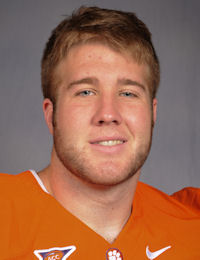 Landon Walker
Offensive Line
#72 6-6, 310
North Wilkesboro, NC
View Full Profile and Dalton Freeman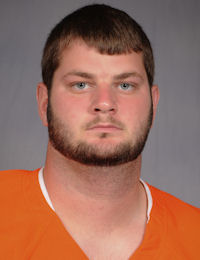 Dalton Freeman
Offensive Line
#55 6-5, 285
Pelion, SC
View Full Profile and Antoine McClain
Antoine McClain
Offensive Line
#74 6-5, 330
Anniston, AL
View Full Profile step into that role.
"Tajh [Boyd] has been a tremendous leader this off-season, and he has been here all the time. Even when he can leave and have some time off, he is here. Those guys are in the film room all the time. They are pushing each other. There is a just a different feeling around here right now, a different dynamic. It's night and day. That is the probably the thing that has gotten me the most excited."
Swinney said the staff has even taken an extra step in developing leaders – the coaching staff asked the seniors to pick two freshmen, two sophomore and two juniors to join the seniors in the leadership meetings, and he has already seen a difference.
"At spring practice, there was extra discipline and there was extra running," he said. "You might have an entire group running because of one guy, and that makes sure that everybody is accountable and our team has embraced that. It carried over into the summer, and this is exciting because they are hungry. These juniors and seniors were in Tampa, what, 20 months ago? They have had a taste of it, and they have had a sour taste. Winning is much more fun."
Swinney said that he is excited about the nucleus of young but extremely talented players he has on his roster, especially after only signing 12 players in 2009, and then redshirting a good portion of the 2010 recruiting class instead of playing them last season.
Now, Swinney says he will play anywhere from 25-30 redshirt freshmen and true freshmen this season.
"We made that decision back in 2009 to just sign 12, and we said we were going to move scholarships forward," he said. "We were planning for this day. We knew it could hurt us on the front end, but we felt like it would pay off in the long run. It would let us recruit the kinds of guys we want. We redshirted eight of 11 of that first group, and then 15 of 19 of the ones we brought in last year, so we are going to have some young but talented guys that are going to step in and play."
Swinney said he believes that the youngsters are ready to compete, however.
"All of those things we have experienced over the past two years will pay off, and hopefully that is this year," he said. "Our guys will line up and compete with anybody. It's a great time to be here. We've got everything we need at Clemson to win."