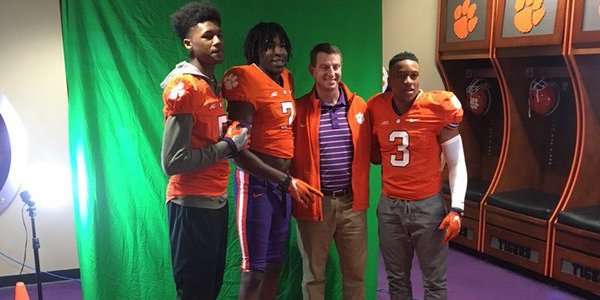 | | |
| --- | --- |
| Sunday update: Recruits react, Rashan Gary and more | |
---
| | | |
| --- | --- | --- |
| Sunday, January 31, 2016, 11:01 AM | | |
It was quite a weekend in Clemson, and it isn't over yet. Not completely.
Clemson's coaching staff hosted some of the region's top 2017 talent Saturday on Junior Day and earned a commitment in the process from 4-star offensive lineman Matt Bockhorst. In case you missed the story we ran, go read it. He reminds me of Eric Mac Lain and Sean Pollard and a lot of other guys Clemson has picked up in recent years who don't mind saying what's on their mind.
Clemson also hosted a couple of 2016 prospects, including the nation's number one player in defensive line prospect Rashan Gary. We will start with Gary – from everything we've heard the visit not only went as well as could be expected, it might have gone even better. His hosts were new commits Rahshaun Smith and Dexter Lawrence – a couple of 5-stars who are part of the 2016 recruiting class – and 5-star Christian Wilkins. Wilkins just completed his freshman year. Reports out of the WestZone indicate that Gary and the players have gotten along well and their interaction has been a big part of the visit.
We'll have more on Gary and 2016 defensive back Isaiah Simmons later.
Now on to some of the 2017 prospects, and we'll start with 4-star wide receiver James Robinson, who brought his family up for the visit. Robinson and his family leave knowing that Clemson is still on top for his services.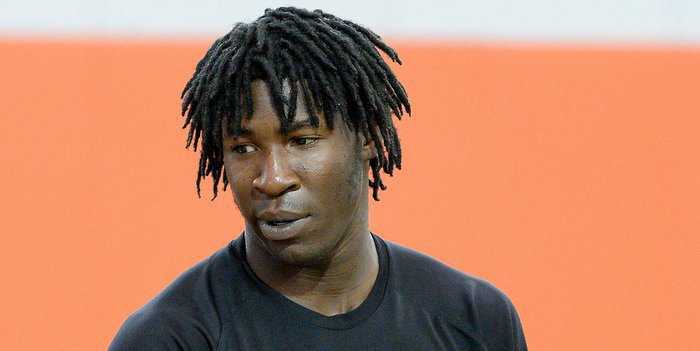 "It went well as usual. My family made the trip and got to see what I've been seeing," Robinson said. "They are in the same spot as they were. They're my number one. My family loved it. They had a ball and they liked how it felt like home."
Had a Great Time on My Visit ??????????????? #ImTHANKFUL pic.twitter.com/OtdmBhexP1

— JAMES ROBINSON IV 4? (@_StunnaJayy_) January 31, 2016
Chase Brice, 4-star quarterback commit, Loganville (GA) Grayson
"It was a great visit. I got to hang out with the guys who were committed already and also try to recruit some guys. I guess the highlight for would definitely be the photo shoot in the locker room and trying all of the gear on. I had a lot of fun with that and having a top OL target, Matt Bockhorst, commit was awesome."
QB Chase Brice @CBrice_2 enjoying JR day at Clemson #allin pic.twitter.com/TbFJUqPo0n

— Grayson HS Recruits (@GHSRecruits) January 31, 2016
Deon Jones, 4-star cornerback, Washington (DC) Archbishop Carroll
"It went well. I loved it. What really stood out is that I've been down there four times now and they treated my family with welcome arms. They also treated us like it was our first time and we loved it. I just love the family atmosphere."
I Can See It #AllIn #Tigers ???? pic.twitter.com/JvVRtFzAFA

— ?Deon Jones (@DreamChasin_2) January 30, 2016
Andrew Thomas, 4-star offensive tackle, Atlanta (GA) Pace Academy
"I enjoyed the vibe I got from Clemson. It's a very family-oriented place. Clemson is very high on my list right now."
Baylon Spector, 3-star safety commit, Calhoun (GA)
"It was great. I loved it. It's probably the best visit I've had so far, and I wouldn't want to be anywhere else."
Jordan Williams, 4-star defensive end, Virginia Beach (VA) Cox
"I really enjoyed myself. With it being my first time on campus, it was a great experience seeing all of the facilities and meeting with all of the coaches. My family and I had a great time. My favorite part was putting all of the equipment on. It was amazing. Being able to talk to Coach Venables, Coach Swinney and Coach Hobby was great. And, being able to see Howard's Rock and actually run down the hill was just a dream come true."
Enjoyed My Time In Tiger Town Yesterday ???? #GoTigers pic.twitter.com/WnEZrFS6XT

— Jordan Williams (@_blessed_23) January 31, 2016
Xavier McKinney, 4-star safety, Roswell (GA)
"It was a great visit. I really enjoyed it, and so did my mom and my brother. I've always thought Clemson was a great school. I liked everything, but putting on the uniforms was probably the best."
Had a great time at Clemson ?? will def be back soon ????check my swag too pic.twitter.com/UNpvpV58ya

— Xavier Mckinney (@mckinney_xavier) January 30, 2016
Devon Hunter, 4-star safety, Chesapeake (VA) Indian River
"It was great. Everything there excited me. Clemson is my top school. It would be very exciting to play with Jamyest (Williams) at Clemson."
These coaches truly should me how it feels to be a tiger #ALLIN pic.twitter.com/Hrv19T0aIw

— Devon Hunter (@devonhunter11) January 30, 2016
Had a great visit at Clemson with my future teammate @Jamy0602 #ALLIN ???? pic.twitter.com/xCgfLnl8xY

— Devon Hunter (@devonhunter11) January 30, 2016
It's Only ONE Clemson ?????? pic.twitter.com/lPNVZfIKKM

— Malcolm Askew™? (@MacAskew4) January 31, 2016
i must say clemson showed me a good time ???? pic.twitter.com/srz3tHlE1Z

— High/College/Nfl #10 (@oops_imsopaid) January 30, 2016
Love them Tigers???? #Allin #Tigers pic.twitter.com/I3Y9StomKU

— Vince Moore Jr (@Ayee_fatz) January 30, 2016
??To Smooth, Loved the atmosphere??#Allin??????? pic.twitter.com/qqpUPapX0T

— Embrace...? (@C4era) January 30, 2016
Clemson was lit ???? @devonhunter11 @Jamy0602 @C4era pic.twitter.com/4BfDPZlTRz

— D.Robinson (@_TankDaGreat_) January 30, 2016
Enjoying my time in Clemson ???? with the GOAT ?? #ALLIN pic.twitter.com/LLH34x2bMa

— Zachary L Carter™ (@_ZachAttacks) January 30, 2016
Great Weekend in Clemson...definitely have to return soon???? #ALLIN pic.twitter.com/JuI9wn6UmO

— Prince (@Chief_Corey) January 31, 2016
Scary sight ?????? #ALLIN pic.twitter.com/ie0XnzxuoE

— Amari Rodgers3?? (@arodgers_3) January 31, 2016
Jus having a great time at Clemson #ALLIN ?????? pic.twitter.com/Lyh2G9yWPq

— Drewski (@_DrewSingleton) January 31, 2016

Tags: Clemson Football
,
Dexter Lawrence
,
Sean Pollard
,
Rahshaun Smith
,
Malcolm Askew
,
James Robinson
,
Chase Brice
,
Xavier McKinney
,
Baylon Spector
,
Jordan Williams
,
Rashan Gary
,
Isaiah Simmons
,
Matt Bockhorst
,
Andrew Thomas