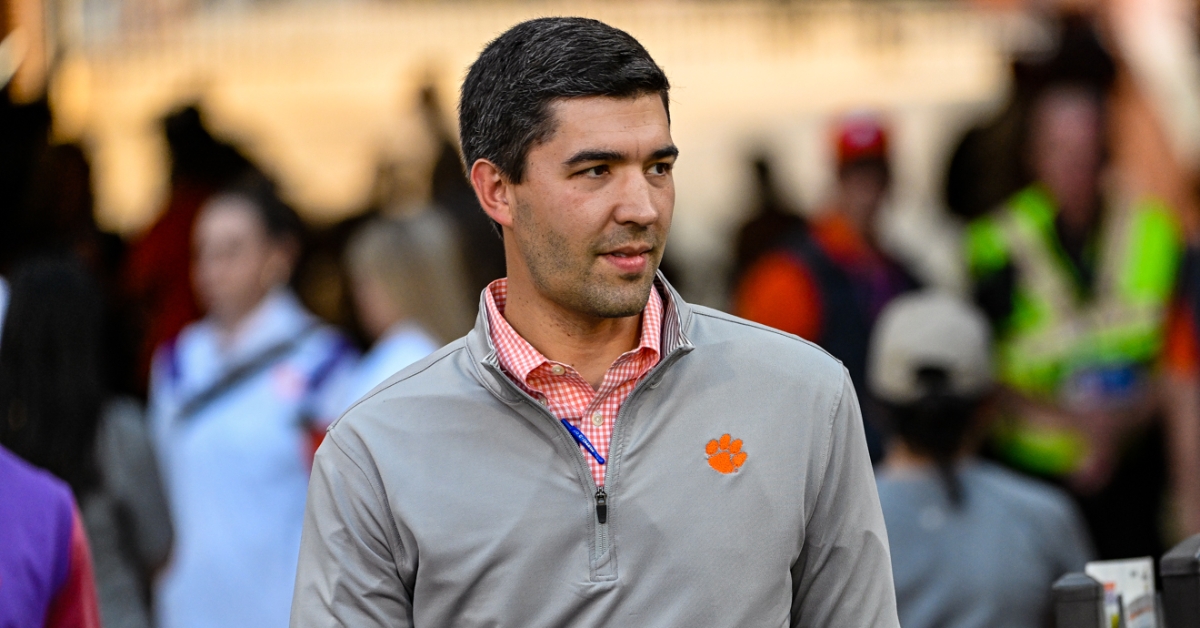 | | |
| --- | --- |
| Neff says Clemson is his priority, but he will be aggressive for the ACC | |
---
| | | |
| --- | --- | --- |
| Tuesday, May 23, 2023, 7:00 AM | | |
Clemson may be a part of the Magnificent Seven, but at the end of the day Athletic Director Graham Neff is going to look out for Clemson.
College football reporter Brett McMurphy reported last week that seven schools - Clemson, Florida State, Virginia, Virginia Tech, North Carolina, NC State and Miami - are looking for ways to break the league's Grant of Rights agreement, which binds the schools to the ACC via media rights.
McMurphy dubbed that group the "Magnificent Seven," and Neff admitted that the report created a stir at the ACC Spring Meetings in Amelia Island.
"What a phrase Brett coined," Neff told Chris Spatola on SiriusXM last week. "Certainly, saw that right as we were getting kicked off here for the meetings. And so, a lot of real candid conversation. It's certainly prompted candid, real talk amongst us and how we position the league and what that looks like. And I'll be consistent with that."
The Grant of Rights gives the league permission to broadcast their games in exchange for revenue from the television partners and leaving would cost exit fees of more than $100 million, plus force them to forfeit revenue for subsequent years. The current deal runs through 2036.
The athletic directors discussed a change to the revenue sharing system that governs the league. As it currently stands, every school in the league shares revenue equally but some want the ACC to incentivize winning, so administrators have introduced multiple models that would give more money to the athletic departments that perform better.
Neff said his main focus is making sure that Clemson is taken care of.
"At Clemson we're going to continue to look out for Clemson first and foremost. And that would be certainly shared with all members of our league," Neff said. "But really encouraged of where the conversations have been over these couple days. I know we're here wrapping up on the back end towards revenue share and just different creative ways to continue to position the league. And so we're going to do our part for Clemson to look out for Clemson. Athletics is so integrated and important to our university, to student experience, to recruitment, to retention, to academic profile, to alumni pride and success, no doubt.
"And that that's true for a lot of us, but that is really integrated at Clemson. And so, we're going to continue to position ourselves to be as strong as we can be for Clemson. And do so also in support of the ACC."
He liked what he saw in what transpired at the ACC meetings.
"I've been encouraged with the conversations on all things within the league. And again, the revenue share distribution is something that's been at hand and commissioner has talked about it, gosh, for a year plus," Neff said. "I'm encouraged with those discussions but there's a lot of work to do. There are details that aren't determined, not going to get into. And our presidents are really engaged, President Clements at our place in particular. So yeah, encouraged how that's moved over these past couple days."
Neff then said that while he is taking care of Clemson, he will also be aggressive for the ACC.
"Again, we're going to continue to focus on doing what's best for Clemson. That's my job. That's all of our athletic directors' job and our alignment at our university, it supports that," Neff said. "So that's what I'm going to continue to do. We're going to be great members of our conference, and we're a big part of that in the ACC and our brand and how we lead certainly nationally and within the conference. And so I think that's incumbent on us to be creative and to be aggressive on behalf of the league. And so that's what we're going to continue to do and just be very, very focused on the changing environment and leading for Clemson's benefit and for the ACC's benefit."

Upgrade Your Account
Unlock premium boards and exclusive features (e.g. ad-free) by upgrading your account today.
Upgrade Now