| | |
| --- | --- |
| Jeff Scott and Wofford: I remember the boos | |
---
| | | |
| --- | --- | --- |
| Friday, August 28, 2015, 1:03 PM | | |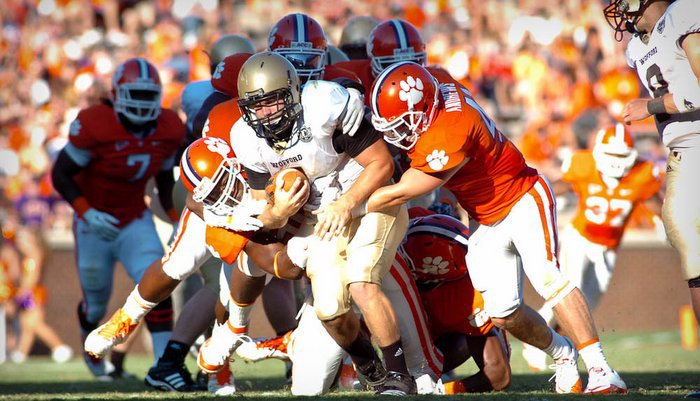 CLEMSON - Jeff Scott

Jeff Scott
Co-Offensive Coordinator / WR
View Full Profile remembers the boos. They echo in his memories every time he thinks about walking off the field against Wofford in 2011, the boos raining down on his head as he made his way into the locker room at halftime.
Clemson fans think that the Tigers will have an easy time with the Terriers when the teams renew acquaintances next Saturday in the season opener, but Scott won't afford himself the luxury of looking ahead or past Wofford. He remembers the boos.
The Terriers led the Tigers 14-13 at the end of the first quarter and the teams were knotted at 21 at halftime, prompting a vocal Clemson crowd to show its displeasure as the teams exited the playing field.
Wofford kicked a field goal on its opening possession of the second half to take a 24-21 lead, and it wasn't until Tajh Boyd

Tajh Boyd
Quarterback (2009 - 2013)
#10 6-1, 225
Hampton, VA
View Full Profile 's touchdown run midway through the third quarter that the Tigers took the first lead of the game. The Tigers eventually won 35-27 and Scott says that day is etched in his memory.
"I do remember the boos at halftime. Coach (Chad) Morris, we talked about that the other night," Scott told the media Thursday evening. "Coming off the field against Wofford. Going back and watching that game, there was a lot of poor execution. I think our guys will be focused. They work so hard year round, like all college football players, and you get so few opportunities, so there are no weeks to take off. I think the fact that it's our first game will really help us because our guys are excited and ready to get out there play."
That 2011 matchup had some of the best players to ever don a Clemson uniform see playing time, but the game still came down to a stop by Rennie Moore

Rennie Moore
Defensive Tackle (2007 - 2011)
#94 6-3, 265
Saint Marys, GA
View Full Profile on fourth-and-two before the Tigers could breath easy.
Scott and head coach Dabo Swinney

Dabo Swinney
Head Coach
View Full Profile have spent much of the last few days reminding the current players of just how much talent was on the field in 2011.
"I think the thing that got our guys' attention was that in 2011 when we played Wofford, we had eight of our 11 offensive starters go on to play in the NFL," Scott said. "Many of those guys are still playing. We have eight of 11 who have played in the NFL at some point - Tajh Boyd, Andre Ellington

Andre Ellington
Running Back (2008 - 2012)
#23 5-10, 195
Moncks Corner, SC
View Full Profile , DeAndre Hopkins

DeAndre Hopkins
Wide Receiver (2010 - 2012)
#6 6-2, 205
Central, SC
View Full Profile , Jaron Brown

Jaron Brown
Wide Receiver (2008 - 2012)
#18 6-2, 205
Cheraw, SC
View Full Profile , Sammy Watkins

Sammy Watkins
Wide Receiver (2011 - 2013)
#2 6-1, 205
Fort Myers, FL
View Full Profile , Dwayne Allen

Dwayne Allen
Tight End (2008 - 2011)
#83 6-3, 255
Fayetteville, NC
View Full Profile , Antoine McClain

Antoine McClain
Offensive Guard (2008 - 2011)
#74 6-6, 335
Anniston, AL
View Full Profile and Dalton Freeman

Dalton Freeman
Center (2008 - 2012)
#55 6-5, 265
Pelion, SC
View Full Profile . We had eight of 11 guys on to play in the NFL and we're losing at halftime, and going into the fourth quarter it's a one point game and we end up winning by eight. I think our guys were surprised to see that. We watched that 2011 video and every time we scored or got the ball back, Wofford was back up and in the lead. It was a dogfight until the very end."
There are only eight players on Clemson's roster who were on the sidelines for the 2011 game – with Charone Peake

Charone Peake
Gr. Wide Receiver
#19 6-2, 205
Moore, SC
View Full Profile having played in the game – but every player realizes that Clemson is capable of being beat on any given week no matter the opponent.
"The big emphasis on our guys is that it's not about the opponent we're playing, it's about our execution," Scott said. "Coach Swinney says it all of the time - we're playing Clemson 12 times. We feel like we're talented enough if we go out and execute and take care of our business that it doesn't matter who we play. That's the mentality we want our guys to have. I think it was a little eye opening for those guys to watch that video from 2011. A lot of players from 2011 that they know who have all gone off to the NFL and we didn't execute that day. We weren't very sharp."
With the team excited to finally open the 2015 season, Scott said he knows the Tigers won't be overlooking the Terriers.
"I think we feel the last few years we've started off pretty good," he said. "Our guys have been focused and ready to play. I know they'll be excited, but it's really not about who we play. It's about how we play and that's something Coach Swinney has done a really good job of in sending that message to our players over the last four years."

Tags: Clemson Football
,
Jeff Scott
,
Andre Ellington
,
Dwayne Allen
,
Tajh Boyd
,
Jaron Brown
,
Dalton Freeman
,
DeAndre Hopkins
,
Antoine McClain
,
Rennie Moore
,
Charone Peake
,
Sammy Watkins