| | |
| --- | --- |
| Clemson vs Wake Forest prediction | |
---
| | | |
| --- | --- | --- |
| Friday, November 11, 2011, 1:55 PM | | |
CLEMSON – Clemson head coach Dabo Swinney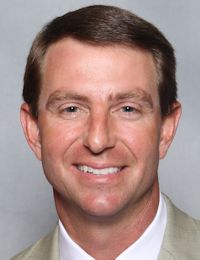 Dabo Swinney
Head Coach
View Full Profile has called this Saturday's game against Wake Forest the biggest game of the year. And he's right.
Not only is it Senior Day, but the Tigers clinch the Atlantic Coast Conference Atlantic Division title and a berth in the ACC Championship Game with a win. It would also mean the Tigers finish the season 7-0 in Death Valley, the first time since the 1990 team went 6-0 at home that the Tigers had an undefeated home season.
Sometimes it almost seems that Wake Forest wins half of their games against the Tigers, but head coach Jim Grobe is just 3-7 against the Tigers. Also, Wake Forest is 1-18 all-time against ranked Clemson teams, and Grobe is 0-3 against them.
How will this one turn out?
WAKE FOREST AT CLEMSON
WHEN WAKE FOREST HAS THE BALL
The Demon Deacons rank 108th nationally in rushing offense, averaging just over three yards per carry and 104 yards per game. Josh Harris (61.71 yards per game) and Brandon Pendergrass (46.33 ypg) make up the two-headed rushing attack for the Deacons, who have really relied on sophomore quarterback Tanner Price to move the offense. Price is 169-for-273 for 2154 yards with 15 touchdowns and six interceptions. The Wake Forest passing offense is ranked 32nd nationally, and Price's favorite target is Chris Givens. Givens has 58 catches for 985 yards and eight touchdowns, and will present a matchup problem for Clemson's safeties, which have had problems in coverage this season. Clemson defensive coordinator Kevin Steele
Kevin Steele
Defensive Coordinator/Linebackers
View Full Profile has moved nickel back/corner Xavier Brewer
Xavier Brewer
RS Jr. Defensive Back
#29 5-11, 190
Jacksonville, FL
View Full Profile to safety in the past week in order to try and improve the tackling and add to his coverage. The good news is that Wake can't run the football on anyone, but you have to figure that Grobe and company will look for a way to run the football at Clemson defenders, who have had problems in recent weeks playing assignment football. If Wake can get any success in the running game and force Tiger safeties and corners up to the line, it could be a long day. The Tigers need to stop the Wake Forest running game at the point of attack, force the Demon Deacons into becoming one-dimensional and letting ends Malliciah Goodman
Malliciah Goodman
Jr. Defensive End
#97 6-4, 280
Florence, SC
View Full Profile and Andre Branch
Andre Branch
RS Sr. Defensive End
#40 6-5, 260
Richmond, VA
View Full Profile pin their ears back and rush Price.
ADVANTAGE – SLIGHT TO WAKE FOREST
WHEN CLEMSON HAS THE BALL
The good news for the Tigers is that junior running back Andre Ellington
Andre Ellington
RS Jr. Running Back
#23 5-10, 190
Moncks Corner, SC
View Full Profile will be healthy for this game. The only time he has been completely healthy since the third game of the season, Ellington exploded for 212 yards against Maryland. He was missed two weeks ago at Georgia Tech when freshmen Mike Bellamy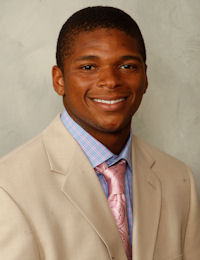 Mike Bellamy
Fr. Running Back
#5 5-10, 175
Nocatee, FL
View Full Profile and D.J. Howard
D.J. Howard
RS Fr. Running Back
#22 5-11, 195
Lincoln, AL
View Full Profile each had critical fumbles. The Deacons are just average across the board defensively – 49th against the run, 51st against the pass and 71st in scoring defense. The key for the Tigers will be to get Ellington and quarterback Tajh Boyd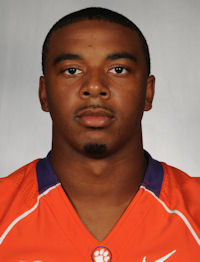 Tajh Boyd
RS So. Quarterback
#10 6-1, 225
Hampton, VA
View Full Profile involved in the running game early in the contest. Defensive back Cyhl Quarles is their leading tackler, while nose tackle Nikita Whitlock leads them in tackles for loss. If the Tigers can get past Whitlock and are making the secondary players make tackles, that means the Clemson offense is doing what it wants and Boyd can then hit receivers Sammy Watkins
Sammy Watkins
Fr. Wide Receiver
#2 6-1, 200
Fort Myers, FL
View Full Profile , Nuk Hopkins, Martavis Bryant
Martavis Bryant
Fr. Wide Receiver
#1 6-5, 205
Calhoun Falls, SC
View Full Profile or Dwayne Allen
Dwayne Allen
RS Jr. Tight End
#83 6-3, 255
Fayetteville, NC
View Full Profile over the middle or down the field. Wake has a decent secondary, and they tackle well, but they don't quite match Clemson's downfield speed.
ADVANTAGE – CLEMSON
SPECIAL TEAMS
The Demon Deacons' best special teams player is kicker Jimmy Newman, who has hit 15-of-17 field goals this year and is 38-for-47 in his career. Punter Alex Wulfeck averages just over 38 yards per punt, and the Deacons really don't have a major threat in the return game. Clemson might get kickoff specialist Spencer Benton
Spencer Benton
RS Jr. Punter / Kicker
#13 6-2, 195
Myrtle Beach, SC
View Full Profile back for this game. He has been missed as shorter kickoffs have led to some incredible field position for Tiger opponents in his absence. Punter Dawson Zimmerman
Dawson Zimmerman
Sr. Punter / Kicker
#96 6-2, 205
Lawrenceville, GA
View Full Profile is 32nd nationally, averaging a little over 42 yards per punt. Kicker Chandler Catanzaro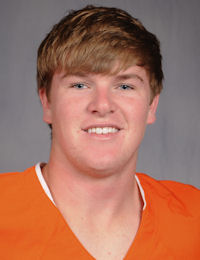 Chandler Catanzaro
RS So. Punter / Kicker
#39 6-2, 200
Greenville, SC
View Full Profile has made 14-of-18 field goals. Watkins is 28th national at 26.57 yards per kickoff return.
ADVANTAGE – CLEMSON
WHAT WILL HAPPEN
I don't expect the Deacons to go down easily – if they win they control their own destiny in the ACC Atlantic. But as much as the Deacons have to play for, the Tigers have far more. It will be the last home game for several key players, and the opportunity to go ahead and clinch the division and not have to scoreboard watch is something Clemson simply can't pass up. The Deacons will find a way to run it early and hit some big plays in the passing game, but Ellington makes a successful return and Watkins continues his assault on the Clemson record books as the Tigers start to pull away in the third quarter.
FINAL SCORE
CLEMSON 37, WAKE FOREST 23
---
GUEST PREDICTIONS
---
Mickey Plyler - 6AM-9M on WCCP 104.9FM - 42-24 Clemson
Dan Scott - 9AM-12PM on WCCP 104.9FM - 42-17 Clemson
El Swann - TigerNet Talk - 42-16 Clemson
Rev O. - Fan's Corner Blog - 45-24 Clemson
Computer simulation - 38-21 Clemson (Boyd 21-34 285 yards, 3 TDs; Ellington 24-125 yards, 1 TD; Watkins 5-112 yards 1 TD; Freeman 4 pancakes; Branch 6 tackles, 2 sacks; Catman 1/1 fg)
PREDICTION TRACKER
| Game | Actual | David Hood | Mickey Plyler | Dan Scott | El Swann | Rev O. | Computer |
| --- | --- | --- | --- | --- | --- | --- | --- |
| Troy | 43-19 CU | 41-20 CU | 37-17 CU | 34-14 CU | 27-10 CU | 41-21 CU | 34-7 CU |
| Wofford | 35-27 CU | 51-13 CU | 48-17 CU | 40-14 CU | 48-13 CU | 37-13 CU | 38-0 CU |
| Auburn | 38-24 CU | 30-27 AUB | 31-30 CU | 34-31 CU | 24-22 AUB | 34-24 CU | 34-17 CU |
| FSU | 35-30 CU | 23-16 CU | 27-26 CU | 27-16 CU | 35-31 CU | 35-28 CU | 28-24 FSU |
| VT | 23-3 CU | 27-23 CU | 28-27 CU | 31-23 CU | 28-24 CU | 31-24 CU | 24-20 VT |
| BC | 36-14 CU | 40-13 CU | 37-13 CU | 42-12 CU | 47-13 CU | 45-10 CU | 34-7 CU |
| MARY | 56-45 CU | 30-16 CU | 37-24 CU | 31-17 CU | 38-17 CU | 40-10 CU | 34-20 CU |
| UNC | 59-38 CU | 38-27 CU | 31-21 CU | 37-21 CU | 41-20 CU | 38-21 CU | 37-27 CU |
| GT | 31-17 GT | 41-28 CU | 37-24 CU | 42-24 CU | 43-17 CU | 48-30 CU | 31-28 CU |
| Points | - | 13 | 12 | 8 | 9 | 12 | 6 |
* Points: 3 pts for best prediction of the week, 1pt for picking the correct winner

Tags: Clemson Football
,
Andre Branch
,
Andre Ellington
,
Chandler Catanzaro
,
D.J. Howard
,
Dabo Swinney
,
Dawson Zimmerman
,
Dwayne Allen
,
Kevin Steele
,
Malliciah Goodman
,
Martavis Bryant
,
Mike Bellamy
,
Sammy Watkins
,
Spencer Benton
,
Tajh Boyd
,
Xavier Brewer