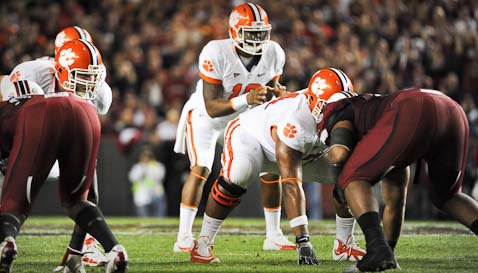 | | |
| --- | --- |
| Clemson vs. South Carolina Prediction | |
---
| | | |
| --- | --- | --- |
| Friday, November 29, 2013, 4:35 PM | | |
This one isn't just about bragging rights. It's about national perception and possible BCS Bowl bids.
Clemson and South Carolina meet for the 111th time Saturday night at Williams-Brice Stadium in Columbia, and the Tigers will be looking to reclaim bragging rights in a rivalry that has seen the Gamecocks win four consecutive in the series.
However, this one is more than just about the state of South Carolina.
Both of the Palmetto Bowl rivals need victories to shore up BCS hopes. Clemson could cement a second BCS game in three seasons with a victory, though even with a loss the Tigers could end up in the BCS. The Gamecocks would see their chances boosted with a win, although they are also still alive for the SEC East crown.
Honestly, this one is perhaps the hardest of the last five I have had to predict. South Carolina isn't as dominant defensively as they have been in the past. Clemson is actually playing well. The Gamecocks have a revived running game, but their back seven on defense is suspect. Clemson has a great front seven on defense, but the back four are suspect.
Who will win? This one is a tossup.
WHAT: No. 6 (BCS) Clemson (10-1) at No. 10 South Carolina (9-2)
WHERE: Williams-Brice Stadium (80,250)
WHEN: Saturday, Nov. 30 (7 p.m.) 
LINE: South Carolina -4.5 (VegasInsider)
TV: ESPN2
WHEN CLEMSON HAS THE BALL
Can Tajh Boyd

Tajh Boyd
RS Sr. Quarterback
#10 6-1, 225
Hampton, VA
View Full Profile snap the South Carolina hex? Clemson's senior signal caller has ugly numbers against South Carolina, and has been sacked 11 times over the last two seasons. Things won't get any easier this week as Boyd and an inconsistent offensive line face off against Jadeveon Clowney, Chaz Sutton and Kelcy Quarles. One of the issues last season was the Clemson coaching staff let left tackle Brandon Thomas

Brandon Thomas
Gr. Offensive Line
#63 6-3, 305
Spartanburg, SC
View Full Profile try and handle Clowney 1-on-1. That ended in disaster. One thing I've noticed recently is that the coaches have been using a lot of "12 personnel" in passing situations. That means one running back and two tight ends, giving Boyd extra protection. Will offensive coordinator Chad Morris

Chad Morris
Offensive Coordinator / QBs
View Full Profile give Thomas and new right tackle Isaiah Battle

Isaiah Battle
So. Offensive Tackle
#79 6-6, 280
Brooklyn, NY
View Full Profile help up front? He will have to.
The secondary features corner Victor Hampton, who is solid if not spectacular. Hampton will be lined up on junior wide receiver Sammy Watkins

Sammy Watkins
Jr. Wide Receiver
#2 6-1, 205
Fort Myers, FL
View Full Profile most of the night, but the other corner spot is filled by Jimmy Legree.  Can Legree and the Carolina safeties – who have struggled against lesser competition this season – survive against the likes of Martavis Bryant

Martavis Bryant
Jr. Wide Receiver
#1 6-5, 200
Calhoun Falls, SC
View Full Profile , Mike Williams

Mike Williams
Fr. Wide Receiver
#7 6-5, 205
Vance, SC
View Full Profile , Adam Humphries

Adam Humphries
Jr. Wide Receiver
#13 5-11, 190
Spartanburg, SC
View Full Profile and Clemson's tight ends? If Boyd has time, there could be an early light show on the scoreboard. However, the Tigers must run the ball effectively in order to keep the defensive linemen honest. Can Clemson's offensive line protect Boyd enough to let him make throws downfield as well as open the running lanes. If Morris does a little max-protect and uses the tight ends, that answer is yes. If he doesn't, then it will be another long night in Columbia. I like Clemson's chances through the air, like South Carolina versus the run. Therefore……
ADVANTAGE: EVEN
WHEN SOUTH CAROLINA HAS THE BALL
South Carolina's offense is better than a lot of people think, despite some inconsistency. Like Clemson, the Gamecocks have faced a lot of bad defenses, and they rank 25th nationally in total offense. South Carolina RB Mike Davis, the younger brother of former Clemson star James Davis

James Davis
Running Back
# 6-0, 205
Atlanta, GA
View Full Profile , leads the Southeastern Conference in rushing with 1,122 yards and 10 touchdowns, and if the Clemson defense wants to show it has improved since last season's debacle, it starts with slowing down Davis and the running ability of quarterback Connor Shaw. The two guys behind Davis are Shon Carson (254 yards) and Brandon Wilds (202 yards). Shaw didn't play against Clemson last season – it was backup Dylan Thompson – but Clemson fans don't need to be reminded of 2011, when Shaw rushed for 107 yards and a score. However, the biggest difference between the Clemson defense of 2011 and the Clemson of 2013 is not just the players – it's the philosophy.
Former coordinator Kevin Steele

Kevin Steele
Defensive Coordinator/Linebackers
View Full Profile preferred man-to-man coverage, and when the pass protection broke down, quarterbacks ran almost at will through wide open running lanes. That hasn't really been an issue with Venables, who prefers the zone. Remember Andre Williams, the nation's leading rusher? He finished with 70-yards and less than three yards per carry against Clemson. Florida St? 121 yards on 38 carries. Clemson's front seven can stop the run game. However, the Gamecocks like to pound the rock and then take shots over the top, and Clemson is starting freshman safety Jayron Kearse

Jayron Kearse
Fr. Safety
#20 6-4, 205
Fort Myers, FL
View Full Profile . Will he peek into the backfield too much and let Damiere Byrd (30-549-2) behind him. The Gamecocks also like to run the tight end in the seam, something Clemson has had trouble stopping in the past. Honestly, it isn't the running game that scares me in this one – it's not getting them off the field on third down and letting Shaw throw on the run. I like Clemson versus the run, but South Carolina with the aerial attack. Therefore……
ADVANTAGE: EVEN
SPECIAL TEAMS
Neither team is great shakes in the return game, but I expect Sammy Watkins to be deep on kickoff return Saturday night to see if he can take advantage of what has sometimes been shaky South Carolina coverage. In punt return, Adam Humphries is the best of the bunch, averaging a little over 10 yards per return. Both teams have solid field kickers – Chandler Catanzaro

Chandler Catanzaro
Gr. Punter / Kicker
#39 6-2, 195
Greenville, SC
View Full Profile is 12-for-13 and Elliot Fry is 14-for-17. Bradley Pinion

Bradley Pinion
So. Punter
#92 6-5, 230
Concord, NC
View Full Profile is averaging 39.7 yards per punt, but his average has been hurt by the fact that he has dropped so many kicks inside the opponent 20-yard line. South Carolina's Tyler Hull averages 38.2 yards per punt. Give the edge to Clemson with the senior kicker.
ADVANTAGE: CLEMSON
WHAT WILL HAPPEN
Again, this one has been the hardest to predict? If I sit back and look at the way the two teams have played – it's Clemson. The Tigers have handled all opponents except Florida St., and have really handled them with ease. South Carolina has struggled at times, could have lost to Vanderbilt; could have lost to Florida; lost to a bad Tennessee team. Are they a great team that has just struggled against lesser teams? Or do they have issues? But they are also the team that came back from a big second half deficit and won at Missouri. It's not like their schedule has been peppered with powerhouses – they missed Alabama, Auburn, Texas A&M and LSU out of the West. It will be interesting to see how they handle Clemson's offensive speed out on the edge. If you also look at the way Clemson's offense has been playing since the FSU debacle – especially Tajh Boyd – you realize that Clemson might be playing its best football than at any time over the last four years.
But what mental edge does Steve Spurrier hold over Dabo Swinney

Dabo Swinney
Head Coach
View Full Profile ? Can Chad Morris make the necessary adjustments, something lacking a year ago. Do South Carolina's players simply believe they can win no matter what Clemson does? Can Clemson's offensive line really play well enough – for the first time in three years – to give Boyd time? It's Senior Day. Connor Shaw has never lost a home game he's started. It's likely Clowney's last home game, along with several other stars. In all honesty, however, Clemson had a long home winning streak last season, and Tajh Boyd had never lost a home game. It was senior night. And the better team won.
FINAL: CLEMSON 27, SOUTH CAROLINA 23
We have also added some celebrity pickers for this year's game. Enjoy their picks.
Scott Keepfer – Greenville News Clemson beat writer
South Carolina 27, Clemson 24
Tommy Bowden – Former Clemson coach and college football analyst
Clemson 24, South Carolina 17
Anthony Lombardi – Reality TV Star
Clemson 38, South Carolina 30
Tajh exorcises his demons against the Gamecocks. Wins in his final regular season game. And cements his legacy.
Tye Hill – former Clemson defensive back
Clemson 31, South Carolina 24
Reggie Merriweather- former Clemson running back
Keys to the game will be can Clemson offensive line hang with a great D-line of the Gamecocks Also vice versa can Clemson's D-line contain Shaw and stop Davis from running wild. If we can control line of scrimmage… Clemson 34, South Carolina 28
Bryan Narcisse – former Clemson basketball and current Harlem Globetrotter
Clemson 30, South Carolina 21
Airese Currie – former Clemson wide receiver
Clemson 42, South Carolina 28
Keith Yusef Kelly

Yusef Kelly
Running Back
# 6-0, 230
Waterboro, SC
View Full Profile – former Clemson running back
Clemson 31, South Carolina 28
---
GUEST PREDICTIONS
---
Mickey Plyler
- 6-9AM on WCCP 104.9FM EST -
27-24 Clemson
Nikki Steele - TigerNet Writer - 28-17 Clemson
Tony Crumpton - TigerNet's Associate Editor - 28-24 Clemson
Lawton Swann - Clemson Sports Talk / TigerNet Talk - 31-23 Clemson
Pigskin Prophet - 38-27 Clemson
Butt-head - Friend of the Prophet who said anyone could do this - 28-24 Clemson
| Game | Actual | David Hood | Mickey Plyler | Tony Crumpton | Nikki Steele | Lawton Swann | Pigskin Prophet | Butt-Head |
| --- | --- | --- | --- | --- | --- | --- | --- | --- |
| Georgia | 38-35 CU | 37-34 CU | 31-28 CU | 31-28 CU | 34-31 CU | 37-31 CU | 39-34 CU | 48-31 CU |
| SC State | 52-13 CU | 55-13 CU | 56-10 CU | 63-17 CU | 56-16 CU | 57-10 CU | 60-13 CU | 63-21 CU |
| NC State | 26-14 CU | 37-13 CU | 41-20 CU | 63-17 CU | 37-17 CU | 45-20 CU | - | 34-17 CU |
| Wake Forest | 56-7 CU | 41-13 CU | 41-17 CU | 41-14 CU | 38-13 CU | 52-13 CU | 45-17 CU | 45-17 CU |
| Syracuse | 49-14 CU | 38-22 CU | 34-17 CU | 45-27 CU | 45-17 CU | 47-17 CU | 38-20 CU | 70-21 CU |
| BC | 24-14 CU | 44-17 CU | 41-17 CU | 45-20 CU | 42-21 CU | 52-21 CU | 47-17 CU | 42-21 CU |
| FSU | 51-14 FSU | 34-30 CU | 31-30 CU | 30-27 CU | 31-24 CU | 38-34 CU | 34-28 CU | 44-24 CU |
| Maryland | 40-27 CU | 38-13 CU | 45-17 CU | 42-20 CU | 37-10 CU | 42-13 CU | 35-21 CU | 44-14 CU |
| Virginia | 59-10 CU | 44-20 CU | 48-17 CU | 41-20 CU | 38-13 CU | 45-13 CU | 38-20 CU | 37-17 CU |
| Georgia Tech | 55-31 CU | 34-23 CU | 31-20 CU | 38-24 CU | 37-28 CU | 45-20 CU | 34-20 CU | 27-21 CU |
| The Citadel | 52-6 CU | 56-10 CU | 49-14 CU | 59-13 CU | 58-7 CU | 52-3 CU | 50-10 CU | 56-16 CU |
| Points | - | 14 | 12 | 12 | 10 | 21 | 9 | 12 |
* Points: 3 pts for best prediction of the week (tiebreaker is Clemson score), 1pt for picking the correct winner

Tags: Clemson Football
,
Adam Humphries
,
Bradley Pinion
,
Brandon Thomas
,
Chad Morris
,
Chandler Catanzaro
,
Isaiah Battle
,
James Davis
,
Jayron Kearse
,
Kevin Steele
,
Martavis Bryant
,
Mike Williams
,
Sammy Watkins
,
Tajh Boyd
,
Yusef Kelly