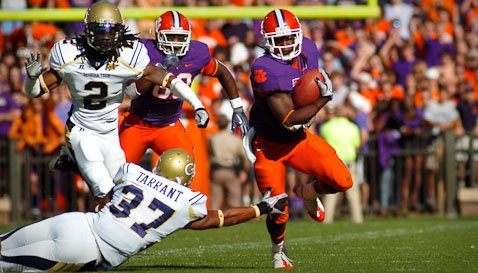 | | |
| --- | --- |
| Clemson vs Georgia Tech Prediction | |
---
| | | |
| --- | --- | --- |
| Friday, October 28, 2011, 11:11 AM | | |
Here we go again. It's time for Clemson and Georgia Tech as the Tigers are another Homecoming opponent, this time at Bobby Dodd Stadium in Atlanta.
This one is always one that Clemson fans look forward to, simply because Tech is one of those teams you love to hate. Especially once Paul Johnson and his arrogance took over the reins of the program. It's Clemson's wide open attack versus the option attack of Johnson and the Jackets. It's Dabo's exuberance versus Johnson's smugness.
It's plain old hate. Let's take a look at how this one might shake out.
NO. 6 CLEMSON (8-0) at GEORGIA TECH (6-2)
WHEN CLEMSON HAS THE BALL
Clemson head coach Dabo Swinney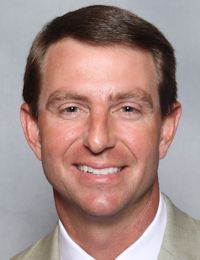 Dabo Swinney
Head Coach
View Full Profile spent a good portion of Tuesday's press conference talking about how defensive coordinator Al Groh's defense has improved, and the numbers bear that out as the jackets rank eighth nationally against the pass, giving up just over 170 yards per game. But those numbers might be a little misleading –the Jackets have yet to play a great passing team, and earlier in the season they got up by some large margins on teams. It's also easier to play pass defense when you know the pass is coming. This week, they get that test. Groh prefers to run a 3-4 defense, but you have to wonder if he will employ that against the Tigers. Trying to put four linebackers out there to cover Clemson's speedy receivers, along with tight ends Dwayne Allen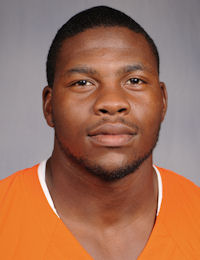 Dwayne Allen
RS Jr. Tight End
#83 6-3, 255
Fayetteville, NC
View Full Profile and Brandon Ford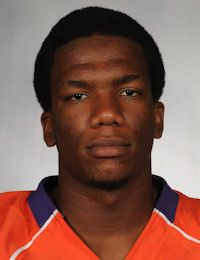 Brandon Ford
RS Jr. Tight End
#80 6-4, 235
Wando, SC
View Full Profile , could be a bad recipe. Groh's soft zone might keep the Tigers from running Martavis Bryant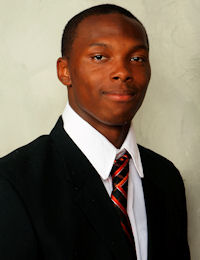 Martavis Bryant
Fr. Wide Receiver
#1 6-5, 205
Calhoun Falls, SC
View Full Profile or Sammy Watkins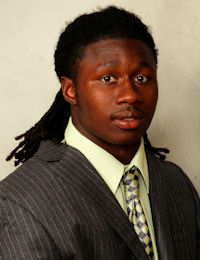 Sammy Watkins
Fr. Wide Receiver
#7 6-1, 200
Fort Myers, FL
View Full Profile deep, but Miami proved last week that good teams can take advantage of the holes in the zone and possess the football. Tech's best pass rusher might be linebacker Jeremiah Attaochu, who lines up at end in obvious passing situations. Look for offensive coordinator Chad Morris to spread the field and then try to run at Tech's smaller linebackers. A year ago, the Tigers had success in running power plays right at the Jacket defense, and that should be the case this year. Andre Ellington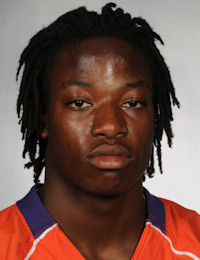 Andre Ellington
RS Jr. Running Back
#23 5-10, 190
Moncks Corner, SC
View Full Profile won't start and may not even play, but D.J. Howard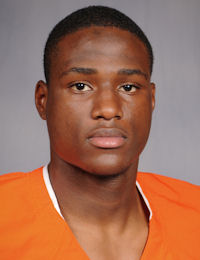 D.J. Howard
RS Fr. Running Back
#22 5-11, 195
Lincoln, AL
View Full Profile has sparkled in his appearances this season. Freshman Mike Bellamy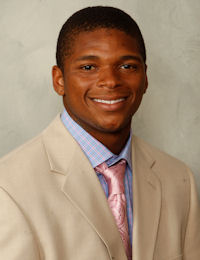 Mike Bellamy
Fr. Running Back
#5 5-10, 175
Nocatee, FL
View Full Profile should also get a number of carries, and even if Tech has success against the Tigers early, it won't last because the Jackets just aren't athletic enough or big enough to keep Clemson's offense in check for too long.
ADVANTAGE – CLEMSON
WHEN GEORGIA TECH HAS THE BALL
The Jackets began the season looking like world-beaters, and put up some ridiculous amounts of yardage. So much, in fact, that three straight weeks of barely mediocre numbers haven't dropped them too far in the national rankings. However, a lot of those numbers were put up against the likes of Western Carolina, Middle Tennessee and Kansas. The Jackets had 662 yards against Western Carolina, 596 against MTSU, 768 against Kansas and 496 against UNC. Against N.C. State, however, that dropped to 413, then 386 against Maryland, 296 against Virginia and just 211 last week against Miami. The problem is three-fold: the Jackets are getting beat up front by more athletic defenses, quarterback Tevin Washington is struggling mightily and receiver Stephen Hill has dropped off the radar. Over the last four games, Hill has just four catches for 99 yards. That includes none against Virginia and one catch for nine yards against Miami. Washington has looked shaky every time he tries to pass, and last week he lost his center when Jay Finch left after just one play against Miami. Replacing Finch will be some combo of Nick McRae or Ray Beno, who might move over from left tackle. Whoever plays center will have to contend with nose tackle Brandon Thompson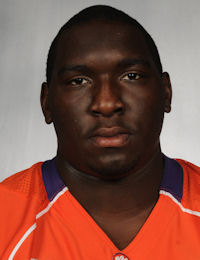 Brandon Thompson
Sr. Defensive Tackle
#98 6-2, 310
Thomasville, GA
View Full Profile , who is having an All-ACC type of season. Washington has struggled in his decision-making – whether to pitch or keep – but you have to figure the Jackets will figure out a way to help him this week. The Tigers need a great effort from their linebackers, especially middle linebacker Corico Hawkins

Corico Hawkins
Jr. Linebacker
#42 5-11, 230
Milledgeville, GA
View Full Profile . I am not sure how comfortable defensive coordinator Kevin Steele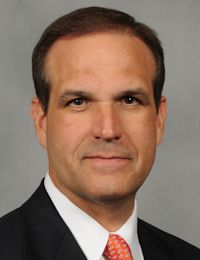 Kevin Steele
Defensive Coordinator/Linebackers
View Full Profile can feel knowing that his defense has been susceptible to the big play, especially in the secondary. This defense has the ability to shut down the Tech offense. But will they? Only time will tell.
ADVANTAGE – EVEN
SPECIAL TEAMS – The Jackets are unremarkable in the kicking game. Kicker Justin Moore has hit all 40 of his PAT attempts, but is just 4-for-8 on field goals, and two of those were blocked. Punter Sean Poole is averaging 37 yards per punt, but the Jackets do possess a threat in freshman punt returner Zach Laskey, who is averaging 8.5 yards per return, good for second in the ACC. Clemson kicker Chandler Catanzaro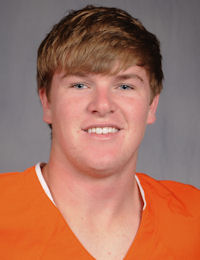 Chandler Catanzaro
RS So. Punter / Kicker
#39 6-2, 200
Greenville, SC
View Full Profile continues his solid season, hitting on 13 of 16 attempts. Punter Dawson Zimmerman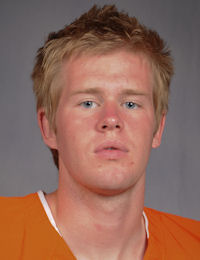 Dawson Zimmerman
Sr. Punter / Kicker
#96 6-2, 205
Lawrenceville, GA
View Full Profile can change field position in a hurry, averaging 42.7 yards per punt this season. Sammy Watkins proved he is a threat in the return game at Maryland, taking one return 89 yards for a game-changing touchdown.
BOTTOM LINE
Yes, the Tigers are playing well and the Jackets aren't. But this is a dangerous team that is playing for its conference life, at home, on national television, on homecoming. The Jackets will have every reason to play well, and I expect them to come out firing. Johnson will probably employ a trick play or two in order to stay with the Tigers, and I expect the offense to have some success early. But the Tigers will start to pull away late in the first half, and the third quarter will be the one that tells the tale. The bees will be pesky, but a good ole dose of Watkins' Pesticide should take care of that problem.
FINAL SCORE
CLEMSON 41, GEORGIA TECH 28
---
GUEST PREDICTIONS
---
Mickey Plyler - 6AM-9M on WCCP 104.9FM - 37-24 Clemson
Dan Scott - 9AM-12PM on WCCP 104.9FM - 42-24 Clemson
El Swann - TigerNet Talk - 43-17 Clemson
Rev O. - Fan's Corner Blog - 48-30 Clemson
Computer simulation - 31-28 Clemson (Boyd 21-29, 269 yards, 3TDs; Ellington 18 carries for 91 yards; Hopkins 6 catches for 109 yards, 1 Td; Branch 6 tackles, 1 sack; Freeman 4 pancake blocks, Catman 1/2 fg)
PREDICTION TRACKER
| Game | Actual | David Hood | Mickey Plyler | Dan Scott | El Swann | Rev O. | Computer |
| --- | --- | --- | --- | --- | --- | --- | --- |
| Troy | 43-19 CU | 41-20 CU | 37-17 CU | 34-14 CU | 27-10 CU | 41-21 CU | 34-7 CU |
| Wofford | 35-27 CU | 51-13 CU | 48-17 CU | 40-14 CU | 48-13 CU | 37-13 CU | 38-0 CU |
| Auburn | 38-24 CU | 30-27 AUB | 31-30 CU | 34-31 CU | 24-22 AUB | 34-24 CU | 34-17 CU |
| FSU | 35-30 CU | 23-16 CU | 27-26 CU | 27-16 CU | 35-31 CU | 35-28 CU | 28-24 FSU |
| VT | 23-3 CU | 27-23 CU | 28-27 CU | 31-23 CU | 28-24 CU | 31-24 CU | 24-20 VT |
| BC | 36-14 CU | 40-13 CU | 37-13 CU | 42-12 CU | 47-13 CU | 45-10 CU | 34-7 CU |
| MARY | 56-45 CU | 30-16 CU | 37-24 CU | 31-17 CU | 38-17 CU | 40-10 CU | 34-20 CU |
| UNC | 59-38 CU | 38-27 CU | 31-21 CU | 37-21 CU | 41-20 CU | 38-21 CU | 37-27 CU |
| Points | - | 13 | 12 | 8 | 9 | 12 | 6 |
* Points: 3 pts for best prediction of the week, 1pt for picking the correct winner

Tags: Clemson Football
,
Andre Ellington
,
Brandon Ford
,
Brandon Thompson
,
Chandler Catanzaro
,
D.J. Howard
,
Dabo Swinney
,
Dawson Zimmerman
,
Dwayne Allen
,
Kevin Steele
,
Martavis Bryant
,
Mike Bellamy
,
Sammy Watkins