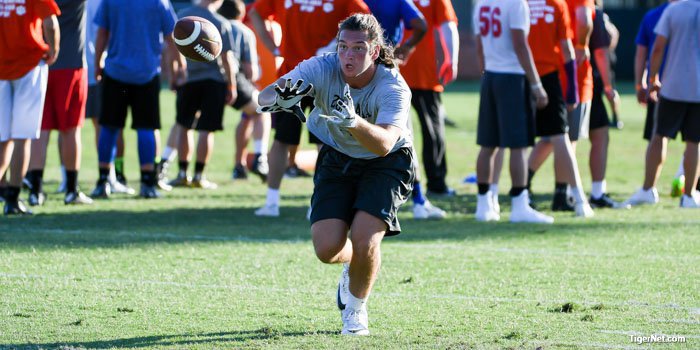 | | |
| --- | --- |
| Camp Confidential: Campers from far and wide including one from South Dakota | |
---
| | | |
| --- | --- | --- |
| Tuesday, June 7, 2016, 10:49 PM | | |
CLEMSON – The secret about Dabo Swinney's camps is out, and people are coming from all over the world just to see what Clemson and its coaching staff have to offer.
Session two of Swinney's high school camp was held this evening on Clemson's practice fields – both indoor and outdoor – and one of the best parts about camp is hearing the stories about how campers and their families ended up in South Carolina.
We learned that there was a young player in camp who drove all the way from South Dakota - by himself - just to attend Clemson's camp. He left South Dakota last Friday so he would ensure he made it on time, and he worked with the defensive backs. We aren't allowed to talk to the prospects while they are on campus, or I would have gotten a name and a background story, but we will chase it down and hopefully have something for you later. He was having a few issues with the heat, however, and had a massive nosebleed early in the afternoon session. A member of the medical staff was helping him pack his nose, and asked, "The weather in South Carolina is probably a little different than South Dakota, right?" There was no answer needed.
We also learned - speaking of people arriving from far-flung destinations - that the camp that was held last week featured a youngster who made the trek all the way from Czechoslovakia.
A little closer to home, the relationships that Clemson's coaches are beginning to build all over the and the relationships with former players are beginning to pay off.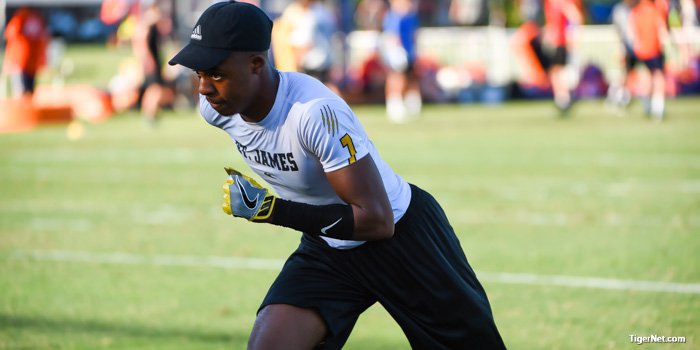 The coaches went to St. James (LA) to recruit 4-star quarterback Lowell Narcisse for the 2017 recruiting cycle and immediately they had an in because Narcisse is a relative of Clemson great Chad Jasmin.
Jasmin, of course, still loves Clemson and kept telling the coaches at St. James that they needed to camp at Clemson, and this year the logistics finally worked out. The coaches brought three 2018 prospects – safety Shawn Preston, Jr., cornerback Glen Brown and defensive end Kyren Harris.
At 6-0, 176-pounds, Preston immediately jumps out at you. He has all of the physical tools to play at the next level and showed very good change of direction during the limited drills we were able to watch.
Another defensive back that made both David Hood and I do a double take when he soared off the ground to high-point a ball was Alpharetta, Georgia's Dane Motley. Motley is just a sophomore but already shows the ability to track the ball and isn't afraid to go up and get it.
Other Notes
Coaching Naturals
Clemson assistant Mickey Conn fits in with the Clemson staff, and he spent the afternoon working with the defense (he will work with the defense this season). Conn is one of those guys who is not only a good football coach, he's a good teacher of the game. It's impressive to see him take time with kids who will never get a major offer or maybe never even play on Saturday. He is extremely skilled at getting a point across (he doesn't scream or yell much) and kids soak up everything he teaches.
Speaking of teachers....it was good to see former defensive back Xavier Brewer coaching with Mike Reed this afternoon. Brewer was having a ball going through all of the drills with the kids. He now owns a fitness business called X Factor P, which is based in Ponte Vedra, Fla. As you can guess, he's in great shape and looks like he could still play.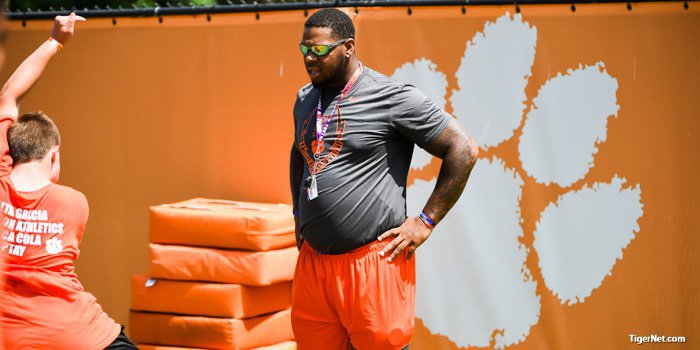 Da'Quan Bowers is another one that teaching just comes easy to. We'll never know why things didn't go well in the NFL, but one thing is for sure – he has a knack for teaching and helping young people. He's a great motivator and is able to explain the techniques and drills plainly to where even a non-football person could understand.
Linebacker Ben Boulware is another one that is in his element when it comes to the drills. He had his own group and they were working on tackling the big round tackling ring that rolls. Boulware made sure every player got low before extending their hands into the tackle, and he wasn't averse to making someone do it more than once until they got it right. Brent Venables is rubbing off on him....
Other standouts
During the earlier session, David watched 2018 OT Oyenmwen Uzebu out of Alpharetta (GA). Uzebu stands 6-6 and weighs 290 pounds and certainly looks the part. He moves well, but he's young and needs work on his technique. All of that will come with time, but it's obvious the offers will come sooner rather than later.
Fayetteville (N.C.) Trinity Christian 2019 defensive lineman Zovon Lindsay was one of the standouts on the defensive side of the field. Lindsay (6-4, 240) worked with Bowers and Ricky Sapp, and whenever he went to work out other players stopped to watch. Another young one to watch, and the same is true of Lindsay as it is Uzebu - his size and athletic ability alone will garner attention and offers.
Current Clemson Roster
We were getting ready to head into the second session, and Clemson players Tre Lamar and Christian Wilkins walked past us. Lamar looks like he's added muscle since the spring game, and Wilkins is always a physical specimen. As they walked by, one woman turned her head, watched them walk, and said, "Lord have mercy."
While I was making my way over to the defensive linemen, I spotted a group watching the campers work out that consisted of Dexter Lawrence, Scott Pagano, and Wilkins. They just look like a national championship defensive line……
More Dabo Swinney Camp Coverage

Upgrade Your Account
Unlock premium boards and exclusive features (e.g. ad-free) by upgrading your account today.
Upgrade Now