| | |
| --- | --- |
| Caldwell thinks offensive line could be better than last year | |
---
| | | |
| --- | --- | --- |
| Monday, July 23, 2012, 10:55 AM | | |
SENECA – The big question mark concerning Clemson's offense in 2012 centers, and deservedly so, around an inexperienced offensive line.
The Tigers will be counting on senior center Dalton Freeman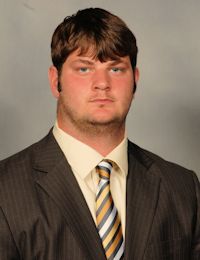 Dalton Freeman
RS Sr. Offensive Line
#55 6-5, 285
Pelion, SC
View Full Profile and tackle/guard Brandon Thomas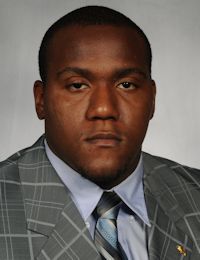 Brandon Thomas
RS Jr. Offensive Line
#63 6-3, 300
Spartanburg, SC
View Full Profile to use their experience as leaders for the rest of the line, a group that has combined for 157 total snaps in their careers.
The Tigers obviously have several talented skill people, but without an effective offensive line, all of that skill can be negated. However, line coach Robbie Caldwell said last week that he thinks this line has a chance to be far better than people think, especially if the group acquires the consistency he desires.
"I am anxious to see. We will know quickly when we get on the field," Caldwell said during Dabo Swinney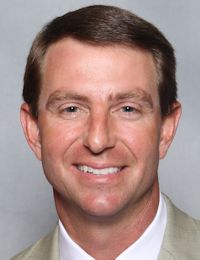 Dabo Swinney
Head Coach
View Full Profile 's media golf outing this week. "I think we have some talented guys. Athletically, we could be better than the group last year - we will be better. That's not a slight on anyone, just facts. I think we had a good spring. I met with our strength staff and I love it when they have nothing but good things to say. If we got seven or eight guys we can go to battle with, it is going to be a lot of fun.
Caldwell said he also understands that if the offense struggles, he knows where people will lay the blame.
"Offensive linemen, we're a little different. We're everybody's whipping boy," he said. "If something goes wrong, they're going to all slap on us. That's alright. We can take it. In our room, we want to accept responsibility. We start with ourselves. We aren't looking for nobody to blame but ourselves. We're going to accept responsibility ourselves. It takes a different person for that. You're not going to get your name called, other than in a bad way. They know that. But they know it's hard to run an off tackle play without a tackle. But I've always been an underdog. I like scratching and clawing, and working your way back to the top. That'll be a lot of fun."
Offensive coordinator Chad Morris told me that he thinks this year's line has a chance to be more physical than last year's version, and that physicality starts with Tyler Shatley
Tyler Shatley
RS Jr. Offensive Line
#43 6-3, 295
Icard, NC
View Full Profile , the former defensive tackle who moved to right guard in the spring.
Caldwell agreed with Morris' assessment.
"I knew I wanted him from day one. It was about attitude," he said. "He just brings toughness and an attitude. He's been on the field. He was a little bit worried about it when he first came over because it was all Greek to him. It didn't take long to put him at ease, because he's a very sharp young man. Academics and football don't always go hand in hand. In this case it does.
"He's studying to be an engineer. He understands leverage, angles and concepts. That part was pretty easy on him. Probably made less mistakes than a first-time player learning the system than I've ever had in 30-something years. That tells you how hungry he was, how important it was for him to catch it. He wants to earn his way."
Of course, Caldwell knows he can rely on Dalton Freeman.
"Mentally, attitude and all, it's been extraordinary," he said. "He compares with any I've ever had, as good or better. One of our goals was for Dalton to put on a little more weight and become a little more aggressive. He worked on that this spring, got better at it. Dalton could have an opportunity to make a lot of money one day, because - athletically, mentally - he can do very good things at the next level. He struggled putting on weight. It's funny, his mom got after him about it as well. Eating is just not something he enjoys. I don't know. That's amazing for an offensive lineman. He's probably about 285, and I'd like to see him [around] 295, 300 pounds. He's everything you could ask from an individual. He is a guy you could throw a playbook at, and in two days he'll have it."
Caldwell's comments on other players
Brandon Thomas
"I think he's got an opportunity to be a very good left tackle. Athletically, no doubt, he can. Brandon is a very good leader. But what he's had to do is learn how to talk. I didn't know he could even speak, the first semester I had him. I didn't even know, because he never said a word. He's stepping forward and taking that leadership role, and he's just going to be a junior."
Kalon Davis
Kalon Davis
RS So. Offensive Line
#67 6-5, 335
Chester, SC
View Full Profile
"I think he's got an opportunity to be a very good player for us. He spent his whole freshman year in the training room, injured. This summer is the first-time in, probably, a year and a half that he's done a squat or a power clean. That tells you he's going to make tremendous progress. I foresee him doing big things for us."
Gifford Timothy
Gifford Timothy
RS So. Offensive Tackle
#70 6-6, 315
Middletown, DE
View Full Profile
"Most of his is just confidence. I think he has the ability, and I think he knows that. We see spurts of it. I'm really excited about Gifford. I really think he's a student of the game. He's going to know what to do. You better not tell him wrong, because he is going to do just what you teach him to do."
Isaiah Battle
Isaiah Battle
Fr. Offensive Line
# 6-7, 265
St. George, VA
View Full Profile
"He's a young kid. We're not putting any pressure on him. He has a ways to go, because he hasn't played much football. I'll tell you right now, if you want to see athletic ability, just throw a ball out there on that basketball court and watch him go. But that doesn't make you a football player, particularly on the offensive line."
Joe Gore
Joe Gore
RS So. Offensive Line
#73 6-6, 260
Lake Waccamaw, NC
View Full Profile
"I see great things for him, if he continues. He's a tremendous athlete. He's tough. He's physical, a very mobile guy. Once he learns, I'm not so sure he couldn't play both sides. I usually ask them to play two positions. You've got to get one under your belt first. That's kind of like Brandon Thomas.
Patrick DeStefano
Patrick DeStefano
Fr. Offensive Line
# 6-4, 280
Roebuck, SC
View Full Profile
"He's played both tackle and guard. He's handled it really well, mentally. He is really a sharp guy. He gives us - a guy that young to be able to wing positions that way - he's been very impressive. Patrick, obviously, has to put on some weight at the guard position. It's been a big adjustment."
Spencer Region
Spencer Region
RS So. Offensive Guard
#78 6-4, 370
Cullman, AL
View Full Profile
"When I left [for vacation], he was in the 350's. He looked pretty good, at a distance this morning. He got away before I could get a hold of him. They were outside running and we can't go out there. When he came in, he had a big smile on his face, so the scale must have went down. He's one, in the recruiting process he hurt his knee and enjoyed the recruiting and visiting, and really swelled up in a bad way. We have to go down and come back. He's working at it, has a good attitude about it."
Oliver Jones
Oliver Jones
Fr. Offensive Line
# 6-7, 320
Ninety Six, SC
View Full Profile
"O.J. missed his junior year. Coming in here in December, he's got a lot of catching up to do, getting weight off, putting it back on the right way, getting him in shape, getting his flexibility back."

Tags: Clemson Football
,
Brandon Thomas
,
Dabo Swinney
,
Dalton Freeman
,
Gifford Timothy
,
Isaiah Battle
,
Joe Gore
,
Kalon Davis
,
Oliver Jones
,
Patrick DeStefano
,
Spencer Region
,
Tyler Shatley