| | |
| --- | --- |
| Battle fights back - in a good way | |
---
| | | |
| --- | --- | --- |
| Wednesday, December 18, 2013, 5:32 PM | | |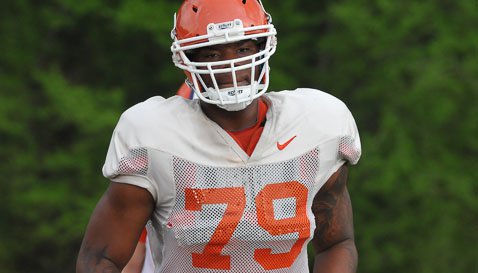 CLEMSON – Fresh off a one-game suspension and an extended stay in Clemson head coach Dabo Swinney

Dabo Swinney
Head Coach
View Full Profile 's doghouse, Isaiah Battle

Isaiah Battle
So. Offensive Tackle
#79 6-6, 280
Brooklyn, NY
View Full Profile decided to fight back, this time in a good way.
The talented sophomore out of New York had a chance to grab a starting job on the offensive line heading into fall camp, but failed to show the coaches the kind of consistency that would lead to a starting position.
The Tigers played at N.C. State on a Thursday night in the third game of the season, and injuries and inconsistency by right tackles Giff Timothy and Shaq Anthony

Shaq Anthony
RS So. Offensive Tackle
#76 6-3, 265
Williamston, SC
View Full Profile led to Battle being given a chance to show what he could do on the field.
He definitely caught the eye of the coaches. And the officials. And the television cameras.
Late in the fourth quarter of Clemson's victory, Battle was ejected for punching North Carolina State defensive back Jarvis Byrd. Swinney suspended Battle for the Tigers' next game – against Wake Forest – but Battle remained in Swinney's doghouse longer than that one game.
"I lost my head, honestly. I don't know what came into me," Battle told me following Wednesday's practice. "That was a petty thing I did. It was very selfish of me to do that to the team. That was a big mistake, it's not the Clemson way and it will never happen again. But I learned my lesson, which is to come with a hard edge every day."
Battle said he didn't have hard feelings toward Swinney or any of the coaches after the suspension, and actually learned from the ordeal.
"It was a sign that you are not above the team. It showed me that there are consequences for everything you do," he said. "It was a life lesson for me. I can't just go out and punch somebody on the street, because there would a consequence for that. I could go to jail. It was something I had to learn, dig down deep and keep competing to earn my way back up."
However, his attitude still held him back.
"My attitude and my preparation coming into practice every day held me back," he said. "I wasn't consistent, and when they saw the consistency and the attitude change heading into the Georgia Tech game, it was going uphill from there. I learned to control myself and my preparation and come out with a hard edge every day."
Battle earned his first career start against the Yellow Jackets early in November, played significant snaps against The Citadel and then played all 60 offensive snaps in the regular season finale at South Carolina. Now, heading into the bowl game and the off-season, he says he believes his newfound attitude will help him become the team leader he wants to be, whether it is at right tackle or left tackle.
"I am ready to lead the team as much as I can," he said. "If they want me to work on the left, I will work on the left. If they want me to work on the right, I will work on the right. Whatever they want me to do. Honestly, I think I am pretty good at both. I practice at both sides."